December 7, 2017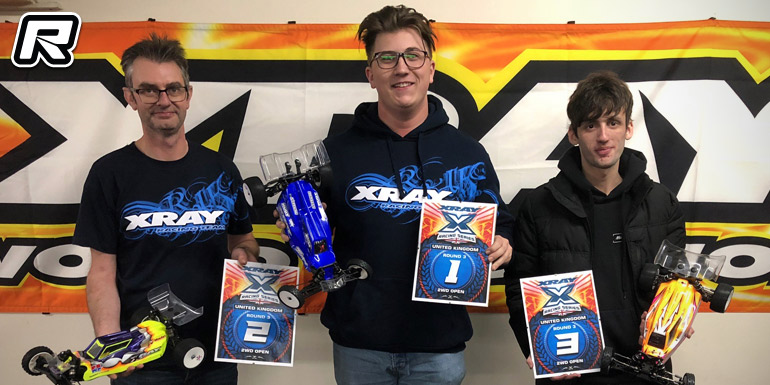 Round 3 of the Xray Racing Series UK Off-road was held at Midlands Raceway last weekend. It was another busy day with ten heats of drivers booked into the round and the club team changed the track again and pulled out the tricky jump rhythm section and replaced it with a new table-top, 180 degree corner and step-down section that was a little easier for the drivers but equally fun, along with a huge kicker jump after the main straight to add the 3D element in the challenging layout. The fastest 2WD Mod guys took to the track and were immediately flying with Dom Nunn setting a TQ time in round 1 that wouldn't be beaten all day.
He followed this up with the win in the A-final followed by Tony Bishop in 2nd attending his first ever XRS event and thoroughly enjoying his day. 3rd place was a slightly unsettled Jamie Beasley, usually extremely strong at his home track but clearly not having the luck today.
2WD Modified top 3 results:
1. Dom Nunn – Xray
2. Tony Bishop – Xray
3. Jamie Beasley – Schumacher
The 4WD Modified was lightly lower in number today, but the racing was excellent, the drivers showing great control on the tricky track and jump sections, it looked like everyone was showing each other a great level of respect and this was applauded by race control and our commentator for the day. Robert Shaw took a well deserved win followed by Zain Mughal and TQ man Euan Jarman 3rd.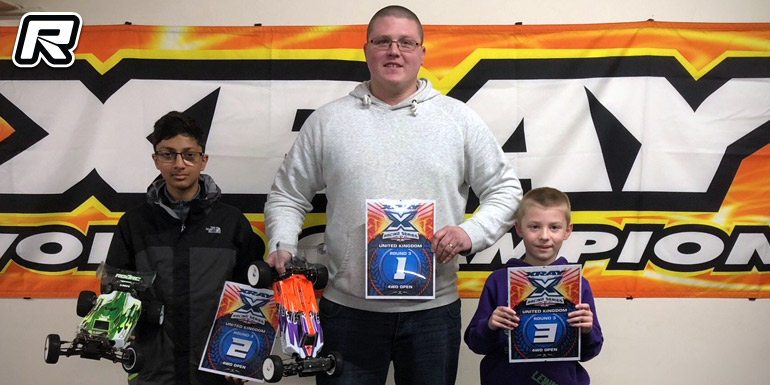 4WD Modified top 3 results:
1. Robert Shaw – Xray
2. Zain Mughal – Team Associated
3. Euan Jarman – Xray
In 2WD Modified Stadium Truck again a close battle through qualifying was between Greg Hill and Daniel Hopkins. Greg TQ'd all but the last round of qualifying, but Daniel held it together and set a faster TQ in the last round and with it overall TQ. In the finals it all got a bit messy sadly early on and Greg dropped way back, but come the last lap and Greg and Daniel were neck and neck going over a mid-field jump, where Hill rolled over and allowed Hopkins to take the win and young up-and-coming driver Ben Kirkham took 3rd.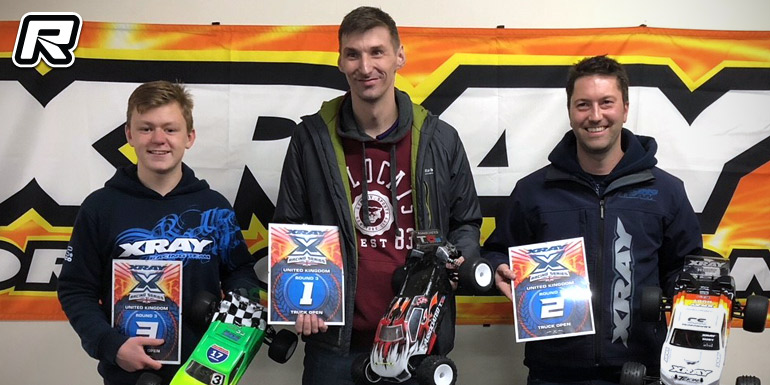 Modified Stadium Truck top 3 results:
1. Daniel Hopkins – Team Associated
2. Greg Hill – Xray
3. Ben Kirkham – Xray
Kirk Beasley dominated the 2WD 13.5 class qualifying and could've found himself in the top 5 in Modified Class such was his pace, however a scrappy and somewhat unfortunate final meant he was unable to finish the A-main, leaving the door wide open for Nick Priest, Ben Hillier and Gavin Stokes to battle it out at the front all setting mid 14 second lap times, Kirk squeezed in a blistering 13.69 second lap in the final.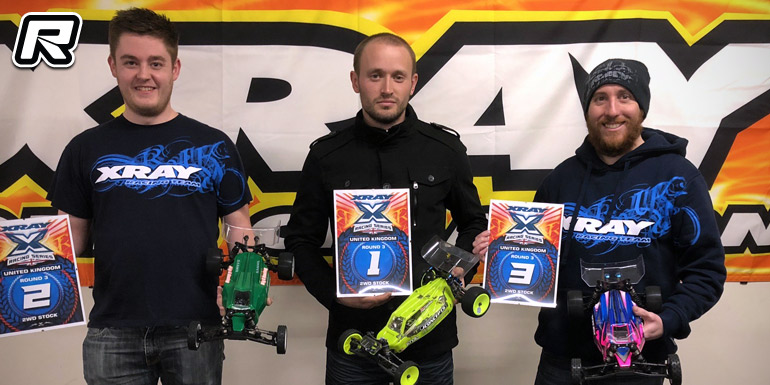 2WD 13.5 Stock top 3 results:
1. Nick Priest – Team Associated
2. Ben Hillier – Xray
3. Gavin Stokes – Xray
Source: Xray [teamxray.com]
---