January 17, 2018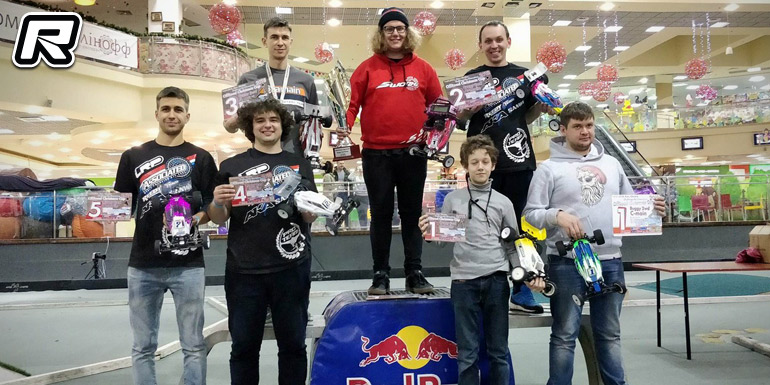 The sixth annual Christmas Cup was held in Kiev, Ukraine last weekend on a temporary carpet track at the Karavan Megastores, one of the largest shopping centers of the city. Close to 100 entries foe the two main and two support classes made for competitive racing. The 1/10 2WD Modified Buggy class opened the event. On the challenging but very flowing track, four rounds of qualifiers were held with SWorkz's Jörg Miikael Tiit taking the Top Qualifier spot, followed by the Team Associated duo of Maryan Beresh and Dmitro Chub.
In the finals, Jörg made maximum use of his TQ spot to win the triple A-finals, followed by Dmitro Chub and Andrei Monakhov.
2WD Modified final results:
1. Jörg Miikael Tiit – SWorkz/Nosram
2. Dmito Chub – Team Associated/LRP
3. Andrei Monakov – Xray/Hobbywing
4. Maryan Beresh – Team Associated/LRP
5. Vladimir Fedorenko – Team Associated/LRP
6. Viktor Lytvynenko – SWorkz/Muchmore
7. Andrey Petjak – Xray/-
8. Aleksei Shinkarenko – Xray/-
9. Vjatsheslav Ogirtshuk – Team Associated
10.Alexandr Prohodko – Xray/-
4WD Modified Buggy was run on the second day, with again four qualification rounds on the unchanged layout. SWorkz's Jörg Miikael Tiit took the TQ honors for the second time, followed again by the Team Associateds of Dmitro Chub and Maryan Beresh. In the triple A-finals, Jörg took profit of his pole position once again, to win the 4WD event as well, followed by the Associated cars of Maryan Beresh and Vladimir Fedorenko.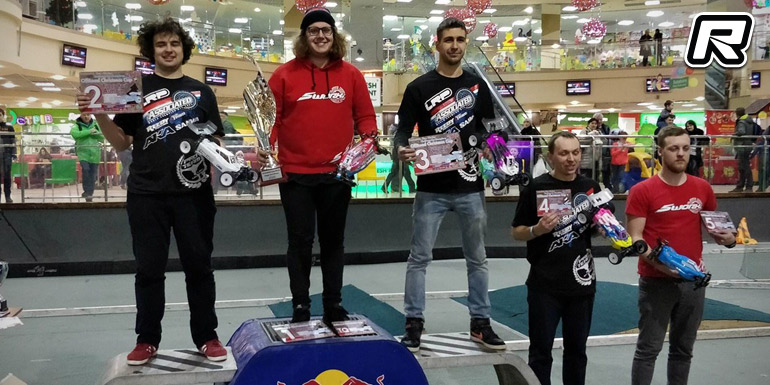 4WD modified TOP 10
1. Jörg Miikael Tiit – SWorkz/Nosram
2. Maryan Beresh – Team Associated/LRP
3. Vladimir Fedorenko – Team Associated/LRP
4. Dmitro Chub – Team Associated/LRP
5. Viktor Lytvynenko – SWorkz/Muchmore
6. Aleksei Shinkarenko – Xray/-
7. Andrei Monakov – Xray/Hobbywing
8. Andrey Petjak – Xray/-
9. Artyom Dyomin – Xray/-
10.Vitaly Kostenko – Xray/-
Source: MW RC Cars [mwrccars.at]
---