January 22, 2018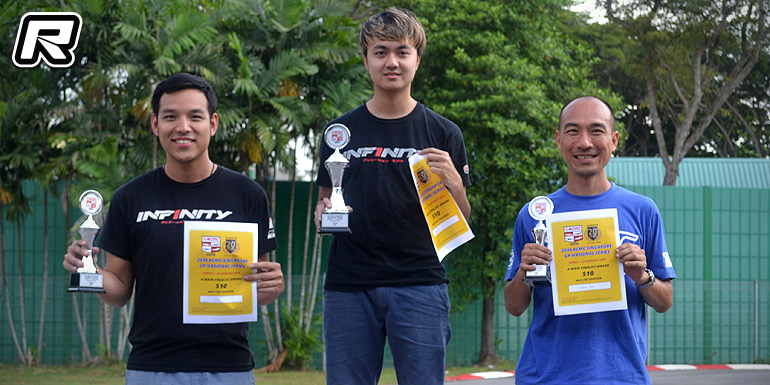 Last Sunday saw the running of the first Round of the RCMC Singapore GP Nationals for 1/8th GP and GT classes. Having had to move the race from the previous week owing to a small monsoon, Sunday saw a complete change in the weather conditions. Blue sky, blazing sunshine and a very hot track which had been cleaned by the previous weeks rain, provided less grip than everyone was ready & prepared for. After three rounds of qualifying in the GP class, local RCMC Singapore Club Champion Chavit Saligupta from Thailand took the TQ, followed by Andy Moore from Great Britain, and Trin from Thailand, a first 3-grid lock-out by the Infinity team. Local pro Nelson Lee from Singapore took 4th with his ARC after a stunning 3rd round qualifying effort.
After an intense battle in the A-Main, it was Chavit who came out on top with 1st Place, with Trin followed by Nelson making up the top 3. An exciting race, with phenomenal pace set by world championship drivers and teams. In addition to the race for the top 3 places, young fresh talent Amirul Rafiq from Malaysia drove flawlessly to qualify directly into the A-main and take a great 7th place despite an engine problem. A World Champion in the making and a great clean drive.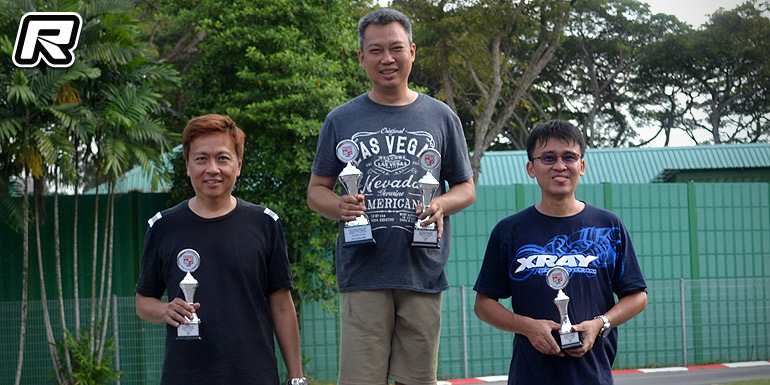 In the GT class, Joe Hwee took TQ, with Michael Siow and Patrick Ong, all from Singapore taking 2nd and 3rd respectively. After the usual excitement of an A-Main, the final positions remained the same as qualifying, despite local Infinity team boss Kenji making the battle for second interesting until a tire issue put pay to some very close racing.
Source: RCMC Singapore [facebook.com]
---