January 3, 2018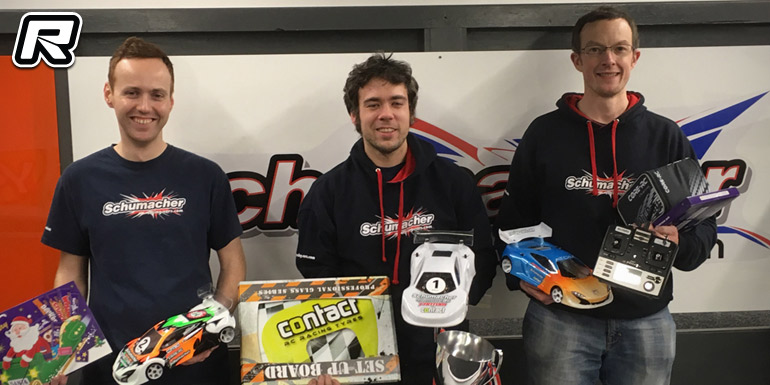 Last Saturday saw MB models hosting the Schumacher GP at their awesome facility near Leeds in the UK. The main GT12 class was run on Contact green stripe control tyres, LPM12 was open tyres and Touring on Sorex 28RK tyres. The meeting had been fully booked for months in anticipation, with 60 GT12, 20 LMP12 and 18 Touring drivers lining up to do battle in the four qualifier one final format. In GT12 it was new Schumacher driver Adam Catchpole at his first large event with Schumacher doing battle at the top with Schumacher's own Andy Murray.
GT12 A-final grid
1. Adam Catchpole – Schumacher
2. Andy Murray – Schumacher
3. Mark Jewitt – Schumacher
4. Ian Joyner – Schumacher
5. Craig Mawson – Schumacher
6. Nial Cochran – Zen
7. Greg Williams – Schumacher
8. Josh Coult – Schumacher
9. Ben Elliott – Zen
10.Scott Morton – Schumacher
In the final Adam took a flag to flag victory followed by Andy and Ian Joyner.
In the LMP12 support class Ben Vincent took a dominant TQ and victory from young Louis Parker, with Graham Raistrick coming home in the final podium position after a strong day.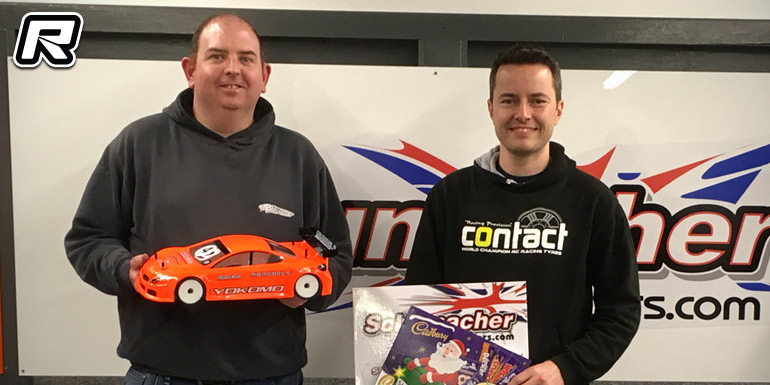 In the Touring Support class, Scott Scholey took TQ from Chris Ashton and host Michael Ball. In the final Scott struggled in the first few corners allowing Chris to nip by and take a comfortable victory. Scott was second with Michal third.
Source: Schumacher [racing-cars.com]
---