January 25, 2018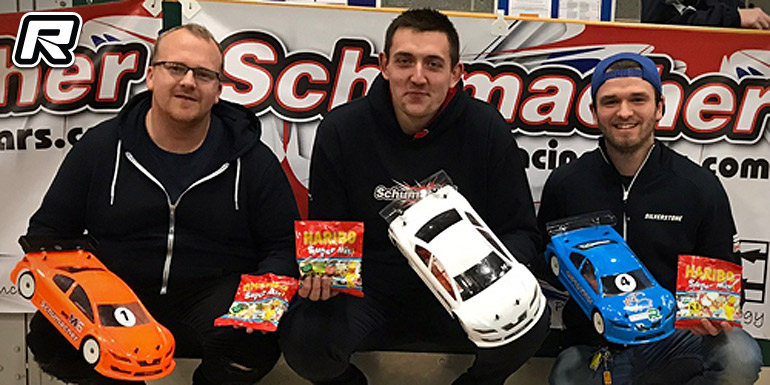 Round 4 of the Schumacher Winter Series was held by the Louth Radio Control Car Club. Minus temperatures outside, but warm temperatures would meet the drivers inside the Meridian Leisure Centre. A more technical track would meet the on and off road drivers. 13.5 blinky the biggest class at this event growing in numbers each time out. James Hart and Alex Brocklebank would share the spoils in qualifying. It was much the same in the finals with these two breaking from the field. Alex in the end taking the win, with two solid results. James Hart would come home a close second, and Mikey Mansell would bring his Capricorn home to 3rd.
13.5T final results:
1. Alex Brocklebank – Schumacher
2. James Hart – Schumacher
3. Mikey Mansell – Capricorn
4. Chris Lovely – Xray
5. Lisa Keen – Xray
6. Andrew Green – Xray
7. Joe Cocking – Yokomo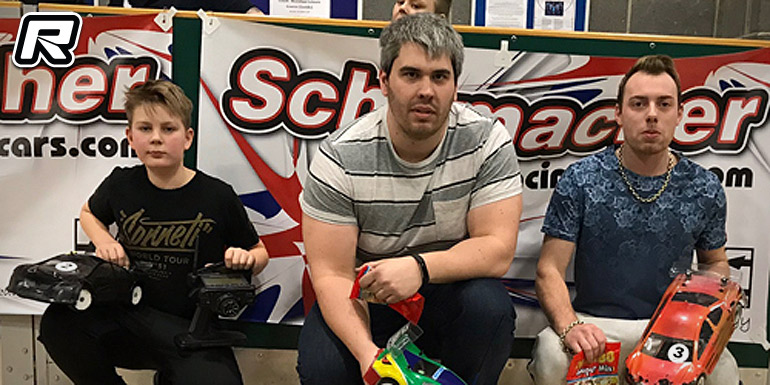 A strong 20 entries for the club class, which would see the club guys battle it out in the open 17.5 class. Andrew Babb would return for this round and take tq and victory, not having it his own way in the finals. Danny Cohen would jump up to 2nd from 3rd on the grid and Oliver Toothill would come home 3rd.
17.5T Club final results:
Andrew Babb – Xray
Danny Cohen – Xray
Oliver Toothill – Xray
Mick Lammiman – Yokomo
Dave Greenfield – Xray
Steve Smart – Xray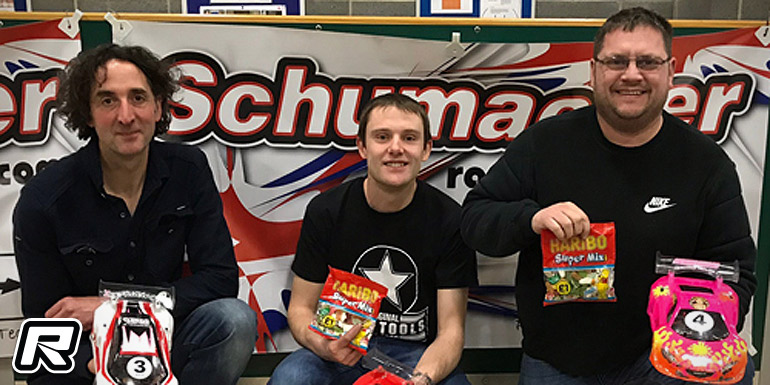 GT12 would see an boost in numbers, and more competition for this round. Dave Sedgwick would take the TQ honours. Due to the weather Dave would leave early. Meaning Matt Cook would take advantage and bring home the victory in gt12, Jaco van Der Sterren 2nd and Craig Illingworth 3rd.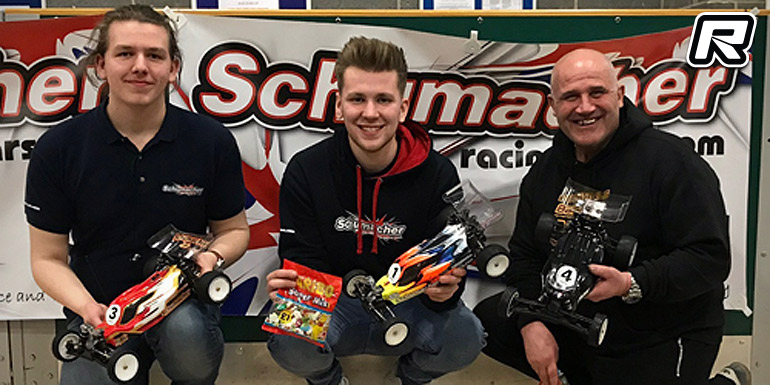 In 2WD Buggy Mitch Fiddling would take continue on from his maiden victory at Worksop taking straight rounds in qualifying. Mitch would take home both victories with James Beckett 2nd and JK 3rd.
2WD Buggy final results:
1. Mitch Fiddling – Schumacher
2. James Beckett – Schumacher
3. JK – Xray
4. Russell Woodhouse – Associated
5. Tom Hardy – Schumacher KC
6. Christian Roe – Yokomo
7. Harvey Greenfield – Ansmann
8. Tom Penn – Ansmann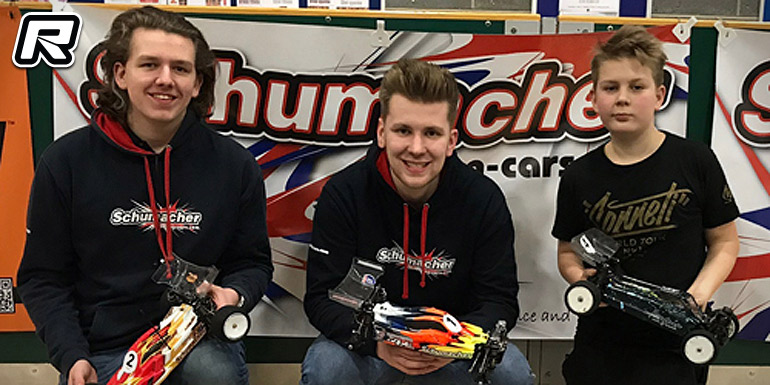 4WD was much the same as 2WD. Mitch Fiddling taking a convincing TQ, and flag to flag victories in the double header finals. James Beckett would again follow him home in 2nd, and Oliver Toothill in 3rd.
4WD Buggy final results:
Mitch Fiddling – Schumacher K2
James Beckett – Schumacher K2
Oliver Toothill – Xray
Danny Cohen – Xray
Simon Babb – Team Durango
Source: Schumacher [racing-cars.com]
---