January 22, 2018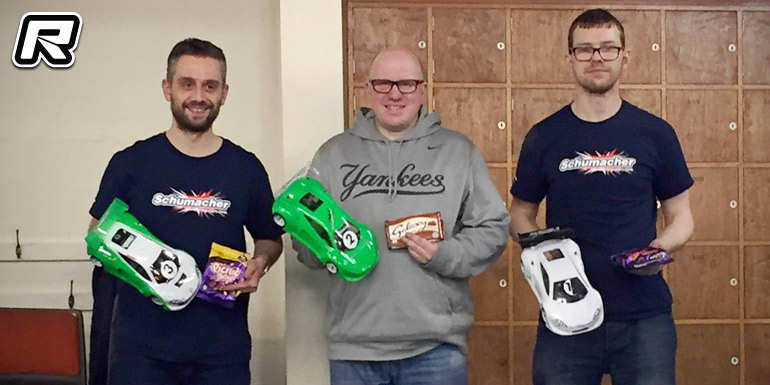 The first round of the BRCA Scottish GT12 regionals 2018 was hosted by Dundee and Angus Radio Controlled Car Klub. This was the first round of a four round series involving Dundee and Angus Radio Controlled Car Klub, Grampian Radio Car Club and Lothian Radio Control Car Club. The series is now in its fifth year and continued the successful format of previous years of 4 rounds of qualifying and 3 finals for all racers. As well as GT12 cars support classes for 13.5 blinky touring cars and Formula 1 cars were also offered.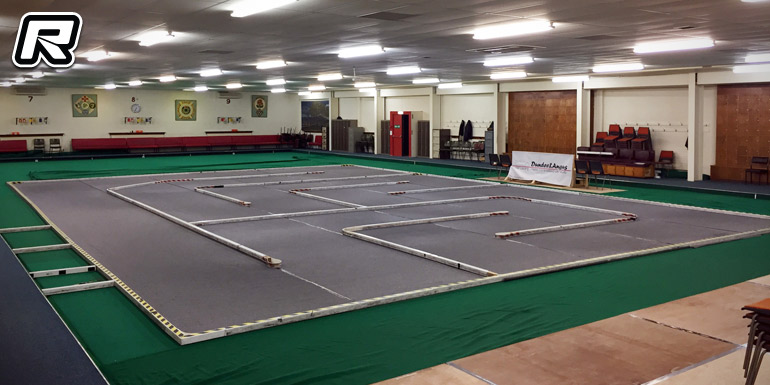 New for this year was the adoption of the Contact control tyre in the GT12 class offering a level playing field for the competitors in this class. Champion for the last two consecutive years, John Simpson, was again competing and looking to make it a hat trick of titles. 2014 Series winner Andrew Edwards was in form and looking to try and reclaim the title again in 2018. Kenneth Rogers, who finished third in the two previous series, would be looking to push the two previous champions and see if he could break their dominance.
Qualifying saw a close fought battle between Andrew and John with Andrew fastest early on before John secured pole in round 4 as the only driver on 35 laps. Kenneth was just a few tenths a lap behind and secured third place. Local driver Graeme Dick was driving well and lined up fourth with Steve McInally fifth and Dave Bruce breaking into the A final and completing the lineup.
Leg one saw the two front cars get off to a clean start, a small mistake from Kenneth allowed Graeme into third briefly before making a mistake and handing the place back. Andrew was hot on the heels of John and a slight mistake by Andrew at the end of the sweeper saw the two cars come together and a marshall rushing to rescue Andrews's stricken car. This dropped him to the back of the pack. John never looked back and took the win. A storming drive by Andrew brought him back to second place, while after a close battle throughout the race Kenneth secured third from a charging Graeme. Dave wasn't far behind and took fifth ahead of Steve.
Leg two would see a mistake from John on the opening lap drop him to fourth. Andrew seized the opportunity level the score and take the days racing to a deciding leg and produced a fast controlled drive to take the win. John was pushing hard and unfortunately made contact with another car while trying to make a pass and required marshalling, eventually bringing his car home in fourth place. Graeme continued to get faster and managed to pass Kenneth early on with the two drivers racing nose to tail for 4 minutes before a mistake from Graeme gave Kenneth second place. Steve managed to hold onto his qualifying position and came home fifth ahead of Dave.
Leg three was the deciding leg and John made a fast start pulling away from Andrew who couldn't match John's pace. However it wasn't to be and equipment failure would rob John of victory half way through the race while driving with a commanding lead. Graeme and Kenneth were again doing battle swapping places but in this final Kenneth had a touch more pace and was able to pull away. A late mistake from Andrew meant his victory in this leg and this round was not as comfortable as he liked as Kenneth was only a few seconds behind at the tone and closing in. Graeme secured third with Dave fourth and a bad run for Steve saw him retire early meaning that John finished fifth. Two low scores for John meant that he finished third overall with Kenneth's consistent scoring earning him second place.
GT12 final results:
1. Andrew Edward – Schumacher
2. Kenneth Rogers – Schumacher
3. John Simpson – Schumacher
4. Graeme Dick – Schumacher
5. Dave Bruce – Zen
6. Steve McInally – Zen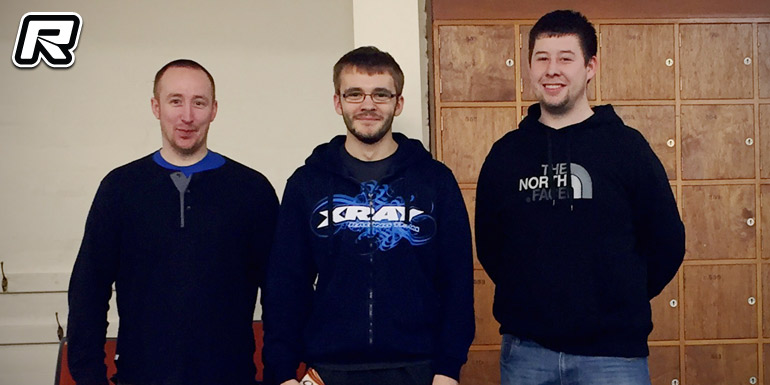 In the Touring Car class last year's winner Peter Eagles was looking to get off to a good start but David Scott had different ideas as he secured pole position. A speed controller problem meant David was unable to start leg one and Peter capitalised taking the win from David Fraser. Legs two and three would see David Scott and Peter take a win each with Peter therefore taking the win overall. David Scott came home second with David Fraser in third. A dominant run from Gordon Dempsey would see him win the F1 class.
Source: BRCA [brca.org]
---