January 16, 2018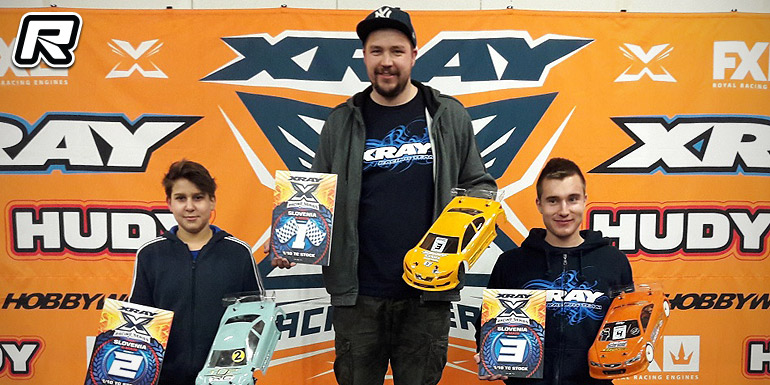 For round 3 of the Xray Racing Series Slovenia racers again travelled to the Pik hala Maribor track. The penultimate round of the championship attracted drivers from three countries to fight for the important championship points and in the Touring Stock 13.5T class it was Rok Rudl who took the TQ from young Bjan Mikložič as Stefan Hois grabbed the P3 spot on the grid. In the 21.5T Formula class it was Herfried Pucher with the pole position from Matej Dobnikar and Alojzij Osvald. Finally in 1/12th Pan Car Nejc Mihelič came out fastest after the qualifiers from Jernej Vuga Štendler 2nd and Goran Vignjevič 3rd.
In the triple Touring Stock A-mains the race for the podium spots was on between Rok Rudl, Bjan Mikložič, Patrik Požgaj and Stefan Hois. In all 3 finals Rok was able to win and Bjan came in 2nd, meaning he final podium position would be decided between Patrik and Stefan with the better end for Patrik.
Touring Stock top 5 results:
1. Rok Rudl – Xray
2. Bjan Mikložič – Xray
3. Patrik Požgaj – Xray
4. Stefan Hois – ARC
5. Gregor Banko – Tamiya
The Formula 21.5 victory went to Alojzij Osvald after a thrilling three finals. In the first main TQ driver Herfried Pucher collected a backmarker after he spun, so the lead went to Matej Dobnikar in front of Herfried. In the second final Herfried lead from start to finish with Matej 2nd and Alojzij 3rd. The last and deciding final was expected to hold a battle between Herfried and Matej, but Matej made a hard overtake on Herfried and they touched, so Matej had to wait for Herfried and this allowed Alojzij to take the lead. Later Matej and Herfried touched again on the same spot, so the battle was only to be for the 2nd place. In the meantime, Alojzij did what was necessary and so he brought home the win while Herfried and Matej had to settle for 2nd and 3rd overall.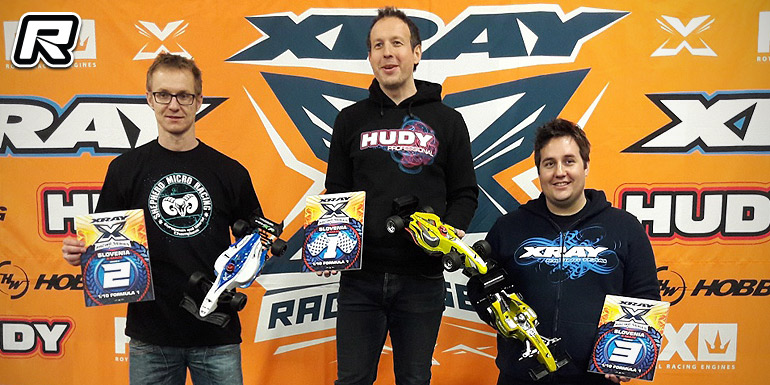 Formula top 5 results:
1. Alojzij Osvald – Xray
2. Herfried Pucher – Shepherd
3. Matej Dobnikar – Xray
4. Robert Simčič – Xray
5. Denis Fink – Xray
In the 1/12th Pan Car class Nejc Mihelič took the opening two finals to grab the overall win early, however Jernej was hot on his heels, ending A2 only 0.4 seconds behind Nejc. In third final both Nejc and Jernej crashed and this allowed Goran to take the win, giving him the 2nd place on the podium from Jernej in 3rd.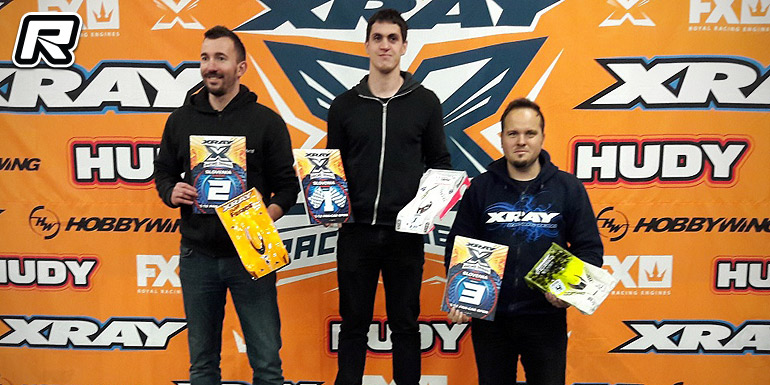 1/12th Pan Car final results:
1. Nejc Mihelič – VBC
2. Goran Vignjevič – Xray
3. Jernej Vuga Štendler – Xray
Source: Xray [teamxray.com]
---