January 19, 2018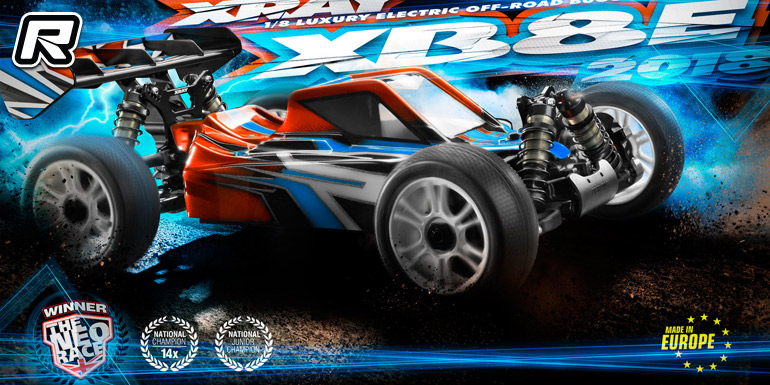 Coming very soon from Xray is the XB8E 2018 1/8th electric buggy kit. The latest edition of the popular buggy received some subtle updates such as a redesigned chassis that offers more clearance between the front wheels and side guards for less on-power tyre rubbing while chamfered front edges make for less dirt pick-up. The chassis is the same as found in the XB8 2018 kit, making most parts interchangeable. Other new features target the rear end of the buggy, such as a new rear shock tower with added shock mounting positions, a new 40 percent lighter wing mount, a new rear chassis brace as well as harder rear A-arms. New front and rear CV-style driveshafts increase the overall traction and refinements such as reinforced steering ball joints, new steering ball composite shims and improved diff O-rings further improve the reliability. The kit is rounded out by a highly aerodynamic body shell and it will hit stores very soon.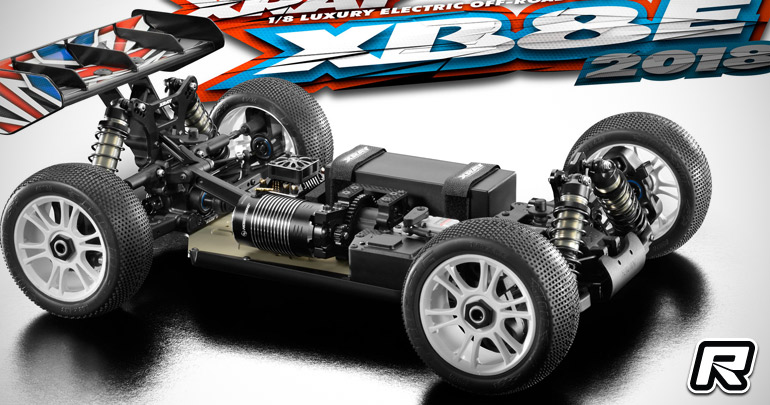 New 2018 features:
– All-new chassis design is now fully compatible between XB8 & XB8E platforms
– All-new wing mount is 40% lighter with super-low CG. With considerably less weight behind the rear suspension this significantly improves handling characteristics. All-new construction allows more flex. Features new, optimized wing mounting positions
– All-new rear brace between wing mount and rear chassis brace prevents rear gearbox breakage during impacts, as well as moving the transfer of energy to a different part of the chassis
– All-new weight transfer from rear wing to the middle of the car reduces tension on the rear diff bulkhead
– All-new rear body holder
– All-new rear shock tower features two lines of shock absorber mounting positions and an updated design to allow fitment of the new wing mount and gearbox brace
– Harder rear lower arms for increased side stability and improved durability in hot conditions
– All-new stronger, reinforced steering ball joints for increased reliability
– All-new composite graphite shims between steering ball and nut ensures free operation of pivot balls even in extremely dusty conditions
– All-new improved diff O-rings for more precise differential sealing
– Softer shock membranes for improved shock performance in bumpy conditions
– Front & rear CVD drive shafts for increased rear traction
– 2.6mm rear sway bar for increased traction
– All-new stronger head screws for diff bulkheads for more reliability
– High-speed body for improved handling on high-speed tracks and improved rotation in tight corners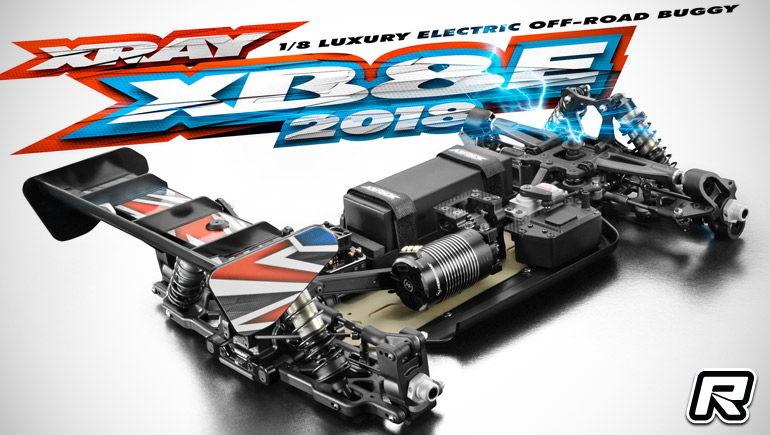 The full presentation can be found here.
Source: Xray [teamxray.com]
---