February 26, 2018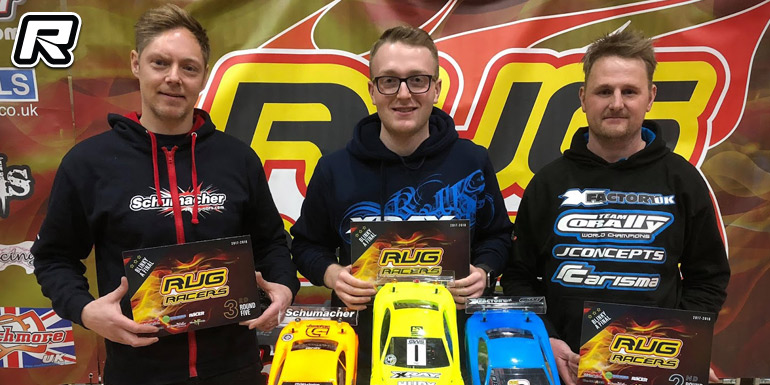 Round five of the 2017/18 Rug Racers on-road series was held this past weekend. In the 13.5 Touring class Zak Finlay put on a dominant display in qualifying to line up on pole, and he was also able to push from the start of both final legs to take a comfortable win securing the title as the battle for 2nd was a very close affair between the Awesomatix of Ashley Wiffen and Paul Pinkney's Schumacher, trading a 2nd and 3rd place in each leg to give Ashley 2nd overall from Paul. The battle for the final podium places will now go onto the final round.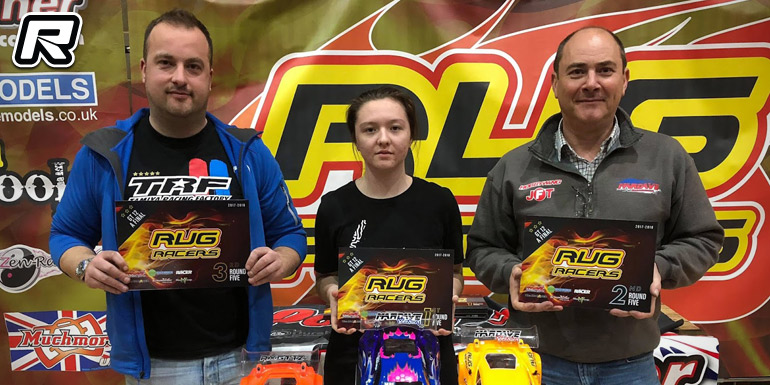 GT12 saw regular National A-finalist in Touring Car Modified, Harley Eldridge racing back to her roots, the young star racing for Mardave. Harley would take FTQ ahead of the other young Championship leader, Owen Smith of Zen Racing. Harley breezed to the win in leg 1 with Owen retiring. Leg 2 saw Harley again with the win and for the early part a great battle between the two front running youngsters with Harley delivering a faultless drive to win, Owen to take 2nd and secure the GT12 title. The overall 2nd went to Tom Hampson (Zen Racing) and 3rd to Chris Wilkinson of Mardave.
Tamiya Trucks was once again a fun filled adventure with the a few more new faces taking up the baton most notably Billy Fletcher driving a borrowed truck he somehow managed to put 3rd in the A-final despite a severe power deficit. Malc Hall, leading the way from pole, was able to bring home both legs ahead of the ever fast and fun Tom Hampson and Alan Chipolina. The win also awarded Malc Hall the championship.
Source: The RC Racer [thercracer.com]
---