February 20, 2018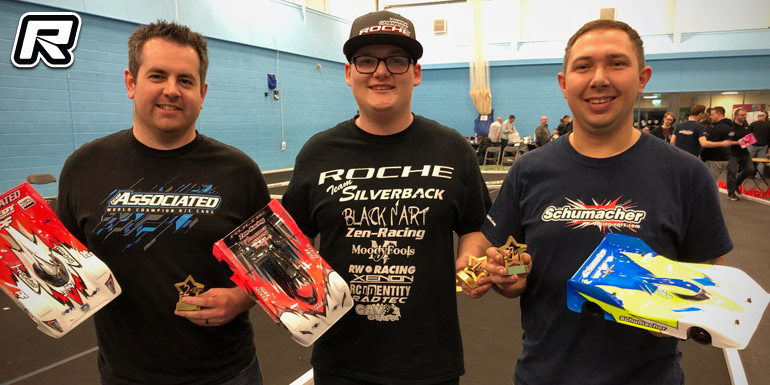 The fifth round of the BRCA LMP national series take place at the Newbury RC club last weekend. The event took place over two days, with Saturday seeing all drivers competing in the 13.5 Stock class, and Sunday seeing the field split into 6.5 Modified and 13.5 Sports Modified. The club last held a national two years ago, but the huge experience of the organising team saw a small but challenging track laid out for the attending drivers. The Newbury club run on ETS style carpet, and with the mix of touring car additive and large numbers of cars running, the track soon picked up grip and many drivers were adjusting setup to counter grip roll.
Over the first four Nationals Saturday's 13.5T class has been all about David Spashett and his Roche. David has notched up four TQs, four wins and the Championship over the opening rounds. Newbury saw the return of Olly Jefferies to the series, with the Xray driver using the meeting to prepare for the Euros at the end of March – the question was could he topple David? Qualifying saw the battle for TQ between the Roche duo of Spashett and Ollie Payne, and the Xray of Olly Jefferies. David looked to have the edge over the opening rounds, but enormous pressure from Olly Jefferies in the final round saw a rare mistake from David, leaving Olly to claim pole position for Xray from David and Ollie Payne. Only five drivers were within a lap of pole, with Andy Murray and Mark Stiles staying close to the leading trios pace.
The A-final was a real treat for the spectators with David leading off Olly J and Ollie P. Over the opening minutes David soaked up the pressure but couldn't break away. Olly Jeffferies started to look for the gap, and in defence of his line David clipped the dots at the end of the straight taking both himself and Olly wide. Ollie Payne nipped past and took up the lead, from a quickly recovering Olly Jefferies. As the minutes progressed Olly J looked to have a small pace advantage over Ollie P, but was never able to find a gap. At one point Olly J touched the leaders car, but immediately allowed him to retake the lead. As the clock counted down Olly J knew he had to make a move, and a lunge onto the straight saw Olly's Xray stuck on the barrier, leaving Ollie Payne to cruise to his first 13.5 National win. Olly J's mistake saw Mark Stiles and Ben Vincent nip through to take second and third at the finish for Associated and Schumacher.
13.5 Stock final results:
1. Ollie Payne – Roche/Motiv
2. Mark Stiles – Team Associated/Reedy
3. Ben Vincent – Schumacher/Fantom
4. Olly Jefferies – Xray
5. Andy Murray – Schumacher/Fantom
6. David Spashett – Roche/Motiv
7. Matt White – Team Associated/Reedy
8. Adam Catchpole – Schumacher/Fantom
9. Mick Farrell – CRC/Trinity
10.Aaron Morley – Team Associated/Reedy
The 6.5T Modified class saw the leaders from Saturday joined by Alexander Hagberg, Chris Kerswell and Chris Grainger who used Saturday to practice. Over the course of qualifying Alexander Hagberg and his Xray were simply untouchable, taking every round of qualifying, ending up on TQ by six seconds from Ollie Payne's Roche, who was the only other driver to score 53 laps. Three drivers made 52 laps, with Olly Jefferies, David Spashett and Adam Catchpole all looking to have the pace to challenge for the podium.
The A-final saw a chaotic first lap for Alex, with his Xray catching a dot and collecting Ollie Payne. This saw Olly Jeffries and Adam Catchpole into first and second, with a recovering Alex and Ollie behind. Olly Jefferies looked to have a pace advantage over Adam in second and started to pull away. Alex and Ollie were bottled up and took a while to find their way into second and third. Once released Alex piled on the pressure, but his car appeared close to grip-roll and small mistakes dropped him to mid-pack. Ollie Payne was then released to push for the win. At eight minutes Olly Jefferies had managed the gap perfectly to take the win by half a second from the charging duo of Payne and Hagberg, who were both within a second at the finish.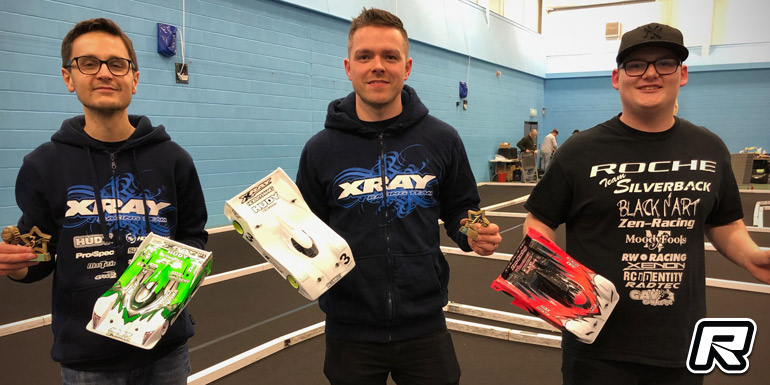 6.5T Modified final results:
1. Olly Jefferies – Xray/Hobbywing
2. Ollie Payne – Roche/ORCA
3. Alexander Hagberg – Xray/Hobbywing
4. Adam Catchpole – Schumacher/Fantom
5. Andy Murray – Schumacher/Fantom
6. David Spashett – Roche/Team Orion
7. Louis Parker – Schumacher/Fantom
8. Aaron Morley – Team Associated/Reedy
9. Chris Kerswell – Team Associated/Reedy
10.Mark Stiles – Team Associated/Reedy
The Modified Championship is going to the last round, and with news that Alexander will be overseas, it's between the Roche pairing of Ollie Payne and David Spashett for the championship win.
Once again the field in the Sports Modified class was incredibly close, with the drivers covered by under a lap – except for Ben Vincent who was over half a lap faster than second placed qualifier Matt Rice. Although in terms of pace Ben was dominant, he wasn't consistent, which gave others hope for the final. The front of the grid was completed by Matt Lax, Mark Jewitt and Mick Farrell in fifth, all drivers who have already won this year.
The A-final saw Ben Vincent disappoint the watching crowd, by simply disappearing off into the distance to take his second win for the year. Once Ben had a gap it was all about the battle for second. Matt Rice looked to be on course for another podium but a late race mistake saw him drop from second to fourth, allowing a very consistent Mark Jewitt to use all his experience to sneak through for second from Mick Farrell in third.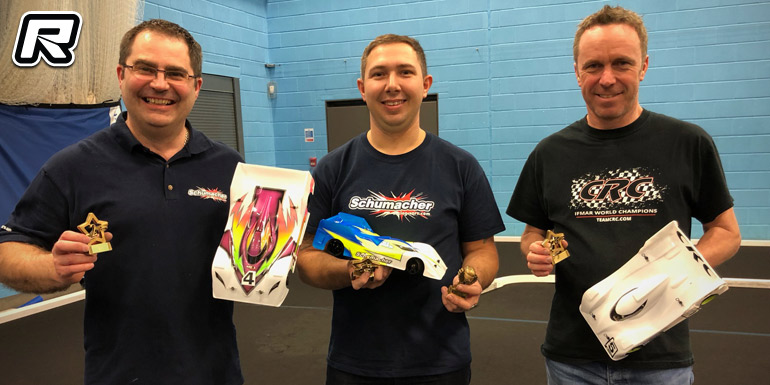 13.5T Sports Modified final results:
1. Ben Vincent – Schumacher/Fantom
2. Mark Jewitt – Schumacher/Fantom
3. Mick Farrell – CRC/Trinity
4. Matt Rice – Team Associated/Reedy
5. Matt Lax – Xray/Motiv
6. Luke Burley – Roche/Motiv
7. Scott Morton – Schumacher/Fantom
8. Nathaneal Goodban – Schumacher/Fantom
9. Andrew Edwards – Team Associated/Reedy
10.James Stewart – Team Associated/Reedy
The Sports class sees four drivers head into the final round with a chance of the championship, with Mark Jewitt holding a small lead from Ben Vincent, Matt Rice and Mick Farrell. Whoever finishes first wins at the final national at Chesterfield.
Source: BRCA [brca.org]
---