February 13, 2018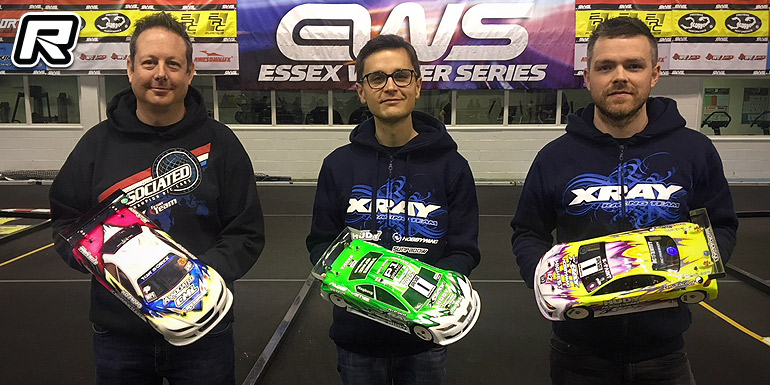 The penultimate round of the Essex Winter Series took place this weekend. Despite both the titles being wrapped up at the previous round, Olly Jefferies and Zak Finlay led two quality fields, looking to keep as many wins under their belt as possible. In the Modified class, Schumacher's Elliott Harper picked up the challenge, taking the fastest time, by just over two seconds, in the opening qualifier. Alexander Hagberg took second for Xray, in front of the Team Associated of Chris Grainger and newly crowned champion Olly Jefferies. Alexander, who since moving to the UK has raced at EWS whenever his hectic world-wide scheduled has allowed, then moved to the top in Q2, one second up on Olly, with Chris and Elliott both within half a second of the Xray driver. An intense fight in the third round saw Alexander just pip Elliott to the top spot by a mere five-hundredths, with Olly half a second back and Chris in fourth. This meant Elliott would need to top the last qualifier in order to deny Alexander his first EWS pole position, however the Swedish driver was firmly into his rhythm, and set the best time of qualifying, in front of Olly, Elliott and Chris, to ensure he would line up on pole for the single leg A Final. Elliott would start second, with Olly third and Chris in fourth, and Yokomo's Harley Eldridge continuing her impressive run with another top-five starting position, tied on points with the Team Associated of Alan Bickerstaff.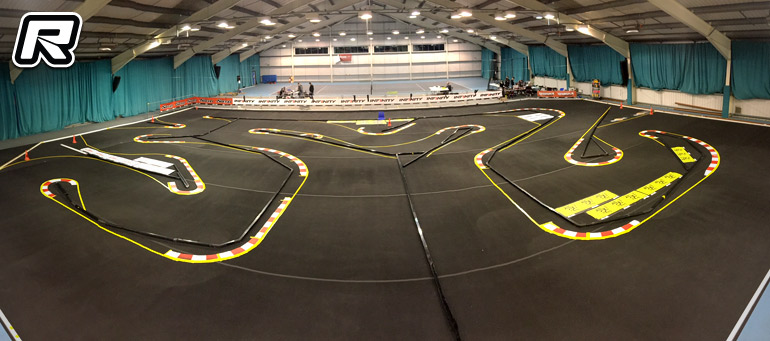 Alexander led the A-final off, and quickly established a lead over the field, showing that his pace wasn't resigned just to qualifying mode. Behind, Olly shadowed Elliott for the opening laps, until the Schumacher driver ran wide at one of the fast corners. This allowed Olly alongside and, at the next corner the two cars touched, resulting in Olly facing the wrong way and Elliott having to wait for him to recover. This allowed Chris to make up two places in one move, Harley up to a podium position and Alan into fourth. Olly quickly recovered to pass Alan and closed down on Harley. Meanwhile, Elliott made up places but couldn't pass the Northern Irish driver, allowing Olly to focus on closing down the Yokomo of Harley. Harley did a great job of defending the position, but eventually the skill of the multi-time ETS A-finalist shone through and Olly slipped into third. Elliott eventually passed Alan with a nice move through a fast sweeper, and also set about catching Harley. Out front, Alexander and Chris had lonely races up front, as Alexander became the eighth person to take a win in the Modified class at EWS, with Olly trying to close on Chris but just coming up short, as Elliott got to the rear bumper of Harley on the final lap but was not quite able to make a pass, despite a do-or-die move at the final corner.
Touring Modified final results:
1. Alexander Hagberg – Xray/Hobbywing
2. Chris Grainger – Team Associated/Reedy
3. Olly Jefferies – Xray/Hobbywing
4. Harley Eldridge – Yokomo/Maclan
5. Elliott Harper – Schumacher/LRP
6. Alan Bickerstaff – Team Associated/Reedy
7. Stefan Chodzynski – Schumacher/LRP
8. Matt White – Team Associated/Reedy
9. Ollie Payne – Destiny/GForce
10.Aaron Rose – Schumacher/Hobbywing
In the Super Stock class, Chris Grainger surprised the field by registering an entry for the class too, attracting interest to see how the multi-time Modified UK champion would get on against the best stock racers in the country. In case anyone had any doubts whether Chris' skills would transfer to the slower class, he spent qualifying keeping the newly crowned EWS champion Zak Finlay honest. Whist Chris led every time, it was Zak who came through to take his Xray to a narrow sweep of all four qualifying rounds, with Chris taking his Team Associated to a brace of second places, never more than one second behind Zak. Behind these two, self-christened "EWS bridesmaid" Tony Broad took his privately entered Xray to third on the grid, after a tie on points with fellow Xray privateer Colin Jackson – both with two third-place scores. Lining up fifth on the A Final grid would be the Schumacher of podium finisher last time out Chris Ashton, with the Awesomatix of Ashley Wiffen lining up sixth overall.
Zak led off the A-final, looking to make it four perfect scores from four meetings so far and stay on track for a series white-wash. Chris and Tony gave chase, with Colin dropping off the back slightly, and holding a solid fourth place. Zak was able to control the pace at the front, but knew he couldn't afford any mistakes as Chris and Tony were within two seconds for most of the race. The pressure on Zak was relieved somewhat as Chris had to then turn his attentions to defending the place from Tony in the second half of the race. Some fantastic driving from both Chris and Tony entertained the crowd and created one of the best battles EWS has seen this season, with Chris just prevailing to hold onto second, two-and-a-half tenths of a second in front of Tony as they crossed the line. The third place finish for Tony was all but good enough to secure second overall in the championship, however, with only a disastrous final round now able to prevent him from taking another Championship Runner-Up position.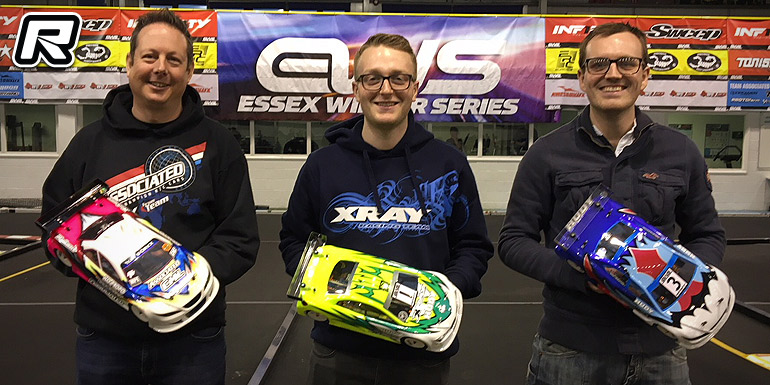 Touring Super Stock final results:
1. Zak Finlay – Xray
2. Chris Grainger – Team Associated
3. Tony Broad – Xray
4. Colin Jackson – Xray
5. Ashley Wiffen – Awesomatix
6. Tim Hancock – Xray
7. Chris Ashton – Schumacher
8. Richard King – Awesomatix
9. Adrian Bidewell – Team Associated
10.Luke Hobson – Xray
The series concludes in mid-March, where the podiums will be decided, as will the inaugural Sportsman title in the Super Stock class, which sees a battle of "old versus young" as EWS's resident DJ and stand-in announcer Mark "Dougal" Caton leading the standings over Paul Issacs, Barry Hughes and Dan Moorey, with young Oscar King sitting in fifth after being the second-best Sportsman at Round 4.
Source: EWS [ewsevents.co.uk]
---