February 27, 2018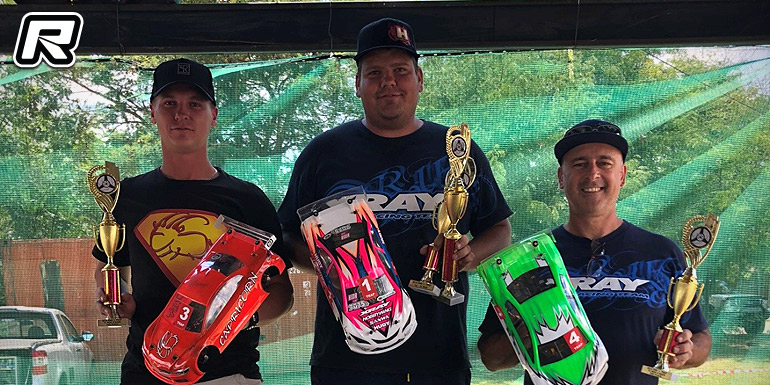 The opening round of the 2018 South-African ORE national championship was hosted by the TRAP RC Venue in Pretoria. There is great excitement within the South African RC family with the 2018 IFMAR Worlds being hosted in Welkom later in the year. There were two practice and a pre-nationals events hosted before the nationals and all the top drivers were practising hard to fine tune the setups in hot weather conditions with the track reaching temperatures of up to 67 degrees and offering a very fast layout. In Touring Modified the qualification was a tight affair with Hein Kotze winning Q1, Jacques Liebenberg winning Q2 and Conrad Liebenberg winning Q3. Ultimately it was Hein Kotze who managed to win Q4 to secure the overall TQ.
The racing in the A-finals was great with cars achieving speeds of up to 118km/h down the straight. Hein Kotze went on to win A1 and A2 to secure the victory. It was Jacques Liebenberg who eventually achieved 2nd place with Antonio Caroli completing the podium.
Modified Touring final results:
1. Hein Kotze – Xray
2. Jacques Liebenberg – Capricorn
3. Antonio Caroli – Xray
4. Ashley Hurley – Xray
5. Conrad Liebenberg – Capricorn
6. Shaun Schutte – Xray
7. Anderton Smith – Xray
8. Rowan Bower – Team Associated
9. Jason Hillcoat – Infinity
10.Alex Ribeiro – Yokomo
The Pro-Stock 13.5T blinky class had a good turn-out and there was some competitive racing between newcomer Jan Venter, Kevin Hattingh, Jean Wessels, Emile Moerman and Gunther Cornelius. It was Gunther Cornelius who managed to secure TQ with Jan Venter starting in 2nd on the grid and Jean Wessels from 3rd. Later Gunther managed good consistent runs in A1 and A2 to secure the overall win. Jan Venter managed to hold on to his 2nd place with the youngster Kevin Hattingh achieving a nice 3rd place on the podium.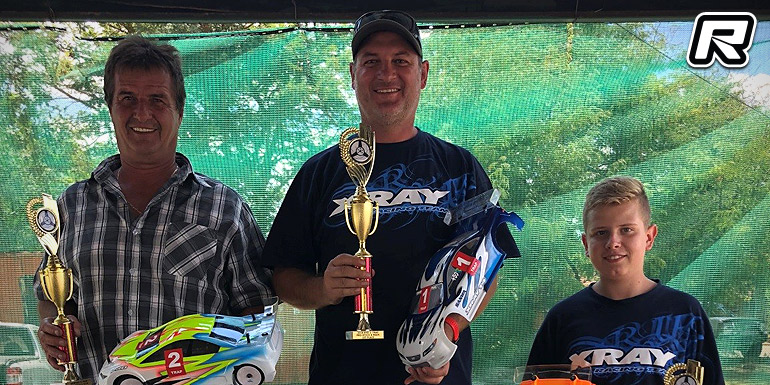 Pro-Stock 13.5T final results:
1. Gunther Cornelius – Xray
2. Jan Venter – Serpent
3. Kevin Hatting – Xray
4. Jean Wessels – HPI
5. Emil Moerman – Tamiya
6. Jonathan Wilken – Infinity
7. Eugene Wessels – Xray
8. Hennie Viljoen – VBC Racing
9. Pieter Swemmer – VBC Racing
10.Marius Venter – Yokomo
The 21.5T Formula class had challenging grip conditions with the high track temperatures, but the drivers managed to get their cars to work great and improved throughout the two racing days. Pedro de Gouveia continued his dominant form from last season by easily securing TQ and also winning A1 and A2 to secure the overall victory. He was followed by Brett Ross who had great battle with Jannie Hattingh and Pieter Swemmer. Jannie eventually managed to complete the podium in 3rd place.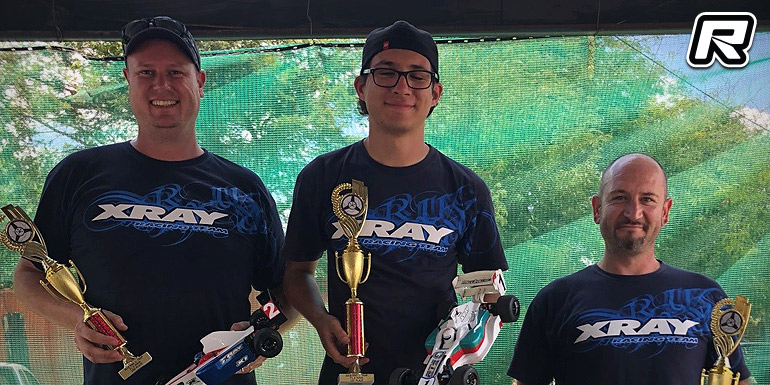 Formula 1 21.5T top 3 results:
1. Pedro De Gouveia – Xray
2. Brett Ross – Xray
3. Jannie Hatting – Xray
Source: Xray [teamxray.com]
---