February 27, 2018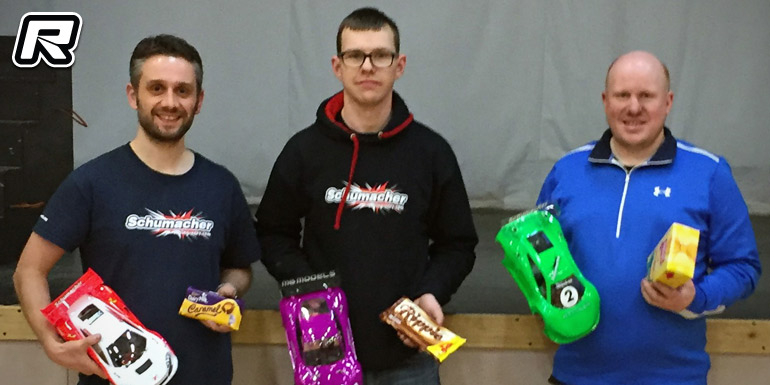 The second round of the BRCA Scottish GT12 regionals 2018 was hosted by Grampian Radio Car club. The Grampian club has the biggest track in the series measuring 22m by 12m and laid out a fast track with laptimes in the low 9 seconds available for the fastest drivers. A great turnout of 23 GT12, six TC and one Formula car gave a great atmosphere in the pits and great racing on the track. Round one's winner Andrew Edwards set an early pace and took the lead in the first three rounds of qualifying. However it was John Simpson, currently third in the championship and overall winner for the last two years who secured pole in round 4 by two seconds. Kenneth Rogers, currently second in the championship completed the top three. The A final was completed by consistently fast Graeme Dick, Dave Bruce and first time A finalist Matthew Archer finding some speed.
Finals were run over three legs with two to count. In leg 1 no one was able to challenge John's pace and he drove cleanly for a tone to tone win, Andrew second and Kenneth third. In the second final Andrew was able to stay much closer to John but an unfortunate ricochet off the lead car while lapping threw him off his rhythm and dropped him down the running. Kenneth took over second place but a small mistake while avoiding a marshal allowed Andrew back through while John secured the win. With two from two John had won the A final and decided to sit out leg three allowing Andrew to take the win securing second overall with Kenneth third. Graeme, Dave and Matthew raced hard in all three legs with a different order each race but Graeme came out on top followed by Matthew and Dave.
GT12 final results:
1. John Simpson – Schumacher
2. Andrew Edwards – Schumacher
3. Kenneth Rogers – Schumacher
4. Graeme Dick – Schumacher
5. Matthew Archer – Schumacher
6. Dave Bruce – Zen Racing
In the Touring Car class round one's winner Peter Eagles was relegated to second on the grid by Jeremy Stephens with round one's pole man David Scott lining up third. David was hampered by electronic problems in the final at round 1 and Jeremy was unable to make that meeting so we were looking forward to a great race. The fast open layout didn't disappoint and allowed the touring cars to stretch their legs. Peter would win legs one and two giving him the overall before David broke his dominance to claim leg three and finish in second place. Poleman Jeremy was unable to stay at the front but did manage to stay on the podium in third.
With a win at this round John has reignited his championship moving into second and trailing Andrew by a single point. With Kenneth only a point behind second place there is all to play for in the remaining two rounds. The series now moves back to Dundee and Angus Radio Control Car Klub on 18th of March where we look forward to more close, fun racing.
Source: BRCA [brca.org]
---