February 13, 2018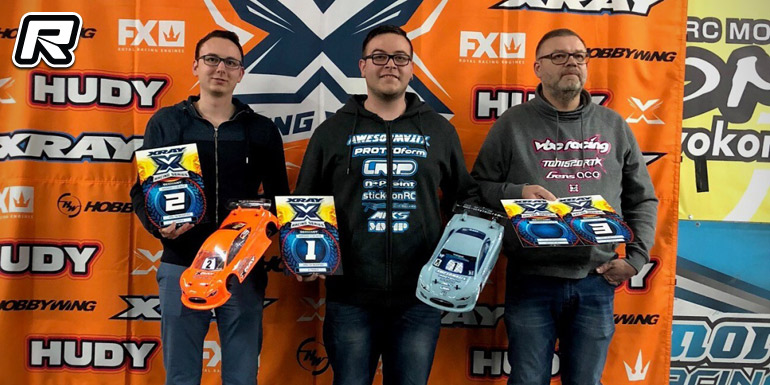 The Arena33 in Andernach played host to the fifth and penultimate round of the Xray Racing Series Germany. A good amount of drivers made their entry for the second appearance of the XRS at the already famous indoor track and following an intensive days of practice, 51 drivers joined the competition. In the Touring Modified class it was Awesomatix's Max Maechler with the overall win as the battle for the runner-up spot was on between Xray racer Patrick Mueller and Mugen racer Oliver Kaufmann. With lap times nearly identical, it was Mueller who ultimately earned the 2nd spot ahead of Kaufmann.
The Touring Stock class was run using Xray 13.5T hand-out motors and it was once again the most popular class of the weekend. Andreas Weyhoven took the TQ with an advantage of about a second over the couple of Melvin Diekmann and Jacques Libar. But in A-finals Diekmann was able to pass Weyhoven for the victory to take his second XRS win in the Arena33. Finally, Weyhoven came 1st in the third A-main ahead of Libar to secure a 2nd overall in front of Libar.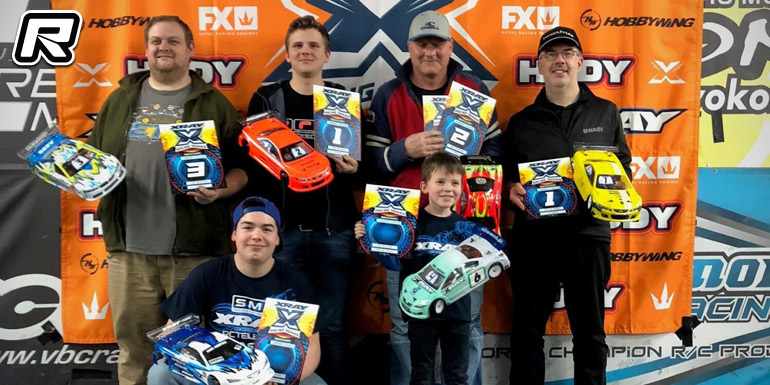 Touring Stock final results:
1. Melvin Diekmann – Awesomatix
2. Andreas Weyhoven – Awesomatix
3. Jacques Libar – Awesomatix
4. Tobias Hoefflin – Xray
5. Sven Soltau – Xray
6. Frank Hoeschler – Xray
7. Joerg Baldes – Xray
8. Marc Stuebben – Xray
9. Patrick Rebmann – Tamiya
10.Georg von Jeetze – Xray
The Touring 13.5T FWD class, run with WRC rally body shells, offered exciting bumper-to-bumper and door-to-door fights in all the six heats of qualifying and finals. Andreas Weyhoven, quite new in the group of this rising touring car class, captured TQ ahead of local hero Tobias Baumbach and Harald Schmittgen. This was also the ranking of the 1st and 2nd spot after the first main with Maximilian Rheinard in 3rd place. In the second main however things went wrong for Weyhoven who finished only 5th. Instead, Baumbach drove to victory followed by Schmittgen and Andreas Jacob. A tough fight for the overall victory was expected for the third leg. This time Weyhoven took advantage from his pole position and lead the field from the tone with Baumbach closely at his tail until the very last lap when his lost second position to Rheinard.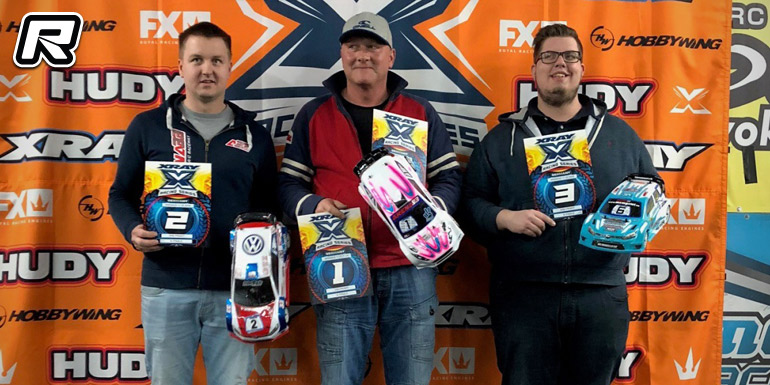 Touring FWD final results:
1. Andreas Weyhoven – VBC Racing
2. Tobias Baumbach – Yokomo
3. Maximilian Rheinard – VBC Racing
4. Harald Schmittgen – VBC Racing
5. Andreas Jacob – VBC Racing
6. Laurent Libar – Awesomatix
7. Thomas Heuer – HR
8. Bianca Schmittgen – VBC Racing
9. Ruediger Hepp – Xray
10.Andre Klink – Awesomatix
Jacques Libar from Luxembourg dominated the Formula class with the TQ and the overall victory after three wins in the mains. Although the 2nd position in this all-Xray class was a clear affair for Jan Bohlen. While Daniel Schober finished 3rd in the first main race, Davide Carbone from Italy relegated Schober to 4th in the finals two and three to catch the final spot on the podium.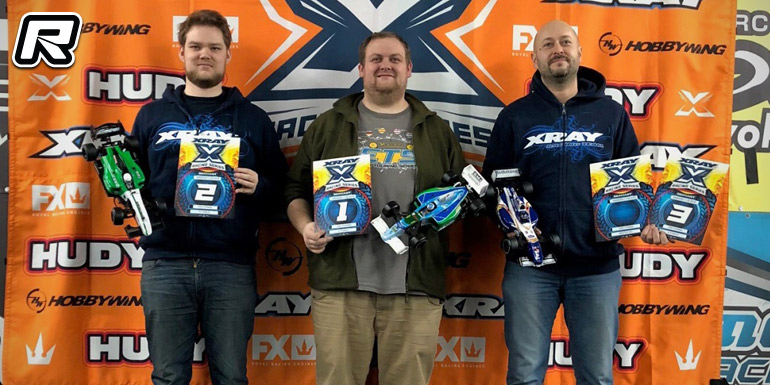 Formula 21.5T final results:
1. Jacques Libar – Xray
2 Jan Bohlen – Xray
3. Davide Carbone – Xray
4. Daniel Schober – Xray
5. Henri Mannes – Xray
6. Eric Champion-Rieger – Xray
Bernd Wiesenberger was in a class of his own in the 1/12th 13.5T Stock category. With a third win in a row he left now chances for the other competitors and so Alexander Seitter pushed his car to a 2nd spot in qualifying and managed to capture the runner-up spot on the podium as well with Michael Holla in 3rd.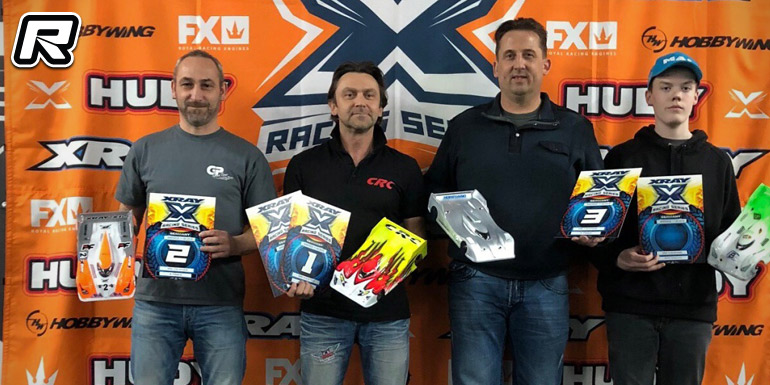 1/12 Stock final results:
1. Bernd Wiesenberger – CRC
2. Alexander Seitter – Xray
3. Michael Holla – CRC
4. David Ranft – Project Godspeed
5. David Streb – Xray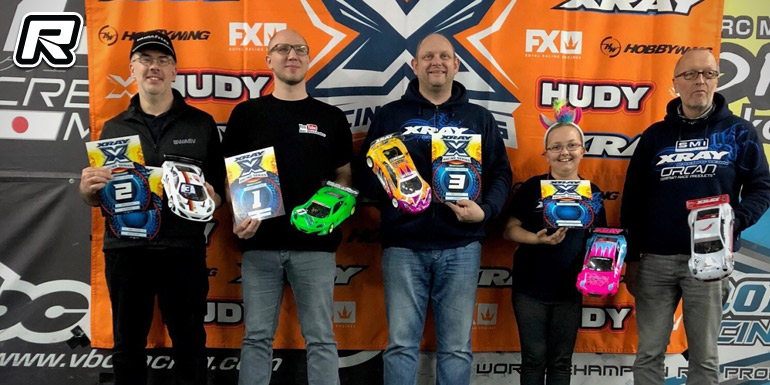 The developing class of 1/12th GT, run with 17.5T motors, attracted five entries this time. Tobias Schuster was the man to beat again and he brought home his third win from Jörg Mayers 2nd and Raymond Libar 3rd. Bertram Kessler in 4th and 10-years old Jody Müller rounded out the all-Xray top 5.
Source: Xray [teamxray.com]
---