March 27, 2018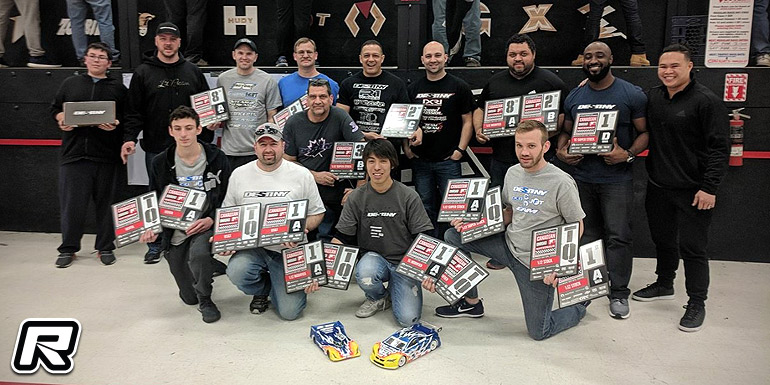 The 2018 Canadian Carpet Nationals were held at the Seaway Mall in Welland, Ontario last week. With over 500 entries from around the world, it was one of the largest races ever. In the Touring Car Modified Yugo Nagashima, fresh off of his last trip to North America, would do it again. The 2018 Snowbirds champion would end up on top again. He would go to reset his TQ a couple of times during the event and was the man to beat when it was all said and done. Cruising to a comfortable A1 and A2 win over some of the best drivers in North America, it was a display of perfection as he was over 99% consistency through the runs.
Touring Modified final results:
1. Yugo Nagashima
2. Paul Lemieux
3. Keven Hebert
4. Max Kuenning
5. Martin Crisp
6. Luke Pittman
7. Bryce Frechette
8. Barrett Morrow
9. Gordie Tam
10.Phil Matthews
In Touring Car Super Stock 17.5 and in Martin Crisp's final North American race, he stepped up to the plate and hit a couple of home runs. On his way to win A1 and A2, he also reset TQ every round.
Touring Car Super Stock 17.5 final results:
1. Martin Crisp
2. Max Kuenning
3. Tom Firsching
4. Dave Johnson
5. Jeff Dayger
6. Luke Pittman
7. Johnny Carey
8. Alex Fournier
9. Bryce Frechette
10.Chris Vogan
11.Daniel Mills
In USGT 21.5 Chris Vogan was the man to beat for most of the weekend, taking the first three rounds in commanding fashion. Scott Jakes was the dark horse going into round 4 and he wound up taking the TQ spot on the final lap of the heat. In A1, Scott had a perfect run and with Vogan having some bad luck, would only wind up running three laps. In A2, Scott would once again run a flawless race to make the clean sweep as Vogan would finish 2nd. In A3, it was Vogan the man to beat. Went on to have a commanding win with fellow driver, Albin Melendez, would finish 2nd.
USGT 21.5 final results:
1. Scott Jakes
2. Chris Vogan
3. Gordie Tam
4. Albin Melendez
5. Jonathan Devries
6. Adam Hutchison
7. Martini Racing
8. Chase Schell
9. Douglas Shewfelt
10.Mike Moore
11.Brian Wynn
Max Trivieri would put on a clinic in the USVTA class. Building his car on Thursday, the first day of the event, he would go onto TQ every round and lead the main from tone to tone with over a 14 second lead over 2nd place.
USVTA final results:
1. Max Trivieri
2. James Thompson
3. Darren Stoner
4. Ian Smith
5. Brian Wynn
6. Jeremy D'Amico
7. Kevin Large
8. John Cravotta
9. Brad Stewart
10.Dan Fitzgerald
In 1/12th Modified once again it was Destiny' Yugo Nagashima that showed the field how good his car and driving were. Winding up with TQ he would start from the pole. After a great battle between Yugo, Xray's Max Kuenning, and Team Associated's Keven Hebert, it would be Yugo who would come out victorious. With the three of them battling, sometimes within millimetres of each other, it was one of the best races of the event and a great display of driving and respect for each other.
1/12th Modified final results:
1. Yugo Nagashima
2. Max Kuenning
3. Keven Hebert
4. Joe Trandell
5. Bobby Rorison
6. Michael Zufelt
7. Philip Leung
8. Gabe Hoban
9. Tony Tang
10.Dana Bailes
11.Ken Miller
In 1/12th Super Stock 13.5 and once again as in 17.5 1/12th scale, it would be the Joe Trandell and Johnny Carey show in qualifying. Swapping TQ's throughout the event, Joe had it going into round 4. Johnny switched to a different compound of tires and threw down a near perfect run to grab TQ in the final round by a second. In the main, it was Carey who would stretch his lead out fast and let the field battle for the rest.
1/12th Super Stock 13.5 final results:
1. Johnny Carey
2. Tom Firsching
3. Joe Trandell
4. Jeff Dayger
5. Alex Fournier
6. Fabio Evangelista
7. Martin Lecuyer
8. Scott Jakes
9. Dana Bailes
10.Luke Pittman
In 1/12th Stock 17.5 and on a large track of 105'x60' on the CRC Black Carpet, this was a battle of precision and consistency. Joe Trandell of Team Associated and Johnny Carey of Destiny would battle the whole weekend, swapping TQ runs and being the front runners in the class. Johnny wound up setting TQ in round 4 on a perfect run. On the first lap, Johnny had spun out and fell down to 4th place allowing the lead to be challenged by the likes of Trandell, Jeff Dayger (CRC) and Tom Firsching (CRC). With some patience Johnny clawed his way back to wind up with the win.
1/12th Stock 17.5 final results:
1. Johnny Carey
2. Joe Trandell
3. Jeff Dayger
4. Bryce Frechette
5. Tom Firsching
6. Patrick St. Germain
7. Charly Gratts
8. Martin Lecuyer
9. Brandon Showler
10.Brian Wynn
11.Dana Bailes
Source: Destiny [destinyracing.jp]
---