March 20, 2018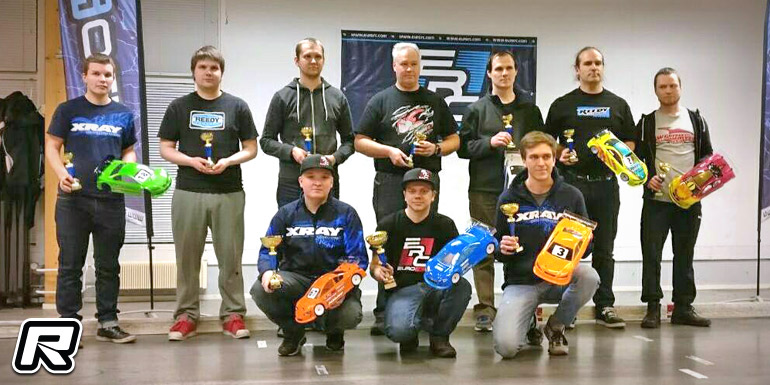 Round 4 of the Finnish FinTrack Tour took place at the Äänekoski indoor track last weekend. The facility offers both permanent on and off-road tracks and the club did a great job again hosting the indoor season finale. In the Touring Modified class, run on Saturday, Viljami Kutvonen took the win from Joel Valander and Georgy Chmigal in 2nd and 3rd respectively. The championship has three rounds ahead with the battle for the top 3 spots still being on between the 55 drivers that attended so far.
Touring Modified Rd4 final results:
1. Viljami Kutvonen – Xray
2. Joel Valander – Xray
3. Georgy Chmigal – Xray
4. Miko Teponoja – Awesomatix
5. Kalle Lehto – Awesomatix
6. Kirill Trofimov – Xray
7. Teemu Saarinen – Capricorn
8. Joni Minkkinen – Awesomatix
9. Miika Laurila – Awesomatix
10.Valtteri Eklund – Xray
In the Touring 13.5T class qualifying was super close with only a couple of tenths of a second separating the top 4 drivers. After the three mains it was Vesa Yli with the win, coming from the 3 spot on the grid, from Kalle Lehto 2nd and Miika Laurila 3rd. As for the overall championship, that concluded with round 4, Miika Laurila took the title honours with Vesa in 2nd and last year's champion Kalle Lehto in 3rd.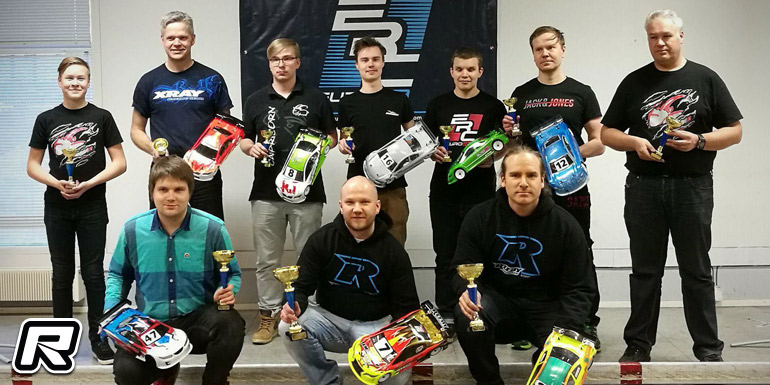 Touring 13.5T Rd4 final results:
1. Vesa Yli
2. Kalle Lehto
3. Miika Laurila
4. Teemu Saarinen
5. Marko Vähäkuopus
6. Valtteri Eklund
7. Leevi Martikainen
8. Eetu Pesonen
9. Lasse Ilvessalo
10.Jere Saarinen
In Stock TC Ilari Lamminsivu, 2017 1/12 Stock champion, won the race after a great drive. Also a great drive from club mate Eemeli Anttonen who had the speed to win but had a hard time in first main as he had to retire due to broken switch after his car got hit. Both drivers are still going strong and looking to battle for the championship when going outdoors at the end of May.
Touring Stock Rd4 final results:
1. Ilari Lamminsivu
2. Joonis Oksanen
3. Eemeli Anttonen
4. Saku Moilanen
5. Sisu Kuuslahti
6. Joenna Oksanen
7. Tommi Tirroniemi
8. Oscar Leino
Source: Euro RC [eurorc.com] & Vesa Yli
---