March 5, 2018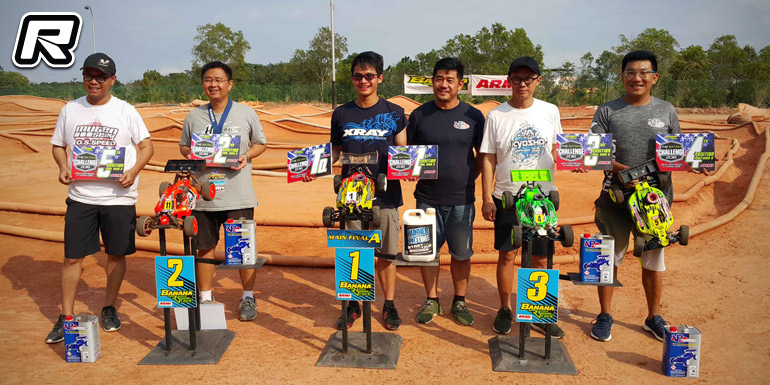 The 2018 Batam Challenge was held this past weekend at the Banana RC track in Batam, Indonesia. The track is accessible from Singapore by ferry in only 40 minutes and it is host for the 2018 FEMCA event in April. A total of 34 drivers from Singapore, Jakarta, Bandung, Banjarmasin, Pontianak as well as local drivers attended the event and after four rounds of 10-minutes qualifying it was Xray's Jason Nugroho with the overall TQ. Jason then also went on to win the 45-minute main final from HB Racing's Stanley Wangsanegara 2nd and Kyosho's John Agus 3rd.
Final results:
1. Jason Nugroho – Xray/Novarossi
2. Stanley Wangsanegara – HB Racing/O.S.
3. John Agus – Kyosho/O.S.
4. Edianto Ong – Kyosho/Reds
5. Adrian Wicaksono – Mugen/O.S.
6. Chopin Yusuf – TLR/Kabuto
7. Reza Rakasiwi – HB Racing/Team Orion
8. Ivan Budiman – HB Racing/Team Orion
9. Faisal Ali – Mugen/O.S.
10.Rama T – Team Associated/O.S.
11.Indra L – Xray/SPower
12.Asang – Mugen/Reds
13.Rizky P – Mugen/O.S.
14.Kenji L – Xray/SPower
15.Daniel Miswan – Kyosho/O.S.
Thanks to Michael Nugroho for the report.
---