March 13, 2018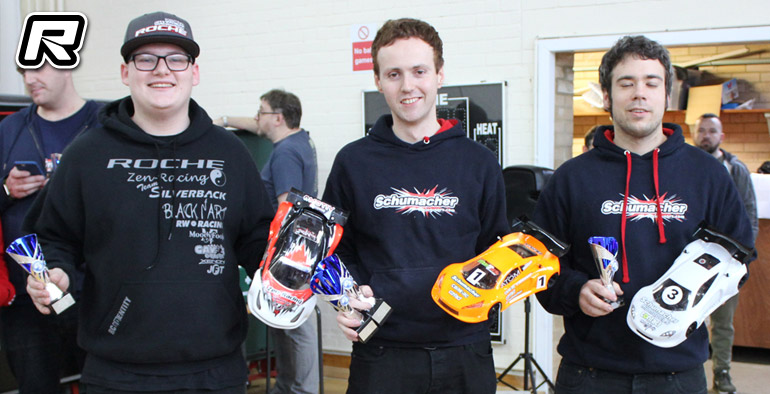 This past weekend saw the 1st and 2nd Round of the BRCA GT12 Nationals at the Eastbourne club. Split over the two days this year a great entry of 75 drivers on each day saw the best GT12 drivers going at it. It was a great weekend for the Schumacher Team and Andy Murray in particular. Andy managed to TQ and win both days in fairly dominant fashion for the close nature of GT12 racing. The Zen of Ollie Payne pushed Andy hard but would end up second with Adam Catchpole taking the podium in third.
Saturday's final top 10 was;
1. Andy Murray – Schumacher Atom CC
2. Ollie Payne – Zen
3. Adam Catchpole – Schumacher Atom CC
4. Ben Vincent – Schumacher Atom CC
5. Mark Stiles – Zen
6. Nathanael Goodban – Schumacher Atom CC
7. Mark Jewitt – Schumacher Atom CC
8. Owen Smith – Zen
9. Aidan Ripley – Schumacher Atom CC
10.David Gale – Schumacher Atom CC
Sundays performance was almost identical to Saturday with only a few differences in the top 10.
Sunday's final top ten was;
1. Andy Murray – Schumacher Atom CC
2. Ollie Payne – Zen
3. Adam Catchpole – Schumacher Atom CC
4. Ben Vincent – Schumacher Atom CC
5. Mark Stiles – Zen
6. Nathanael Goodban – Schumacher Atom CC
7. Mark Jewitt – Schumacher Atom CC
8. Ben Elliott – Zen
9. David Gale – Schumacher Atom CC
10.Aidan Ripley – Schumacher Atom CC
Source: Schumacher [racing-cars.com]
---