March 26, 2018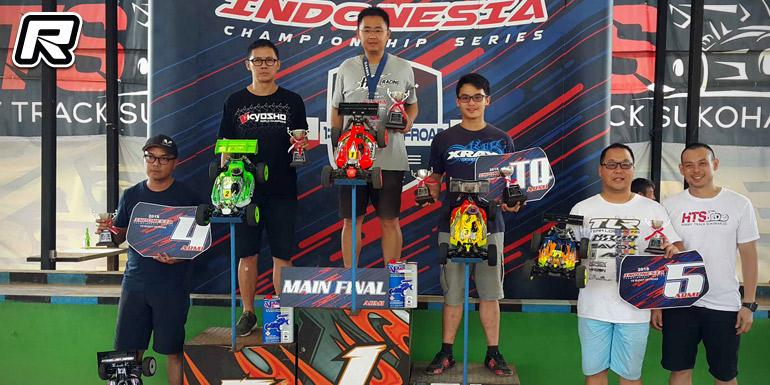 The opening round of the Indonesia National Buggy Championship was held at the HTS Track in Solo, Central Java this past weekend. The event, held on the country's first permanent indoor track, attracted 44 drivers from Jakarta, Bandung, Surabaya, Semarang, Medan, Gorontalo as well as local drivers. After six rounds of qualifying, Jason Nugroho (Xray/Novarossi) took the TQ honours but unfortunately he suffered a flameout in the main final and had to settle for 3rd overall. Up front Stanley Wangsanegara (HB Racing/O.S.) took the win from John Agus (Kyosho/O.S.) in 2nd.
Final results:
1. Stanley Wangsanegara – HB Racing/O.S.
2. John Agus – Kyosho/O.S.
3. Jason Nugroho – Xray/Novarossi
4. Adrian Wicaksono – Mugen/O.S.
5. Chopin Yusuf – TLR/O.S.
6. Kenji L – Xray/SPower
7. Edianto Ong – Kyosho/Reds
8. Andre Irawan – Mugen/O.S.
9. Ery Setiawan – Mugen/O.S.
10.Faisal Ali – Kyosho/O.S.
11.Arya BM – Mugen/O.S.
12.Rizky P – Mugen/O.S.
13.Indra Liono – Xray/SPower
14.Yudi Indrawan – Mugen/O.S.
15.Hariadi Lie – Kyosho/O.S.
Thanks to Michael Nugroho for the report.
---