March 9, 2018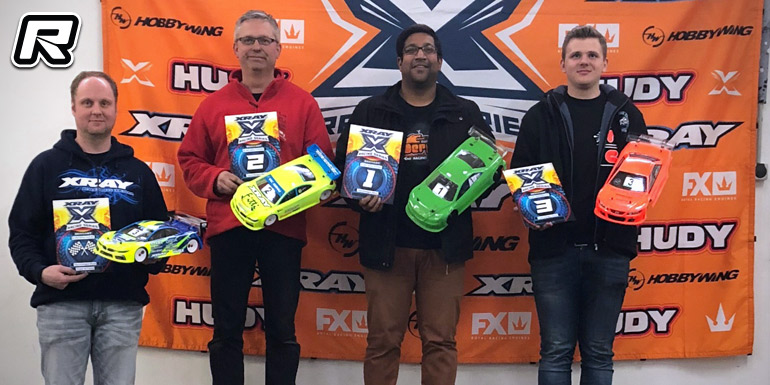 The sixth and final round of the Xray Racing Series Germany was held at the Eifel-Ring at Leimbach, located close to the famous Nurburgring. It was already the fourth XRS appearance in two seasons on the original ETS carpet of this 111-meter track with its challenging mixture of a technical and a fast section. The hosting MAC Adenau club did a great job again and received 53 entries but some had to cancel mainly because of a cold. Lot of racers including five young talents joined the competition which started with ten hours of intense practice on Saturday. In the Touring Car Stock class, a 13.5T Xray motor was mandatory as well as hand-out tyres from Hudy or Volante. Racing was fully under control of Majuran Tharmalingam. The local hero took the TQ as well as all three wins in the A-mains to catch the overall victory. Joerg Baldes, who was 2nd in qualifying just one second behind Tharmalingam, snatched the runner-up spot, four hundredth of a second in front of Melvin Diekmann. Only the top three drivers completed 28 laps during the heats. In the mains Baldes and Diekmann showed thrilling bumper-to-bumper racing with Baldes taking 2nd twice closely followed by Diekmann while he had to retire from the second main due to a malfunctioning ESC. Behind young Marc Stuebben, Tobias Hoeffin finished 5th which was enough to become XRS Touring Stock champion for the second time.
Touring Stock 13.5T final results:
1. Majuran Tharmalingam
2. Joerg Baldes
3. Melvin Diekmann
4. Marc Stuebben
5. Tobias Hoefflin
6. Sven Soltau
7. Jean-Baptiste Janssens
8. Jens Haller
In Formula 21.5T Daniel Schober was back to performance and was able to prevail from qualifying and all the finals after considerable fights with teammate Jan Bohlen. Man of the weekend was Eric Champion-Rieger who started to build a new car on Saturday afternoon. His third spot on the podium was well-deserved. Daniel Schober again became the XRS Formula champion.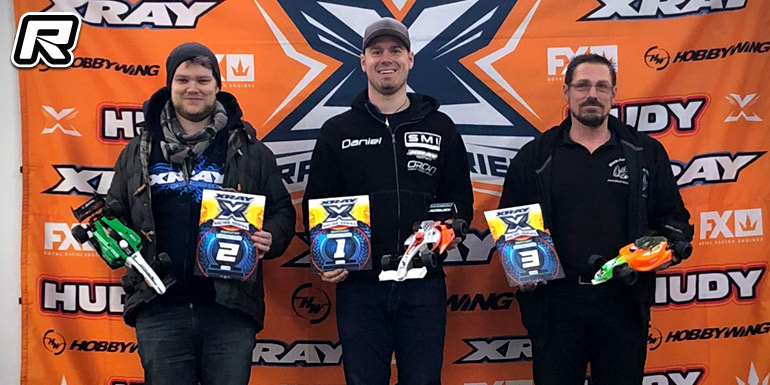 Formula 21.5T final results:
1. Daniel Schober
2. Jan Bohlen
3. Eric Champion-Rieger
The 13.5T FWD class gained lots of attraction during the four rounds held thanks to their original looking WRC/WRX body shells and their realistic driving style. The TQ at the final round went to Andreas Weyhoven with Frank Hoeschler 2nd and Harald Schmittgen 3rd. Hoeschler took the first win in the mains in front of Schmittgen and Laurent Libar while Weyhoven had to retire after only two laps. But he fought his way back to get a hand on the winner's trophy taking first in the second main and leading the third main until the very last corner when Hoeschler who was at Weyhoven's tail for the entire race, found a small gap for a deciding pass. Hoeschler took the overall victory with Weyhoven a strong 2nd and a lucky Schmittgen in red who was honored as the first FWD champion.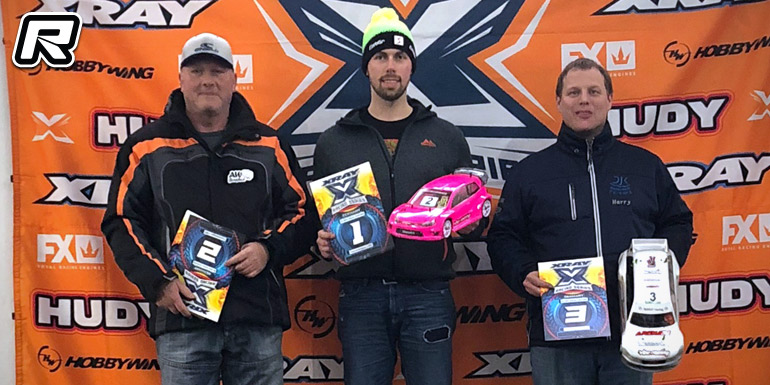 Touring 13.5T final results:
1. Frank Hoeschler
2. Andreas Weyhoven
3. Harald Schmittgen
4. Laurent Libar
5. Raymond Libar
6. Nicole Boers
7. Georg von Jeetze
8. Bianca Schmittgen
Only one week before the German Nationals in Ingolstadt, twelve 1/12 Stock 13.5T drivers used the XRS finale as a warm-up. Once again Bernd Wiesenberger was fastest in qualifying nearly a lap ahead of Jacky Mannes. As a surprise, Wiesenberger lost performance in the first A-main and Mannes took the opportunity to bring home the win one lap in front of fellow racer Alexander Seitter. But even he was suffering a cold, Wiesenberger fought back and won the following two races in front of Mannes, with only an advantage of a quarter of a second in the third main. Beside Wiesenberger and Mannes, Seitter completed the podium. While David Ranft finished 4th, an 8th place was enough for French nitro racer Alain Levy to catch the XRS 1/12 Stock title.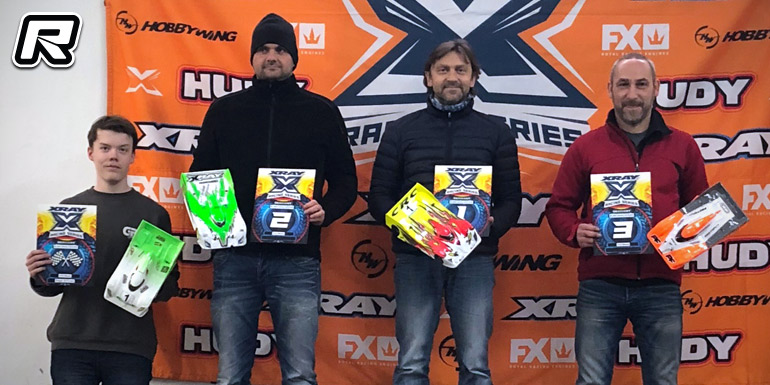 1/12 Stock 13.5T final results:
1. Bernd Wiesenberger
2. Jacky Mannes
3. Alexander Seitter
4. David Ranft
5. Jean-Baptiste Janssens
6. Sebastian Fenske
7. Fabian Bahl
8. Alain Levy
1/12 GT 17.5T class scored a new record entry with the class set to be a support class at the forthcoming German Nats. Again it was Tobias Schuster claiming TQ and victory but 2nd became former TC modified racer Haroun Schobner in his first GT class participation with Raymond Libar snatching the 3rd spot on the podium from Bertram Kessler who took the first 1/12 GT crown.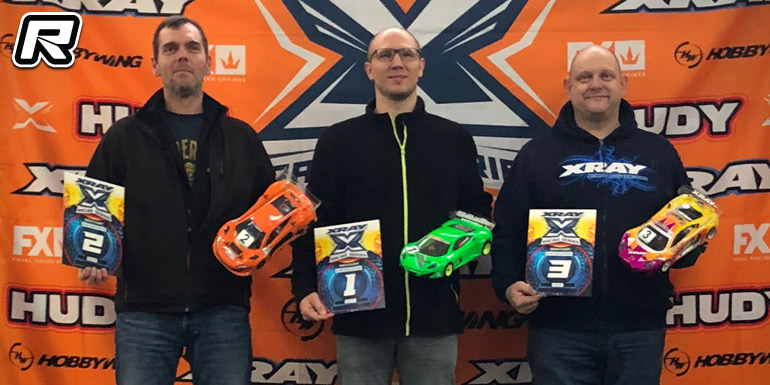 1/12 GT 17.5T final results:
1. Tobias Schuster
2. Haroun Schobner
3. Raymond Libar
4. Bertram Kessler
5. Roland Streb
6. Jody Mueller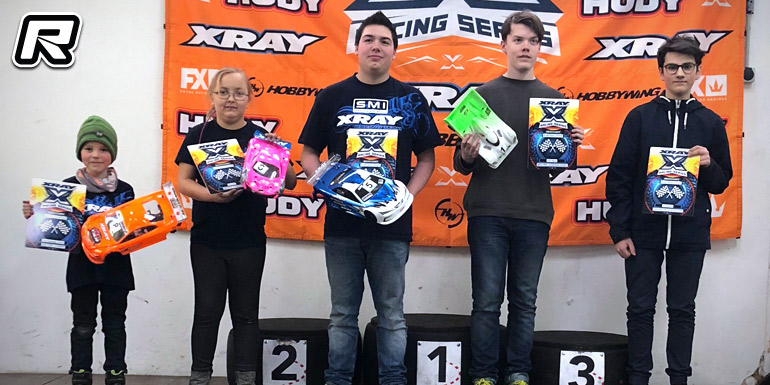 During the price-giving ceremony race director and time keeper Uwe Baldes presented the best young talents as well as the best 40 plus drivers. Best junior racer were seven-year old Thilo Baldes in TC Stock and ten-year old Jody Mueller in 1/12 GT. The best youth drivers were Marc Stuebben in TC Stock and David Streb in 1/12 Stock with Felix Reichold 2nd. The best 40-plus drivers were Joerg Baldes (TC Stock), Bernd Wiesenberger (1/12 Stock), Andreas Weyhoven (TC FWD), Eric Champion-Rieger (Formula) and Haroun Schobner (1/12 GT). Furthermore, Schobner became XRS TC Modified champion.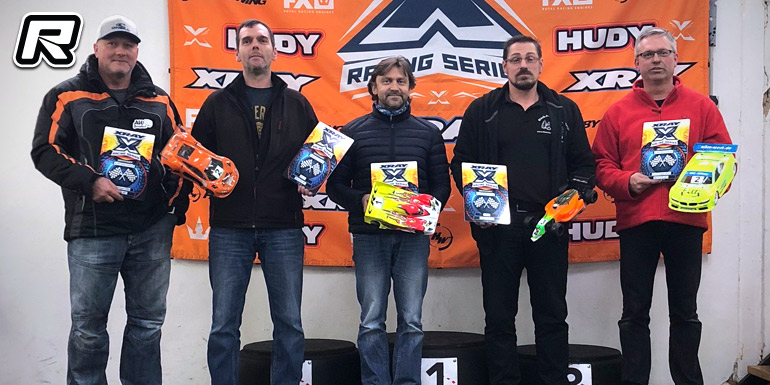 Source: Xray [teamxray.com]
---