April 23, 2018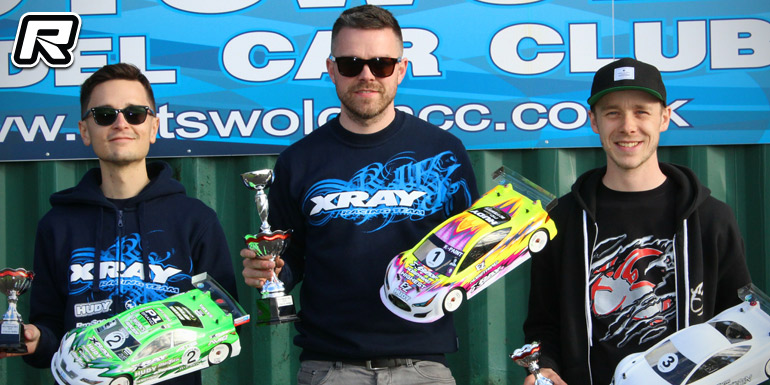 The BRCA National Electric Touring Car season kicked off at the weekend at the very popular Cotswolds track. After many seasons racing with the Sorex control tyre this year the series has switched to the Sweep tyre, but apart from the change of tyre it was business as usual for the top UK racers. Joining the domestic field for 2018 was Alexander Hagberg who was fresh from his recent ETS win in Spain. Three classes were up for grabs, Modified, 13.5 boosted and 13.5 blinky and 110 drivers lined up for round one of qualifying early Sunday morning. In Modified Olly Jefferies was out to defend his title while Elliott Harper and Chris Grainer looked to end a domestic drought that saw neither of them win a UK national in 2017, Kyle Branson and Alexander Hagberg were also on hand and looking for their first UK national wins.
Zak Finlay was out to defend his Boosted Stock title as was Jimmy Maddison in Blinky. Both drivers had enjoyed a relatively comfortable run to their titles in 2017 but there was a feeling around the pits as the meeting got underway that it was going to be a lot closer this season. Olly Jefferies made a dream start to the defence of his UK Modified title with a TQ, lining up for the A-final ahead of Xray team mate Alex Hagberg and Capricorn's Kyle Branson, while in Boosted Stock Zak Finlay also TQ'd ahead of Chris Gunter and James Hart, making it an Xray clean sweep of all three classes was Markus Askell took TQ in the Blinky 13.5 class
Over the two leg finals Olly looked comfortable in leg one easing out a comfortable lead over the chasing pack, however in the second leg Alex Hagberg was closer but Jefferies looked to be pacing himself knowing his team mate behind was not likely to make a silly move and risk spoiling a one-two for the team and that's how they finished with Jefferies crossing the line half a second ahead and taking the win. Two 3rds for Kyle Branson saw him complete the podium
Touring Modified final results:
1. Olly Jefferies
2. Alexander Hagberg
3. Kyle Branson
4. Matthew White
5. Zak Smith
6. Chris Ashton
7. Elliott Harper
8. David Hall
9. Stefan Chodzynski
10.Chris Grainger
Zak Finlay looked well in control at the head of the Boosted Stock A-finals and took two relatively comfortable wins, like Jefferies Finlay had made a convincing start to the defence of his national stock title.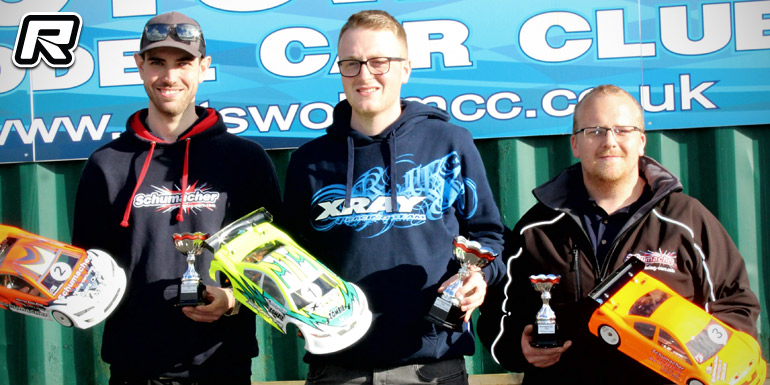 Touring Boosted Stock final results:
1. Zak Finlay
2. Chris Gunter
3. James Hart
4. Merv Wignall
5. Paul Pinkney
6. Adrian Bidewell
7. Daniel Blake
8. Andrew Robson
9. Darren Lee
10.Dominic Carter
The Blinky finals were a lot more eventful, Jimmy Maddison was the beneficiary of a slightly scrappy first final while Colin Jackson took leg two, and with scores added together for the two legs it would be Jackson who came out on top ahead of Maddison. Billy Fletcher completed the podium with a strong drive at a circuit he had not raced at before, as this year's Blinky class looks more open than in 2017.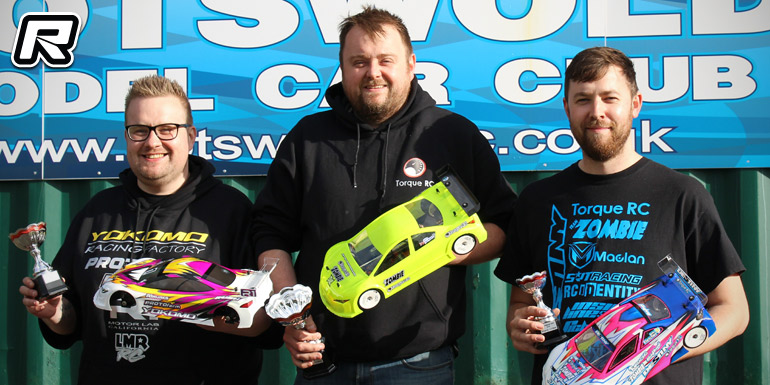 Touring Blinky Stock final results:
1. Colin Jackson
2. Jimmy Maddison
3. Billy Fletcher
4. Marcus Askell
5. Glenn Westwood
6. Daniel Booker
7. Richard King
8. Matthew Quinlisk
9. Chris Clark
10.Shaun Batt
The championship now moves to the technical Stafford track for round two in May.
Source: BRCA [brca.org]
---