April 23, 2018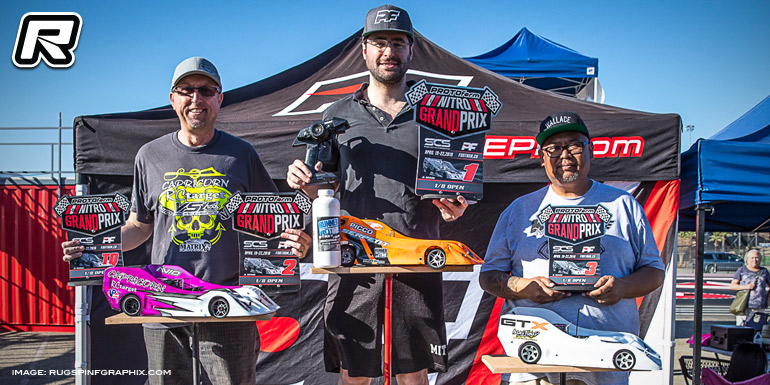 The highly-anticipated first race at the brand-new Steel City RC Speedway went down this weekend, and it did not disappoint. The inaugural PROTOform Nitro Grand Prix attracted nearly 150 entries in six classes from all-across the United States, including factory drivers JJ Wang, Joaquin De Soto Jr. and Mike Swauger. Built on the grounds of Auto Club Speedway, home of NASCAR, Indycar, drag racing, autocross and karting tracks, the ra​​cing atmosphere at the new facility is second-to-none. The Goodwine family has created a world-class track that provided close racing all weekend long under the California sunshine.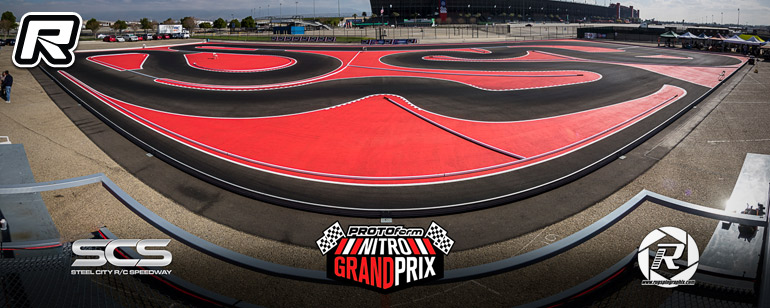 In the premiere 1/8th Open class, it was a spirited 3-way battle for TQ over the 5 rounds between Swauger, De Soto and Scott Kimbrow. Each round the lead traded back and forth through the qualifiers but it was Kimbrow who came out with the TQ by just a few tenths of a second. When the 30 main main started, Robbie Cerrato jumped out the lead from P4 on the grid and controlled the race for nearly 20 minutes until some unfortunate contact with a lapped car ended his day early. This gave the top spot to De Soto, a lead he would not relinquish while cruising to the first ever PFGP 1:8 victory over Kimbrow and Chris Verano. Special shoutout to David "Ironman" Blakeney who bumped all the way from the C-main to finish 4th overall.
1/8th Open top 5 results:
1. Joaquin De Soto Jr – Serpent
2. Scott Kimbrow – Capricorn
3. Chris Verano – WRC
4. David Blakeney – Serpent
5. Brandon Cho – ARC
1/10th Sedan featured the JJ Wang Show all week long. The former world-finalist showed superior pace in every round of racing, sweeping five rounds of qualifying and leading every lap of the 30-minute final to win by 1 lap over teammates Brian Thomas and Scott Barnes.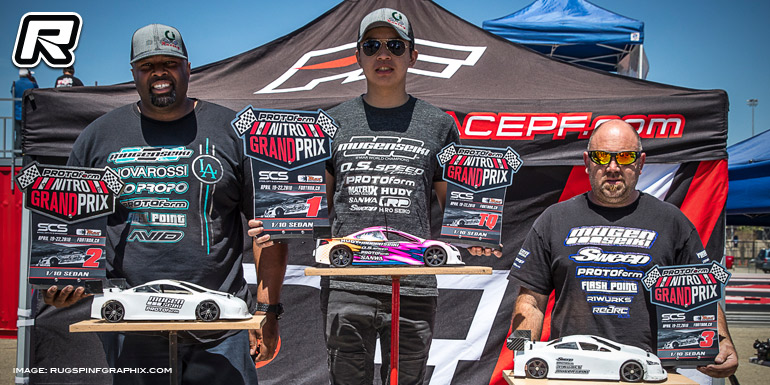 1/10th 200mm Sedan top 5 results:
1. JJ Wang – Mugen
2. Brian Thomas – Mugen
3. Scott Barnes – Mugen
4. Jose Casas – Mugen
5. Eric Epp – Mugen
1/8th Masters proved to be one of the most competitive classes of the event, with three different drivers taking turns on TQ through the five qualifiers. In the end it was Dana Smeltzer who started on pole and paced the field for the first half of the final. After Dana ran into trouble, Chuck Moon took over the lead and with smooth driving and solid pit strategy, stretched his lead to three laps and took the win.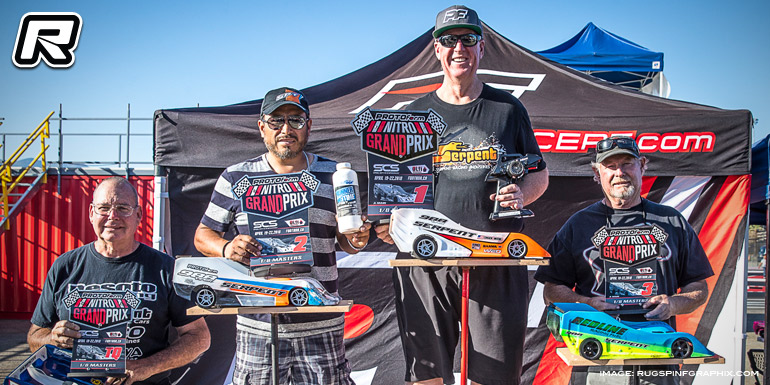 1/8th Masters top 3 results:
1. Chuck Moon – Serpent
2. Ricardo Gonzalez – Serpent
3. Tracy Grieger – Serpent
In the most entertaining main event of the day, 1/8th Sportsman saw a great battle between Paul Smith and William Yip. They would trade the lead back and forth 11 times in 30 minutes before Smith finally pulled away to take the win over Yip and Bill Jianis.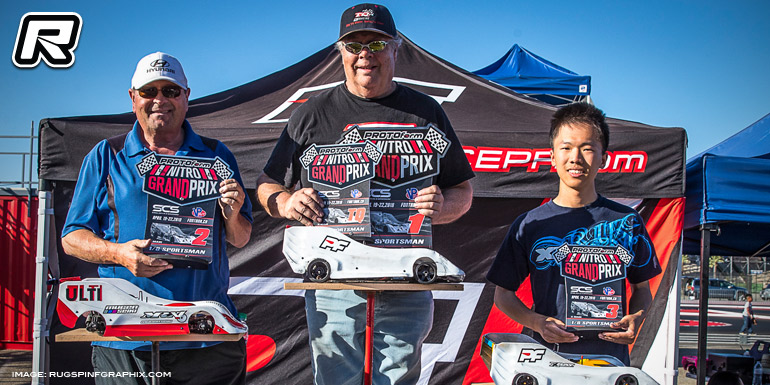 1/8th Sportsman top 3 results:
1. Paul Smith – Mugen
2. William Yip – Xray
3. Bill Jianis – Mugen
1/8th GT saw Walter Diaz take TQ spot and jump out to an early lead in the main .After some mechanical troubles set him back to 6th, Scott Barnes would take over the lead and cruise to the win. A spirited drive from Diaz would see him make it all the way back to 2nd, ahead of Biboy Angeles.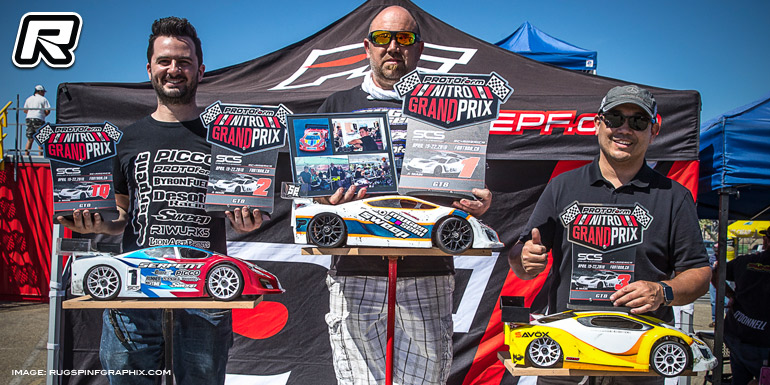 1/8th GT top 3 results:
1. Scott Barnes – Mugen
2. Walter Diaz – Serpent
3. Biboy Angeles – Xray
Victor Garcia was the man to beat in 1/5th scale, showing great pace in qualifying and jumping out to a big lead in the main event. It was not to be however, as Craig Kaplan took over the lead 2/3rd of the way into the main, driving his Martini-themed Alfa Romeo to the win.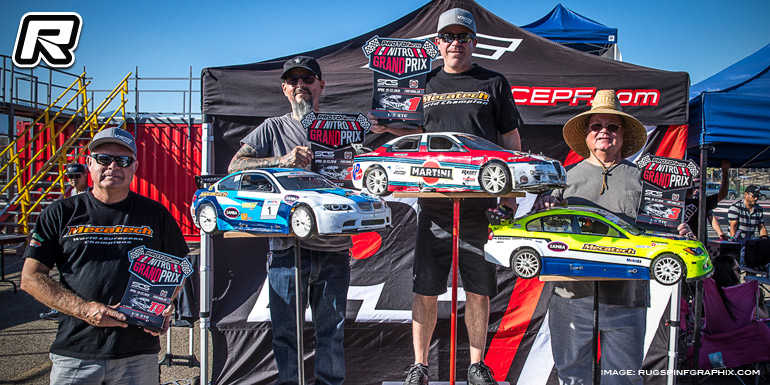 1/5th scale top 3 results:
1. Craig Kaplan
2. Frank Pena
3. James Stuard
Source: Protoform [racepf.com]
---