April 25, 2018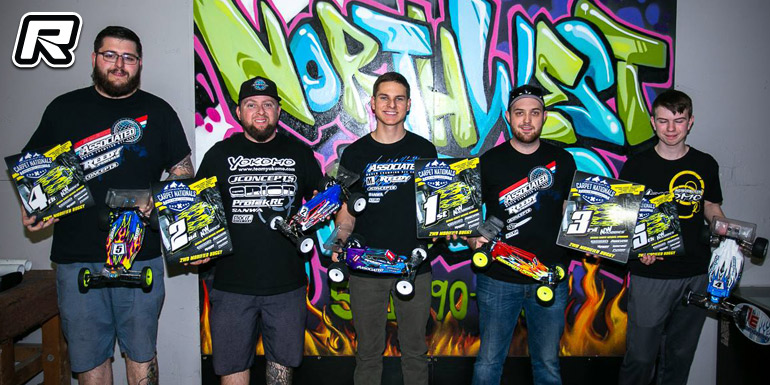 With the popularity of artificial surfaces still on the rise, JConcepts teamed up with carpet track specialist, Northwest Hobbies, to present the 1st ever JConcepts Carpet Nationals event in Albany, Oregon. With Northwest Hobbies being one of the first tracks in the nation to go carpet, the local race scene has developed some extremely fast drivers that span from Oregon, Idaho, and Washington. Mix in two World Champions, a car designer who placed 2nd at the Worlds Warm-up at Yatabe, with the fast locals and you have one of the most competitive fields in US off-road carpet racing history.
The atmosphere was fantastic and there was definitely some magic in the air as racers dialed in their cars and the pace just kept getting faster throughout the weekend. The control tires provided lots of grip, very good wear, and a peace of mind not having to worry about the whole tire game. As Kody Numedahl put it, "No sanding, no saucing, just racing".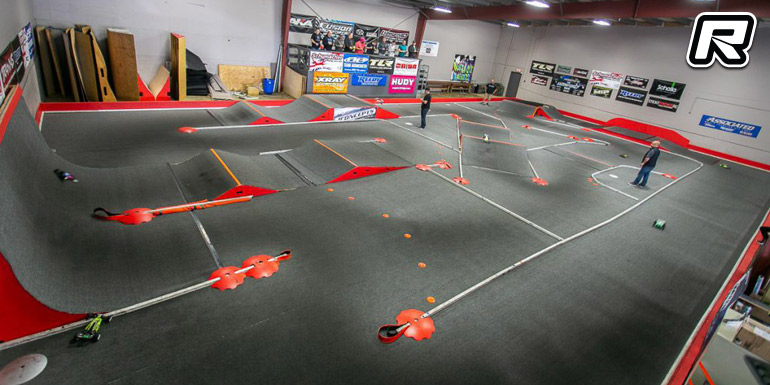 This year's layout was ultra fast and tight. Utilizing all the space, the track featured drastically sharp turns that required cars to be planted and stable. The challenge was nailing the setup right so that you could rotate around 180's without traction rolling. The double off of the wall ride was extremely tricky and the elevated pie-turn to tabletop was another feature that kept you on your toes as getting on the straightaway was crucial to carry the maximum amount of speed across the start/finish line. As with any layout, it's always easy to get around the track, but hard to get around going fast and with carpet's high-speed characteristics, made it an extremely adrenaline heavy challenge.
The premier class of 2WD Modified didn't disappoint with two world champions going head to head. With track position being so crucial on a small, tight track, Team Associated's Spencer Rivkin was able to utilize his TQ starting position to set the pace. With Spencer taking A1 and 4WD Mod winner, Yokomo's Ryan Maifield winning A2, the showdown was set for A3. The 1st mistake came from Maifield dropping himself back to 3rd and having to play catch up. Without pressure, Spencer delivered a flawless run to take the win and the overall. Maifield finished 2nd, Team Associated's Kody Numedahl 3rd. Showing some serious speed and improvement over the years, Yokomo's Brandon Foote placed himself 4th and Team Associated's Casey Vitale 5th.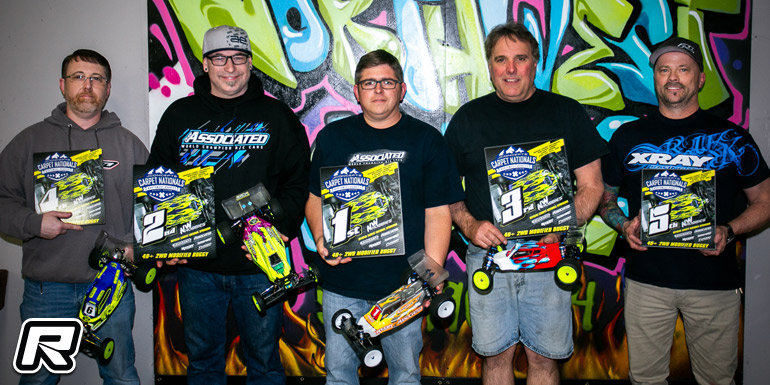 This weekend's King of 40+ was Team Associated's Rhett McNair as the Texas native made the trip and found the pace he needed to take wins in A1 and A2 and the overall. As it was his first time racing at Northwest Hobbies, Rhett showed tremendous speed and consistency that ultimately gave him the win. Team Associated's Jack Leighan was only able to show up on Sunday morning and got up to speed quick enough to get himself into the main and remarkably finished 2nd overall. Phil Vitale went on to finish 3rd, Jeff Phelps 4th, and Shannon Houfek 5th.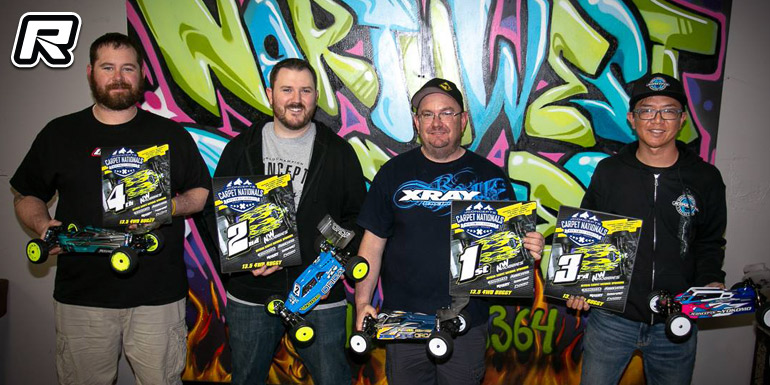 It was a terrific race in the 13.5 4WD class as the top 3 were very close in pace. Xray's Devin Patterson converted his TQ effort into an overall win by emerging victorious in A1 and A3. Jeff Jenkin Jr. and Yokomo's Thomas Tran put up a good fight and finished 2nd and 3rd respectively. Capping off the top 5 was Michael Archdeacon finishing 4th and Wesley Cipriotti 5th.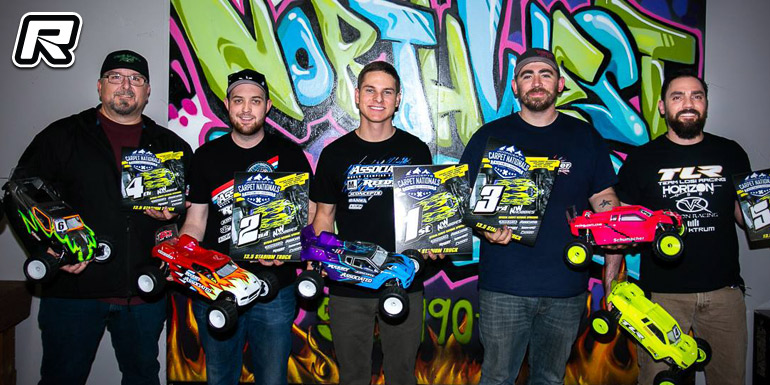 In 13.5 Stadium Truck Spencer Rivkin and Kody Numedahl stole the show. The two stars went back and forth multiple times putting on a terrific show during qualifying and triple mains. It looked like Kody was going to take the overall win, but Spencer Rivkin bounced back to win A2 and A3 and took the overall as Kody finished 2nd. Local speed demon, Justin Hall put in a great effort finishing 3rd, Brett Wilson finished 4th and Luke Unis 5th.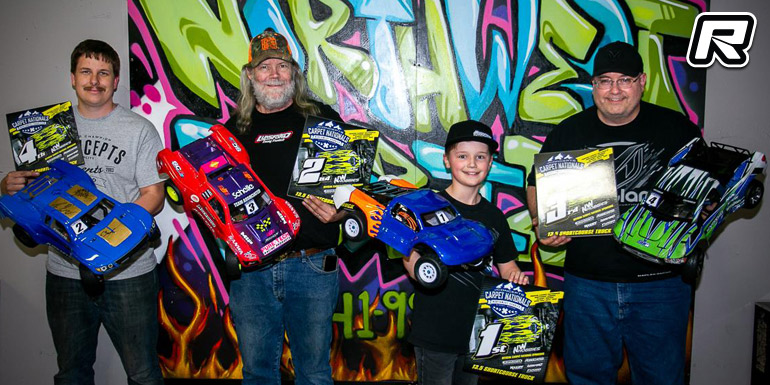 It was wildly popular win for Cole Mueller in the 13.5 Short Course class as wrapped up the overall in just two mains. After taking his win, the locals cheered the youngster on and you can see he was all smiles. Tom Cox went on to finish 2nd, Scott Dyche 3rd, and Lance Hopkins 4th.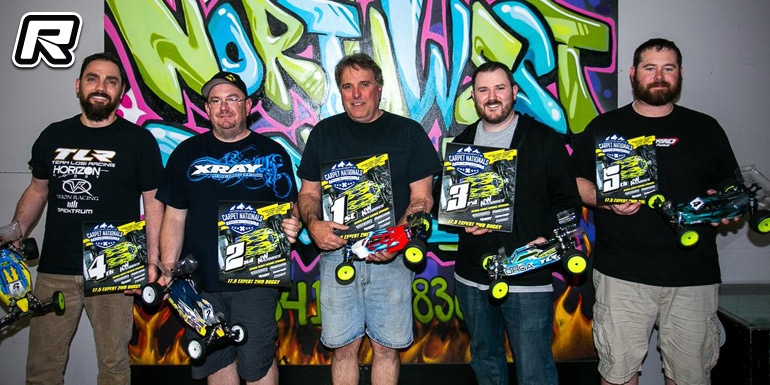 The 17.5 Expert 2WD class is always competitive no matter where you go. The racing is always top notch and taking 1st in this ultra-competitive field was the local speedster, Phil Vitale, with a win in A1 and A3 to seal up the overall. Devin Patterson delivered a great effort to finish 2nd and Jeff Jenkins Jr. also showing some great speed to win A2 and finished 3rd. Luke Unis made the trip from TRCR and found himself in the mix with a 4th place finish and Michael Archdeacon 5th overall.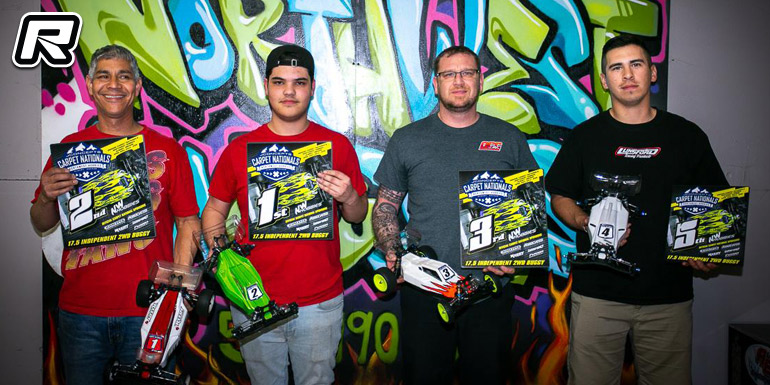 New for 2018, the 17.5 2WD privateer class has been a hit during the JConcepts Super Cup and Indoor National Series. Proving to have a place in racing, the class was also popular at the Carpet Nationals as it gives people with like speed and situation a class of their own to race in. Showing the speed to take the top spot on the podium, Jacob Lauterio, won A1 and A3 to win the overall with Mike Lauterio 2nd and Lyle Parsons 3rd. Lincoln Conway came home in 4th and Richard Stobert 5th.
Rookie class TQ, CJ Smith threw down the hammer with excellent performances in A2 and A3 with 2 wins giving him the overall. Happy as can be, Cody Schatz, moved up from his 8th qualifying spot to win A1 and place 3rd in A3 to take 2nd overall. Robert Herrick rounded out the top 3 with David Minner 4th and Angela Conway 5th.
Source: JConcepts [jconcepts.net]
---