April 13, 2018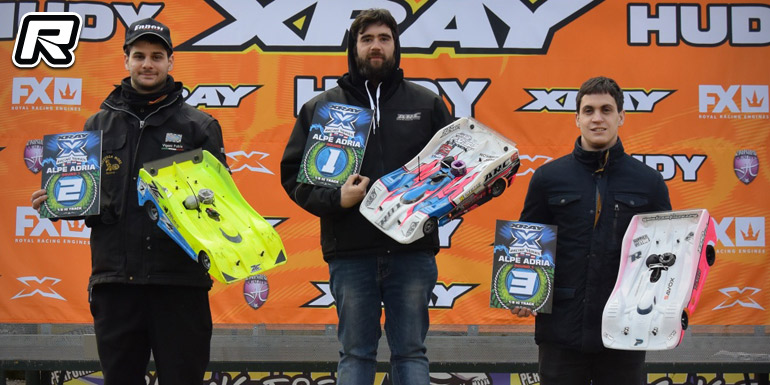 Round 1 of the 2018 Xray Racing Series Slovenia took place at a new track to the calendar, the Pista Verde Fener in Italy. A lot of drivers made use of Saturday's practice in order to get some laps under their belt following the winter indoor season. The EP categories were run using mandatory Hudy hand-out tyres, Hobbywing motor and Hudy additive while in 1/8th track a mixed set of rules is used with drivers who compete in the championship having to use Contact tyres while all other can use free tyres and additives. Following two controlled practice runs on Sunday everyone jumped straight into the qualifying action. In the 1/8th IC Track class the overall TQ went to ARC's Mattia Collavo while the best control tyre pilot was Xray's Jernej Vuga Štendler. In the Touring 13.5T Stock class it was Gabriel Benvenuti (Xray) with the TQ from Alessandro Arisi (Yokomo) and Lovro Šušteršič (ARC). Over in Formula 21.5T Andrea Ghilotti (Xray) snatched the TQ from Andrea Grigoletto (Roche) and Flavio Brun.
After the 1/8th IC Track A-main it was TQ holder Mattia Collavo with the overall win from Fabio Vigani and Nejc Mihelič (ARC) in 2nd and 3rd respectively. Snatching XRS championship points were Nejc Mihelič from Anže Šetina (Xray) and Jernej Vuga Štendler who did not take part in the final due to organisation duties.
1/8th IC Track final results:
1. Mattia Collavo
2. Fabio Vigani
3. Nejc Mihelič
4. Sartor Cristiano
5. Marco Bianchi
6. Claudio Codazzi
7. Michele Dalla Piazza
8. Paolo Massari
9. Francesco Mionetto
10.Luca Conte
In Touring 13.5 it was a battle between Gabriel and Alessandro. At the end it was Alessandro who managed to take the overall win from Gabriel as the 3rd place went to Lovro Šušteršič.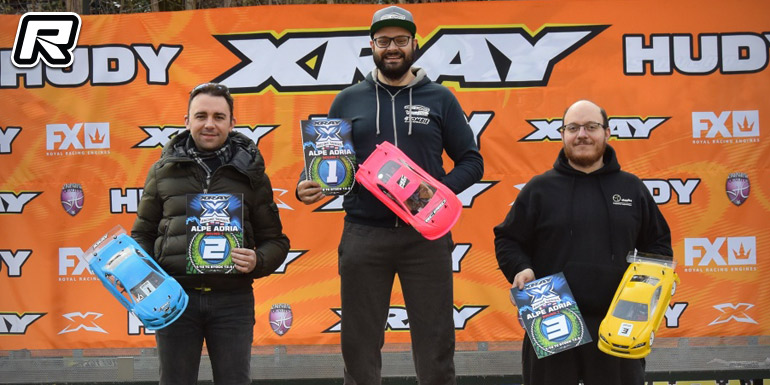 13.5T Touring final results:
1. Alessandro Arisi – n/a
2. Gabriel Benvenuti – Xray
3. Lovro Sušteršič – ARC
4. Christian Katarincic – Xray
5. Matteo Sartor – Mugen
Finally in the 21.5T Formula class to was Andrea Ghilotti to take the overall win with Flavio Brun in 2nd and Andrea Grigoletto in 3rd.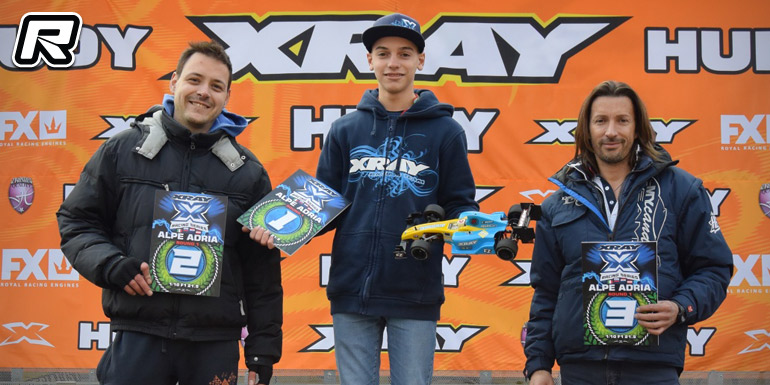 Formula final results:
1. Andrea Ghilotti – Xray
2. Flavio Brun – Rochhe
3. Andrea Grigoletto – Rochhe
4. Luca Girotto – Capricorn
5. Pierluigi Varago – Capricorn
The next XRS Alpe Adria race will take part on 13th May on the track "Na Logu" in Tolmin (Slovenia).
---