May 21, 2018
The 2nd Annual Pan Car Masters was held at the MRTM Lostallo track in Switzerland over the weekend. The event is also known as the unofficial Pro10 World Championship with this year's race attracting entries from Austria, Italy, Germany, Belgium, The Netherlands, France, the Czech Republic and the hosting country Switzerland. The weather forecast for the weekend wasn't the best, however nearly 50 drivers made the trip to race at the iconic Swiss track. The event was held in several 1/10th and 1/8th Electric classes and although free practice was held in dry conditions, things turned to the worse for the timed practice, qualifiers and finals that were all run in the wet.
In the swift Pro10 Modified class it was Tobias Weist from Germany with the TQ from Hansruedi Baer and Timo Schad. In the hard-fought final legs Tobias would bring home the win in A1, however Hansruedi came out fastest in A2 as Roman Crejci scored the win in A3. Overall it was Hansuedi who would hold the upper hand from Timo Schad in 2nd and Tobias Weist in 3rd.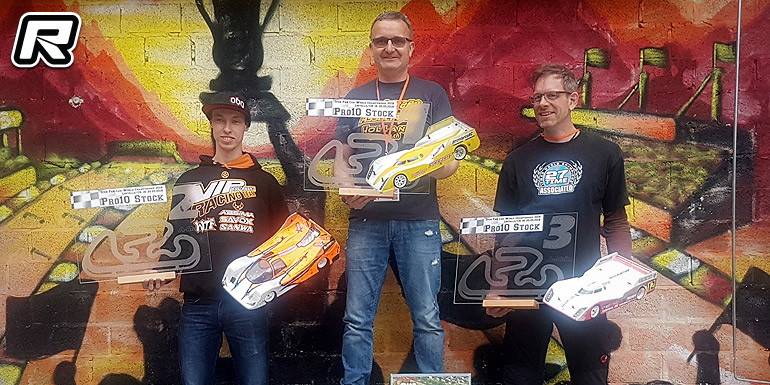 In the Pro10 10.5T Stock class Hansruedi Baer took the overall TQ thanks to winning two qualifiers from fellow countryman Roger Eifler in 2nd. John de Kok from The Netherlands rounded out the qualifying top 3. In the finals it was again Hansruedi with dominant performances in all finals who would hold the upper hand over Timo Schad, coming from the 4 spot on the grid as Roger completed the top 3.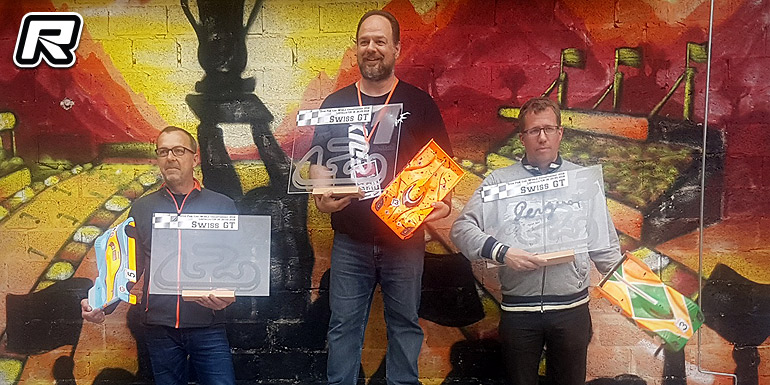 In the combined SwissGT and Classic Pro10 classes Eric Noel from Switzerland brought home the TQ in the tie-breaker from Andi Frattaroli and Pascal Fässler. All three stated in the SwissGT class while Frenchman Cedric Susini was the fastest Pro10 Classic driver on P4. In the finals however it was Andi with wins in A2 and A3 for the overall from Eric and Pascal.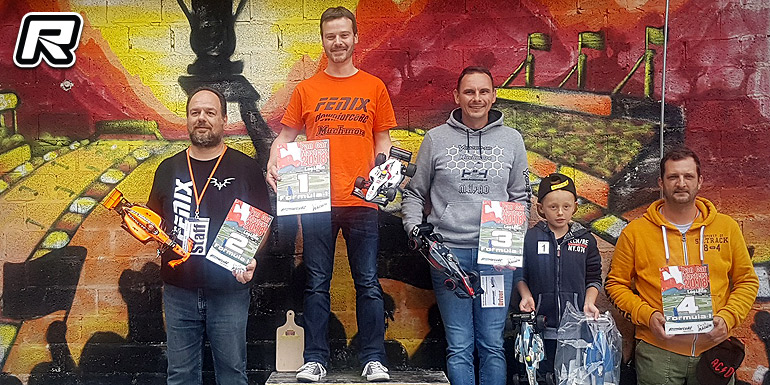 In the Formula classes the Swiss trio of Andi Frattaroli, Roman Pichler and Sascha Heuberger made up the top 3 after the qualifiers. In the finals Roman made a clean sweep from Andi who scored three runner-up spots. Michael Häuptli, coming from P5 on the grid, secured himself the final podium spot. Young Noel Geiser came in 7th in the very tricky conditions.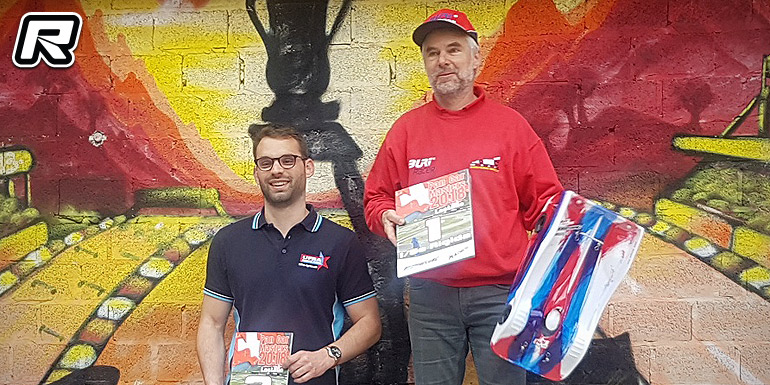 In the combined 1/8th Electric Stock and Modified classes it was Vincent Goublaire from France with the TQ from Joachim Grauer from Germany and Thomas Burger-Ringer from Austria. In the finals Thomas was able to score two wins for the overall as Vincent and Joachim had to settle for 2nd and 3rd respectively. Best and sole Modified driver was Adrian Schafroth from Switzerland.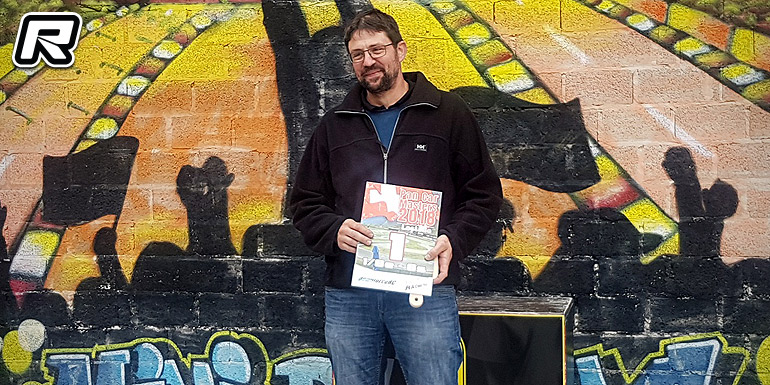 Thanks to Tobias Weist for the report.
---