May 2, 2018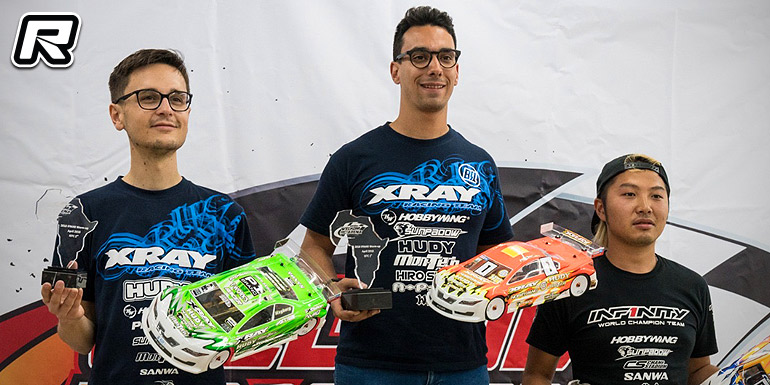 The Welkom RC Arena in Welkom, South Africa hosted their IFMAR World Championship warm-up race last weekend, attracting local drivers and many guests from abroad. This event coincided with the IFMAR 2018 Worlds Warm-up event on the brand new indoor asphalt facility purposely build for the 2018 IFMAR ISTC and 1/12 world championship. Some of the top drivers in the world made their way to South Africa with more than 15 world championships between them to get to know the track characteristics. The green track started with challenging traction but the traction increased as the weekend progressed and the drivers could commit with faster pace during the qualifying rounds as well as the main races.
In the ISTC Modified class the heat was on early between the top professional drivers getting to grips with the track layout and the increasing traction. On Saturday the drivers had 6 qualification rounds to seed them for the main races on Sunday. Bruno Coelho and Alexander Hagberg showed great pace during the qualification rounds with Bruno taking TQ with Alexander starting from second on the grid and Marc from 3rd.
In A1 Bruno kept his lead from start to finish and with Alexander out of the battle after he broke his car it was Naoto securing 2nd place with Christopher 3rd and Marc 4th. In A2 it was Bruno again from start to finish, but this time Alexander stayed with him finishing 0.4 sec behind in 2nd place, Naoto 3rd and Christopher 4th. A3 was the same result with Bruno and Alex leading the pack from start to finish with Marc finishing 3rd ahead of Ronald.
Touring Pro Modified final results:
1. Bruno Coelho – Xray
2. Alexander Hagberg – Xray
3. Naoto Matsukura – Infinity
4. Marc Rheinhard – Infinity
5. Christopher Krapp – Yokomo
6. Ronald Völker – Yokomo
7. Andy Moore – Infinity
8. Jilles Groskamp – Infinity
9. Akio Sobue – Infinity
10.Hayato Matsuzaki – Yokomo
It was a great opportunity for the local drivers to measure their skills against the lap and race times set by the professional drivers. Early during practise sessions it was the Liebenberg brothers, Hein Kotze, Shaun Schutte, Anderton Smith, Jason Hillcoat and Deon Gove who showed good pace. Ashley Hurley, Wouter Ferreira and Christian Fourie also had good consistent runs to get them into the A Mains. In the qualifying rounds it was Hein Kotze who put the challenge to the other drivers with great TQ runs. The two Liebenberg brothers were hot on his tail and managed to secure second and third on the grid with Conrad second and Jacques third. In A1 there were some accidents but it was Hein Kotze who took the main with Conrad Liebenberg 2nd and Anderton Smith managing a good 3rd after starting in 5th place. In A2 Hein Kotze again took victory and after some racing incidents Jason Hillcoat raced to a great 2nd place from 6th on the grid and Wouter Ferreira in 3rd starting from 7th. In A3 Hein Kotze secured victory with a dominating final run, but this time it was Shaun Schutte finishing 2nd from 9th on the grid and Ashley Hurley 3rd from 8th on the grid.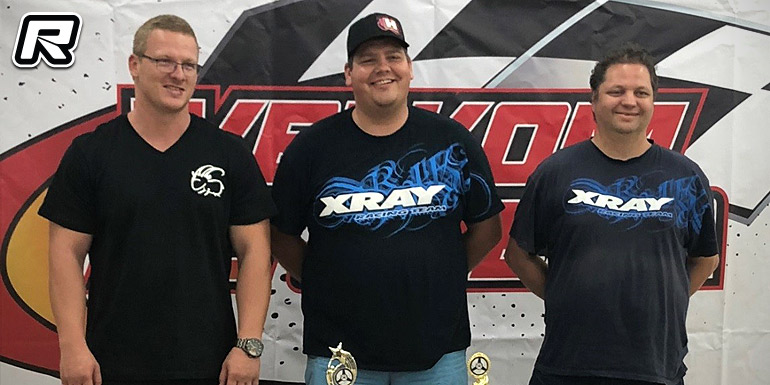 Modified Touring top 3:
1. Hein Kotze
2. Conrad Liebenberg
3. Shaun Schutte
The Pro-Stock class was very competitive with good drives from Willie Noordman, Anthony Smith, Chazlee Cooper, Jonathan Wilken and Eugene Wessels. It was Anthony Smith who managed to secure TQ with Willie Noordman and Jonathan Wilken starting from 2nd and 3rd on the grid. Anthony broke his car in A1 and Jonathan to a great win followed by Willie. In A2 Anthony drove a great race to secure a win with Willie finishing 2nd and Jonathan 3rd. Anthony took the victory on A3 with Jonathan 2nd and Gunther Cornelius finishing in a good 3rd.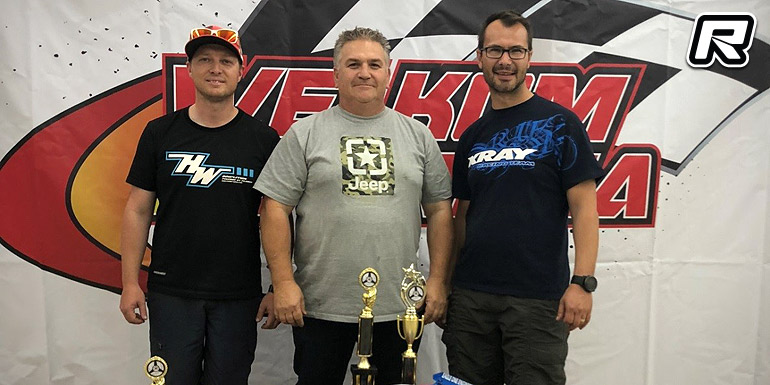 Touring Pro-Stock 13.5T top 3:
1. Anthony Smith
2. Jonathan Wilken
3. Willie Noordman
In 21.5T Formula it was the current SA champion Pedro de Gouveia who showed is class to secure the TQ and overall win with his Xray and used this event as good preparation for the IFMAR Worlds later this year.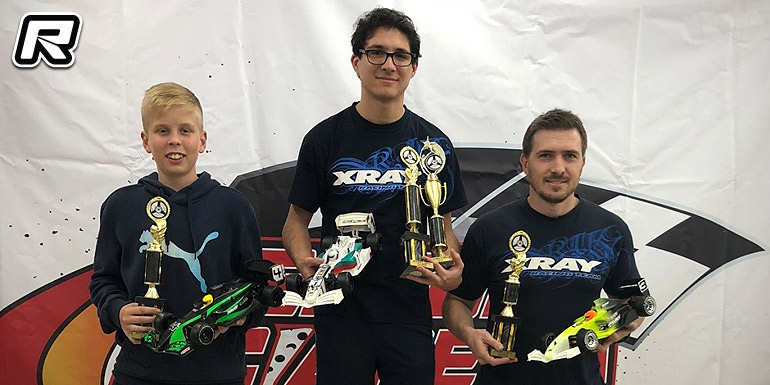 Formula 1 21.5T top 3:
1. Pedro de Gouveia – Xray
2. Jared Rabe – Yokomo
3. Tyronne Wilken – Xray
With the 1/12 Modified class an event at the 2018 Worlds, Alexander Hagberg used this event to get to grips with the layout, surface and his setup on his Xray ride. Coming of a great win at the Euros Alex set the early pace and lap targets for the local drivers to chase. In the Q1 and Q2 Alex experienced some problems with his electronics which allowed Shaun Schutte to show his skill to secure TQ with two good runs. Hein Kotze also managed good runs and secured second spot on the grid. Alex managed to sort out some of his electronics and has a great TQ run in Q3 which gave him third spot on the grid. In the finals Alex showed his skills and talent to secure victory in all three finals. Shaun Schutte continued his good form and secured 2nd and the youngster Marius van Niekerk taking 3rd.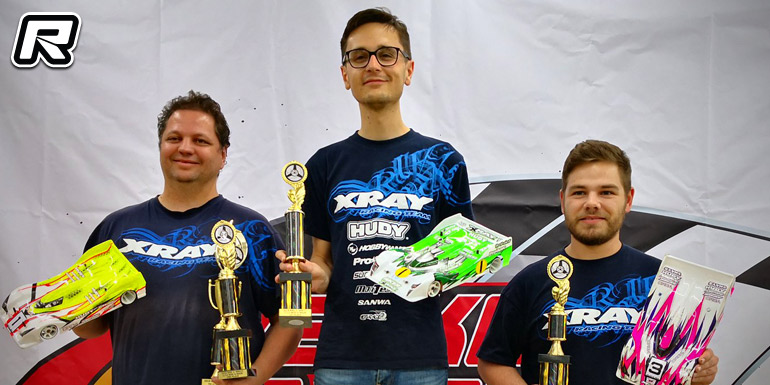 1/12th Scale Modified final results:
1. Alexander Hagberg – Xray
2. Saun Schutte – Xray
3. Marius van Niekerk – Xray
4. Brandon Solomon – Xray
5. Hein Kotze – Xray
6. Garreth Hayward – Xray
7. Willie du Plooy – Xray
8. Wayne Joelson – Yokomo
9. Francois Laubscher – Xray
10.André Greeff – Xray
In the 1/12 Stock class Francois Laubscher continued his good form to secure the TQ and the in this class which will also be an event at the 2018 IFMAR Worlds in August. Pat Lester started from second on the grid and held on to his position for the podium. Lady driver Bianka Landman also managed to maintain her 3rd grid position to secure the final spot on the podium.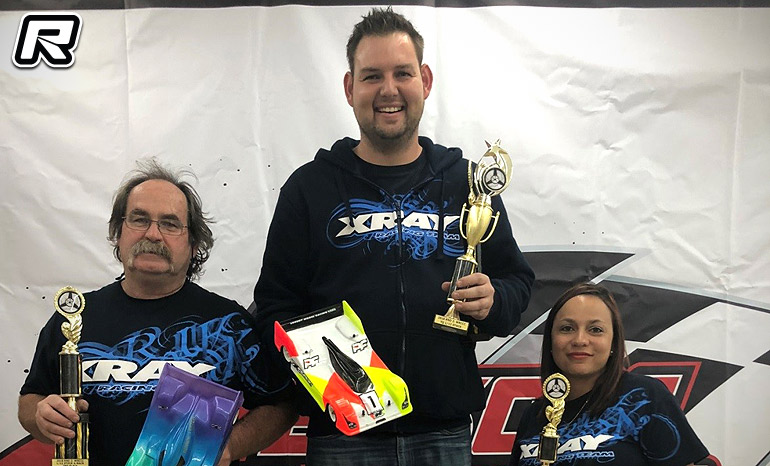 1/12th Stock top 3:
1. Francois Laubscher – Xray
2. Pat Lester – Xray
3. Bianka Landman – Xray
Source: Xray [teamxray.com]
---