May 29, 2018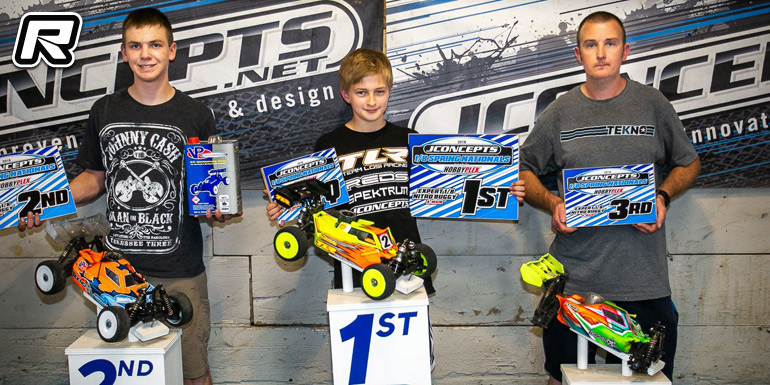 HobbyTown USA's HobbyPlex played host to the 2018 JConcepts 1:8th Spring Nationals this past weekend. The HobbyPlex is no stranger to big races. In year's past, HobbyPlex has hosted some of the biggest, elite-level races in the nation including the 1/10th ROAR Electric Nationals in 2016 and in July the 2018 ROAR 1/8th Electric Nationals in July. Without a doubt, the versatile HobbyPlex is a genuine racer's favorite hosting multiple tracks including scaling, 1/8th offroad, 1/10th offroad, carpet on road, and even drone racing. Now in its 9th year, the JConcepts Spring Nationals always adds excitement to the Plex with regional, top-level talent racing for the win in 1/8th scale nitro, electric, and 1/10th 4×4 SCT. This year's layout was a slightly modified layout of the existing layout to better suit the bigger 1/8th buggies and truggies and one thing for sure, it didn't disappoint.

There was a great mix of elevation, technical jumps, and a ton of flow making it a perfect track to test any driver's skill set. The sweeper was tight making speed and steering entry key to a fast corner. The drop down to triple was perhaps the most technical section of the track requiring masterful timing to shave tenths. The banked turn made for a nice feature that was fun, almost like doing a cutback on an ocean wave. The real trick was the table jump getting onto the straightaway that teased you to whip jump onto the straightaway every lap.
In Expert Nitro Buggy it was a thrilling back and forth battle between three extremely quick drivers, TLR's Mason Fuller, Tekno's Seth VanDalen, and Team Associated's Jonathan Burkhalter. The three talents put on a terrific show fighting for the lead and after multiple lead changes, Burkhalter suffered a mechanical leaving it to Mason and Seth dueling it out for the win. From the half-way point in the race, Mason got into a great rhythm to stretch out a comfortable 10-second gap and got stronger as the race went on. After 45 minutes of extreme focus and crafty driving, Mason emerged victorious taking a hard-fought win with Seth VanDalen finishing 2nd. Dustin Thompson flew under the radar putting in solid laps and finished 3rd overall.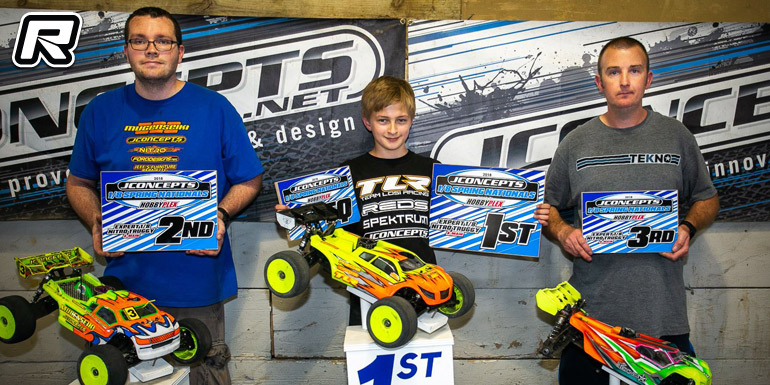 It was an impressive win for TLR's Mason Fuller in Expert Nitro Truggy as Mason led from tone to tone and had zero issues in the 45 minute main to take an impressive win. Mugen's Josh Ford also had a great race to finish 2nd with Tekno's Dustin Thompson 3rd on the podium.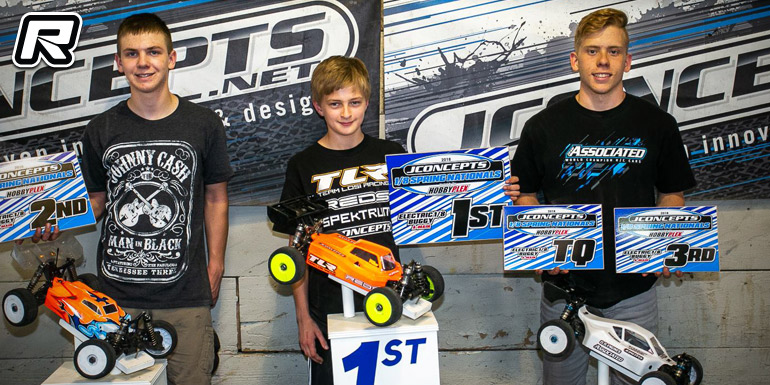 Once again it was a lights-out performance from TLR's Mason Fuller in the Expert E-Buggy class taking a superb win and completing a perfect weekend going 3 for 3 in the classes he raced. Tekno's Seth VanDalen definitely showed tremendous speed all weekend and convincingly took the win in A3 to lock up 2nd overall. While on summer break from college, Team Associated's Jonathan Burkhalter was able to get in some racing and impressively earned the overall TQ and showed his competitiveness to finish 3rd on the podium.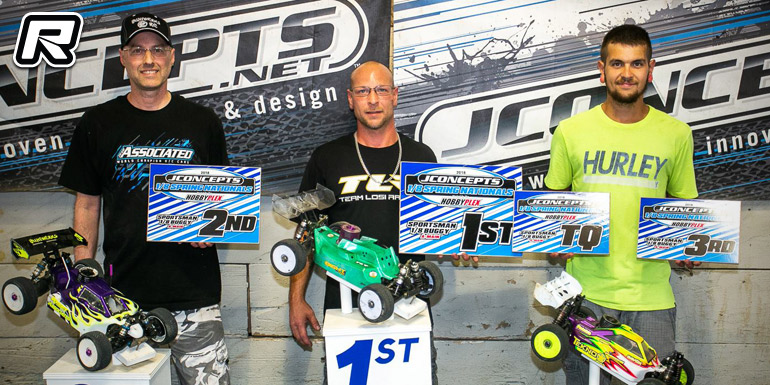 It was an action-packed Sportsman Nitro Buggy A-Main event with great battles and dramatic finishes. In the end, Steve Schwind prevailed with his smooth driving and solid laps to take the win from 5th on the grid. Making the most out of his situation, Corey Hins qualified 7th but jumped up an amazing 5 spots and finished 2nd behind Schwind. Not having luck on his side, class TQ Patrick Mitrevics was still able to finish 3rd overall.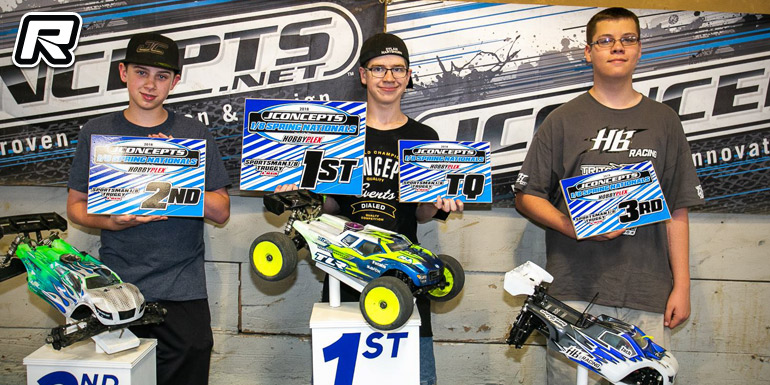 It was a terrific weekend for Dylan Hartshorn in the Sportsman Nitro Truggy class, who earned the overall TQ and ran a perfect race in the 30 minute A-main never letting go of the lead. Jacob Heltman and Zach Lamay showed great pace, as the two competitors battled it out for 2nd swapping places multiple times. However, it was Jacob who strapped it up for the last quarter of the race to finish 6 seconds ahead of Zach for 2nd with Zach finishing 3rd overall.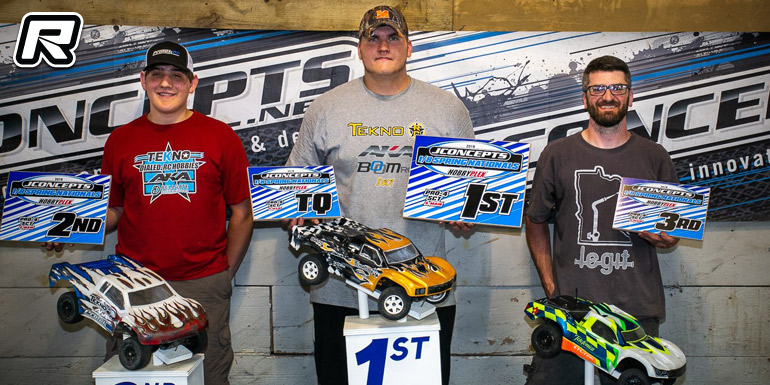 Local star, Tekno's Clayton Wittmayer, was unstoppable in the Pro-4 Short Course Truck class setting the TQ time to beat and winning the overall in A1 and A2 for a perfect weekend. Tekno teammate, Jeremy Mauro, locked up 2nd with a crucial drive winning A3 that sealed up 2nd on the podium. Jesse Stewart also had an important A3 result by finishing 2nd to jump him into 3rd overall.
Source: JConcepts [jconcepts.net]
---