May 15, 2018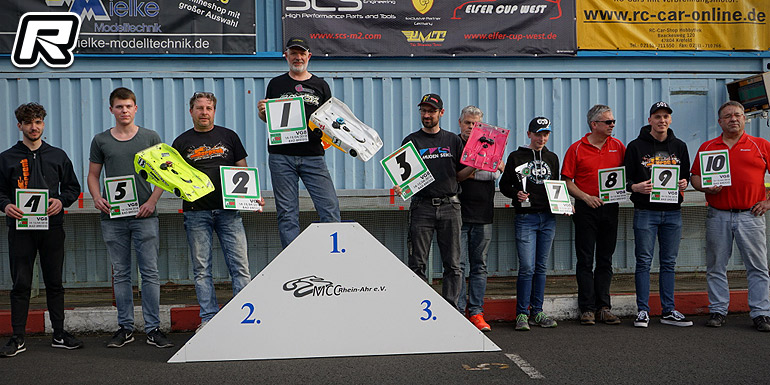 The 2018 season of Nitro-West-Masters recently kicked off at the Bad Breisig track, located between Bonn and Koblenz at the river Rhine. 62 racers made their entry for round one of the popular nitro on-road championship. Following some intensive practice at perfect conditions and a familiar come-together to celebrate the tenth anniversary of the Nitro-West-Masters on Saturday, the 2017 location of Germany´s 1/8 scale Nationals was hit by rain during the night. Only a few drivers dared to enter the 254-meter track during the first two rounds of qualifying but after a break all drivers had the opportunity for one dry run in the third and final heat. Because of the NWM mode with three consecutive laps to count, the drivers had a couple of chances to improve their lap times.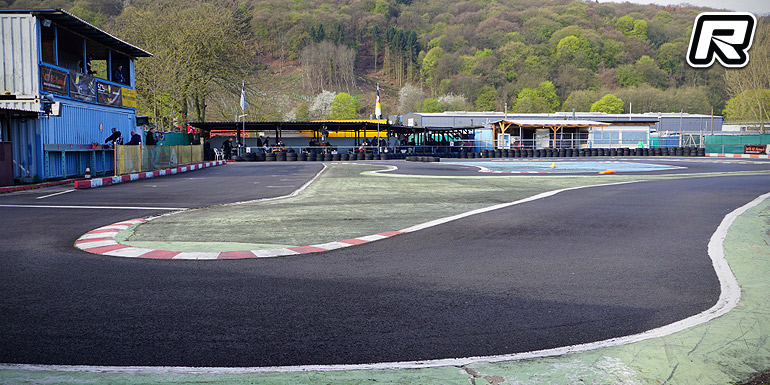 In the 1/8th Open class Tobias Hepp pushed his Serpent to pole position in a dominant style with Uwe Baldes second at his comeback with Serpent following a 12-years break. Christian Wurst (Mugen) and Frank Schewiola (Serpent) completed the top 4 which were directly qualified for the main race. From semifinal B Daniel Toennessen (Mugen), Philipp Roemer (ARC) and Augustin Mejor (Serpent) bumped up, from the semifinal A Joerg Baldes (Serpent), Karl-Heinz Meister (Serpent) and Ralf Vahrenkamp (Mugen). In the 30-minutes finale neither Tobias Hepp nor Uwe Baldes made the distance. Hepp had to retire because of clutch issues at halftime while leading, Baldes with a drivetrain issue before the ten-minutes mark. Wurst took the lead from Hepp and brought a fine victory home with a lap advantage while the battle was on for second spot which was finally taken by Toennessen with less than half a second ahead of Schewiola.
1/8th Open final results:
1. Christian Wurst – Mugen – 115 laps
2. Daniel Toennessen – Mugen – 114
3. Frank Schewiola – Serpent – 114
4. Augustin Mejor – Serpent – 114
5. Philipp Roemer – ARC – 113
6. Karl-Heinz Meister – Serpent – 110
7. David Kroeger – Shepherd – 109
8. Joerg Baldes – Serpent – 107
9. Tobias Hepp – Serpent – 48
10.Uwe Baldes – Serpent – 33
In the 1/10th scale Open class René Puepke (Shepherd) was the fasted in qualifying but with an advantage of only 18 thousandth of a second over Melvin Diekmann (WRC). The Shepherd couple of Bernd Rausch and Marco Nenner came on third and fourth, but all ten competitors made it directly to the finale of this class. Puepke led the field from the start until his first visit in the pitlane for refuelling when Diekmann took the lead and never lost it until the end after 30 minutes. Rausch drove a steady and flawless race to finish second while Puepke lost more than two laps in the pits but could still catch the last step on the podium.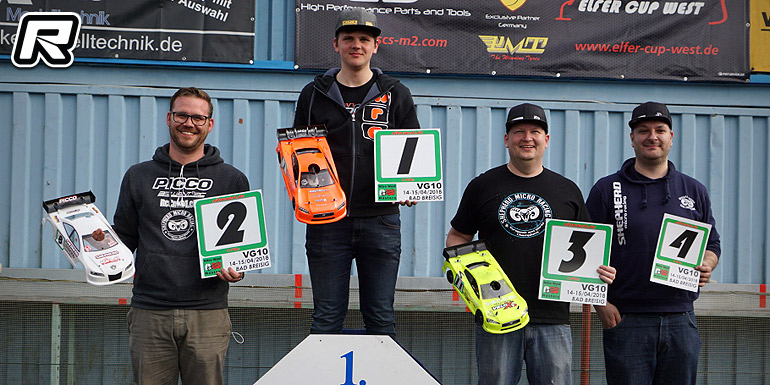 1/10th Open final results:
1. Melvin Diekmann – WRC – 107 laps
2. Bernd Rausch – Shepherd – 105
3. René Puepke – Shepherd – 104
4. Julien Cevani – Shepherd – 97
5. Georg Goehlich – KM – 79
6. Dirk Zschaebitz – Serpent – 65
7. Thorsten Lewandowski – Shepherd – 39
8. Marco Nenner – Shepherd – 6
9. Faehd Labik – Shepherd – disqualified
10.Marco Muscara – WRC – DNS
As part of the NWM success, two stock classes are offered with mandatory engines from Novarossi and Picco including required header and pipe combinations. In the 1/8 scale Stock class Ralf Wacker made it to a surprising TQ with his Mugen ahead of rising star David Kroeger (Shepherd), Christian Roenicke (Mugen) and Gunnar Blumendahl (Mugen). From the semifinal Ingo Braun (Serpent), Matthias Guenther (Shepherd), Andreas Goebel (Serpent), Markus Friedrich (Shepherd), Helmut Hoessler (Mugen) and Heinz Faigle (ARC) jumped into the main race. Wacker defended his lead until lap 13 when Kroeger took the chance to pass him. The 15-year old talent was able to pull away and to cross the line after 30 minutes three laps ahead of Braun who made his away up from fifth in the grid. Wacker was second for quite a while but finally lost a podium position to Roenicke who came third.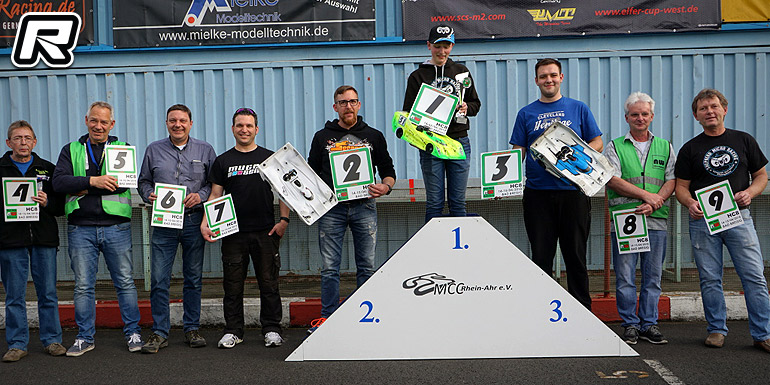 1/8th Stock final results:
1. David Kroeger – Shepherd – 111 laps
2. Ingo Braun – Serpent – 108
3. Christian Roenicke – Mugen – 107
4. Ralf Wacker – Mugen – 107
5. Andreas Goebel – Serpent – 105
6. Matthias Guenther – Shepherd – 104
7. Gunnar Blumendahl – Mugen – 96
8. Helmut Hoessler – Mugen – 96
9. Markus Friedrich – Shepherd – 94
10.Heinz Faigle – ARC – 94
In 1/10 scale Stock class pole position went to Hermann-Josef Fuchs ahead of fellow Shepherd driver Florian Dueppe and the Capricorn couple of Roland Karduck and Sven Lommersum. Shepherd racer Guido Burghartz won the semifinal two laps ahead of the Kwasny brothers Emil and Roman, both with Serpent. Furthermore, Wilfried Huebner (Serpent), Philipp Wisniewski (Shepherd) and Marcel Beekman (Shepherd) made it into the main race. Fuchs jumped to the front at the start but Dueppe could pass him in the second lap only for a short intermezzo at the top spot. Fuchs was leading from lap three again until lap 66 when Dueppe could pass again and bring home the victory with a two-lap advantage over Fuchs with Burghartz claiming third spot on the podium to make it a 1-2-3 for Shepherd.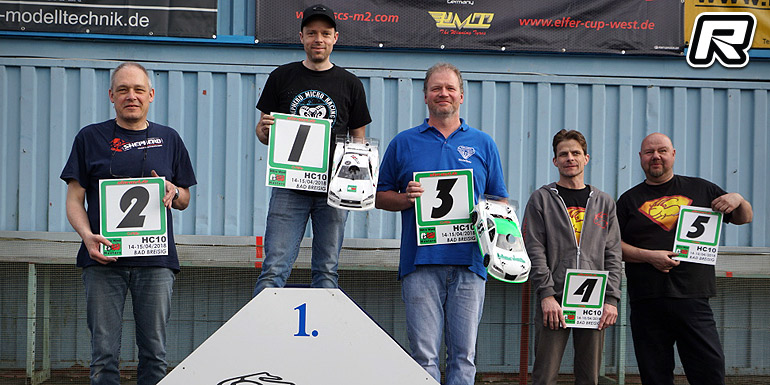 1/10th Stock final results:
1. Florian Dueppe – Shepherd – 96 laps
2. Hermann-Josef Fuchs – Shepherd – 94
3. Guido Burghartz – Shepherd – 89
4. Sven Lommersum – Capricorn – 88
5. Roland Karduck – Capricorn – 87
6. Philipp Wisniewski – Shepherd – 86
7. Roman Kwasny – Serpent – 70
8. Wilfried Huebner – Serpent – 43
9. Marcel Beekman – Shepherd – 39
10.Emil Kwasny – Serpent – 33
Round two on the Nitro-West-Masters (NWM) will be held on the Pentecost weekend at the Haltern track in the North of the Ruhr area.
Source: Nitro-West [nitro-west.de]
---