May 25, 2018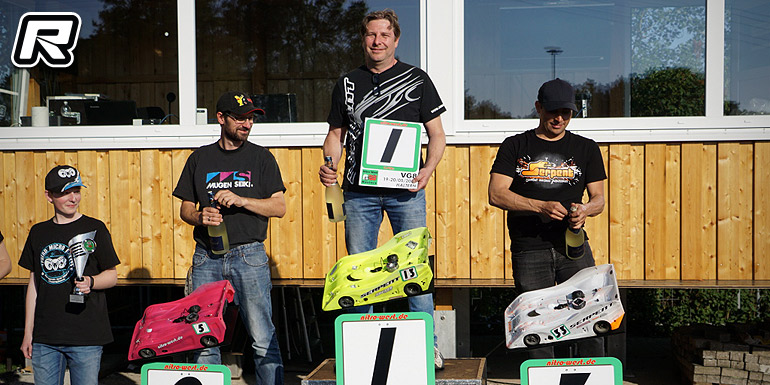 Round two of six of the Nitro-West-Masters was held at the Haltern track, located in the North of the Ruhr region in Western Germany. 66 drivers meant an impressive entry for the hosting Rallye-Club Haltern club. It was more than only a race weekend because a new tarmac surface on the 234-meter track and a newly-build driver´s rostrum including race-control were dedicated as well as more than 80 people joined the Saturday night party to celebrate the tenth anniversary of the Nitro-West-Masters which was initialised by Uwe Baldes back in 2009.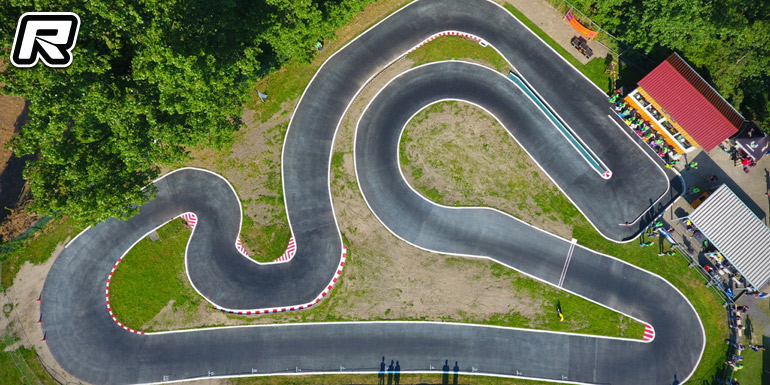 In the 1/8th Open class, on race day defending champion Tobias Hepp pushed his Serpent to pole position as he did at the season opener in Bad Breisig. Christian Wurst (Mugen), Daniel Toennessen (Mugen) and Frank Schewiola (Serpent) completed the top 4 which were directly qualified for the main race. With 12.362 seconds, Tobias Hepp established an absolute new track record with his S988, proving the quality of the new tarmac. From semifinal B Karl-Heinz Meister (Serpent), Ralf Vahrenkamp (Mugen) and Fedor Eskes (Motonica) stepped up, from semifinal A Benjamin Lehmann (Shepherd), Marco Muscara (Serpent) and Martin Figge (WRC). In the 30-minutes finale Tobias Hepp stormed into the lead but luck was not on his side when another car flew across a barrier directly in front of his Serpent. The heavy collision meant the early end of the race for Hepp after only six minutes. Wurst took over the lead but because of electronic issues he had to retire before the halftime mark. Schewiola became the third leader of this main race and he could bring it home to celebrate victory with a three-lap advantage over Toennessen and Muscara.
1/8th Open final results:
1. Frank Schewiola – Serpent – 133 laps
2. Daniel Toennessen – Mugen – 130
3. Marco Muscara – Serpent – 127
4. Ralf Vahrenkamp – Mugen – 126
5. Benjamin Lehmann – Shepherd – 119
6. Fedor Eskes – Motonica – 119
7. Martin Figge – WRC – 117
8. Karl-Heinz Meister – Serpent – 83
9. Christian Wurst – Mugen – 59
10.Tobias Hepp – Serpent – 58
An intensive battle for pole position and for victory was on in the 1/10th scale Open class. Thilo Toedtmann captured the first spot in qualification with his Shepherd less than three tenth of a second ahead of WRC racer Melvin Diekmann. Also René Puepke, Bernd Rausch and Marco Nenner were separated by only three tenth each. The Shepherd trio covered positions three to five. While Toedtmann drove a steady and faultless race from start to finish, his rivals lost valuable time due to several technical or driving issues. Diekmann was at the tail of Toedtmann but two mistakes were two too much to beat the Spepherd employee. After 123 laps there was only a four second gap between this two 1/10th scale aces. Puepke made it to third spot on the podium but was already three laps behind with Rausch on fourth another three laps down.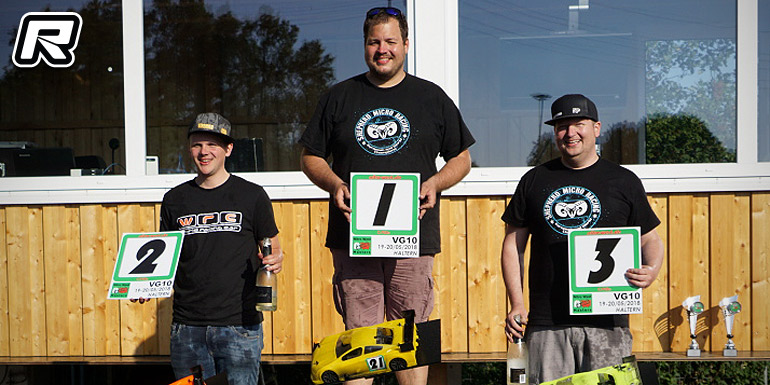 1/10th Open final results:
1. Thilo Toedtmann – Shepherd – 123 laps
2. Melvin Diekmann – WRC – 123
3. René Puepke – Shepherd – 120
4. Bernd Rausch – Shepherd – 117
5. Marco Nenner – Shepherd – 110
6. Georg Goehlich – KM – 109
7. Julien Cevani – Shepherd – 106
8. Joerg Kleineberg – Mugen – 88
9. Thorsten Lewandowski – Shepherd – 3
Like in the 1/8th Open class, 19 drivers entered the 1/8th Stock class that is run with mandatory engines from Picco and Novarossi). With only an advantage of 4 hundredth of a second, Ingo Braun (Serpent) came out on top of qualifying ahead of André Boettcher (Mugen) with Matthias Guenther (Shepherd) and Markus Teuchtler (Mugen) ranked third and fourth. Holger Hinnendahl (ARC) was six laps ahead of Andreas Goebel (Serpent) with Ralf Wacker (Mugen) on third in the semifinal B, while the two youngsters Pieter Beekman (Shepherd) and Bas Aalders (Serpent) made it a Dutch 1-2 with old-hand Klaus Kirschner (Shepherd) completing the grid for the 30-minutes finale. The main race started with bad luck for TQ man Ingo Braun who just made it to the loop after two seconds before he had to stop with a broken engine. Only three drivers made it to the checkered flag with Matthias Guenther winning three laps ahead of Hinnendahl and Goebel who was another two laps down.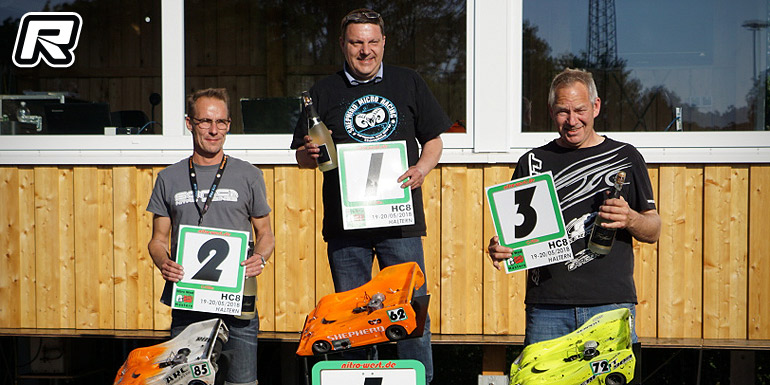 1/8th Stock final results:
1. Matthias Guenther – Shepherd – 126 laps
2. Holger Hinnendahl – ARC – 123
3. Andreas Goebel – Serpent – 121
4. André Boettcher – Mugen – 103
5. Bas Aalders – Serpent – 102
6. Markus Teuchtler – Mugen – 87
7. Ralf Wacker – Mugen – 63
8. Pieter Beekman – Shepherd – 61
9. Klaus Kischner – Shepherd – 38
10.Ingo Braun – Serpent – 1
The 1/10th scale Stock class was presented by a strong line-up with 18 drivers. Pole position went to veteran racer, Arndt Bernhardt followed by Florian Dueppe, Arno Puepke and Hermann-Josef Fuchs, all with Shepherd. Another Shepherd foursome with Philipp Wisniewski, Matthias de Keyser, Guido Burghartz and Marcel Beekman made it from semifinal B to the main, while from semifinal A only Roland Karduck (Capricorn) and old dude Werner Vogel (Kyosho) bumped up. In the 30-minutes finale Bernhardt had to retire after only four minutes, and also for Wisniewski and Puepke the race came to an early end before the eight-minutes mark. Dueppe, winner at the season opener at Bad Breisig, led for most of the race but with only three minutes to go his race cam to a sudden end. In the final stage, Fuchs was leading the race with a huge advantage seven laps as a result of his strong performance. Burghartz finished second while Dueppe was happy to capture still third spot on the podium o make it a 1-2-3 for Shepherd with Capricorn´s Karduck on fourth. While Philipp Wisniewski had no luck during this race, he is obviously lucky in love. During the price-giving ceremony he went down on his knees and made an official proposal of marriage to his girlfriend Svenja. Of course, she said yes.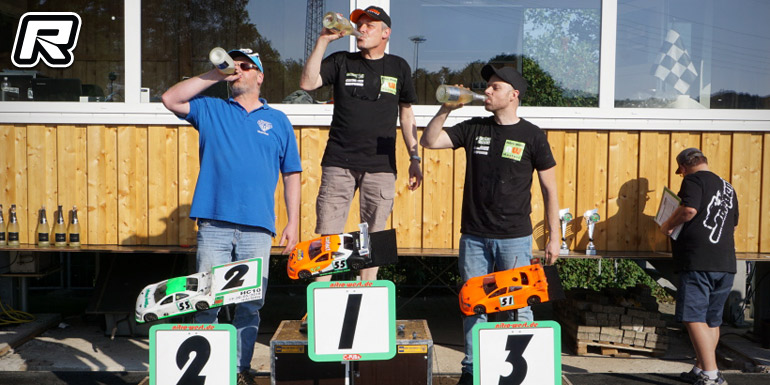 1/10th Stock final results:
1. Hermann-Josef Fuchs – Shepherd – 113
2. Guido Burghartz – Shepherd – 106
3. Florian Dueppe – Shepherd – 102 laps
4. Roland Karduck – Capricorn – 97
5. Marcel Beekman – Shepherd – 95
6. Werner Vogel – Kyosho – 93
7. Matthias de Keyser – Shepherd – 87
8. Arno Puepke – Shepherd – 28
9. Philipp Wisniewski – Shepherd – 27
10.Arndt Bernhardt – Shepherd – 15
Round 3 of the Nitro-West-Masters will be held on June 16th and 17th at the Dueren in the South of Aachen with the track offering new curbs and a new pit lane ramp.
Source: Nitro-West [nitro-west.de]
---