May 30, 2018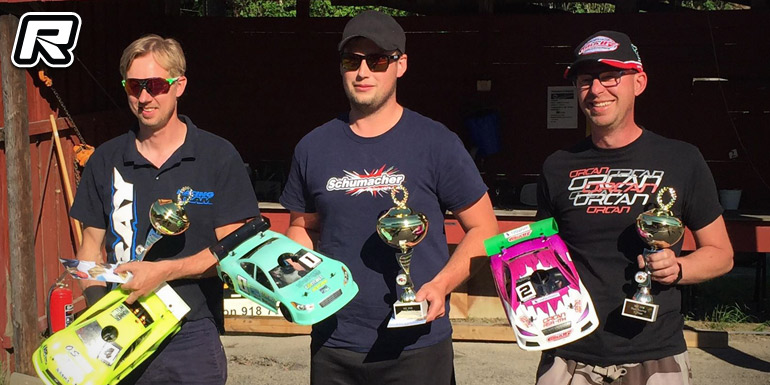 The opening round of the Norwegian National Series was held at the Kodal Raceway in Sandefjord on an entertaining track that offered both fast and technical bits in addition to a bumpy surface and a somewhat low grip level. On Saturday the 1/10th 200mm Nitro Touring class was run with the race format seeing three round of qualifying followed by the Superpole, semis and 45-minute A-main final. Oskar Fjeld would dominate the qualifying to secure the TQ for the main final with his old spec Xray while Andrè Røine would go on to win the superpole with his newer spec NT1.
In the 45-minute main final, Oskar started to build a gap right from the start and with some of his strongest contenders retiring early from the race, he went into cruise mode in order to save tyres. Ultimately Oskar would finish seven laps in front of Andrè Røine in 2nd and Jo Brede Isaksen in 3rd.
200mm Touring top 3 results:
1. Oskar Fjeld – Xray/Gimar
2. Andre Røine – Xray/Orcan
3. Jo Brede Isaksen – Xray/O.S.
On Sunday it was time for the first round of the Touring Modified class. The race format saw three rounds of round by round qualifiers followed by triple mains. In the opening round Oskar would continue his pace from Saturday to TQ the round with his Schumacher, some 0.04 sec in front of Øyvind Stusdal. ARC driver Helge Johannesen would take round two, and Geir Bjarte Terum round three. When the dust had settled, Helge would secure TQ tied on points wtih Øyvind while Andrè Røine would start from P3. In the opening A-main Helge survived massive attacks from Øyvind in the early parts of the race, but was later taken out of the race in a big incident. After much action Øyvind took the win in front of Oskar, who started from 10th on the grid. In the second main and with Helge not starting, Andrè would touch Øyvind in the opening lap allowing Geir Bjarte to take the lead. Øyvind would recover and take back the lead at the end of the run and hold on to it until the finish line. Oskar would again pull off a great run to take another 2nd place finish. In the final A-main, Andrè was pushing hard to get past Øyvind. Unfortunately they would come together leaving Øyvind on his roof. Andrè showed great sportsmanship and waited, dropping them to the back of the field. Up front Oskar got by to take the win in the last leg to secure the overall runner-up spot behind Øyvind as Andrè would take the final podium spot.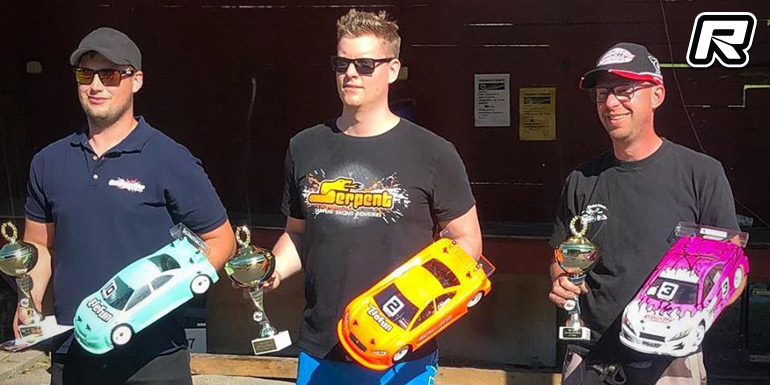 Touring Modified top 3 results:
1. Øyvind Stusdal – Serpent/Hobbywing
2. Oskar Fjeld – Schumacher/Hobbywing
3. Andrè Røine – Xray/Corally
Thanks to Øyvind Stusdal for the report.
---