May 7, 2018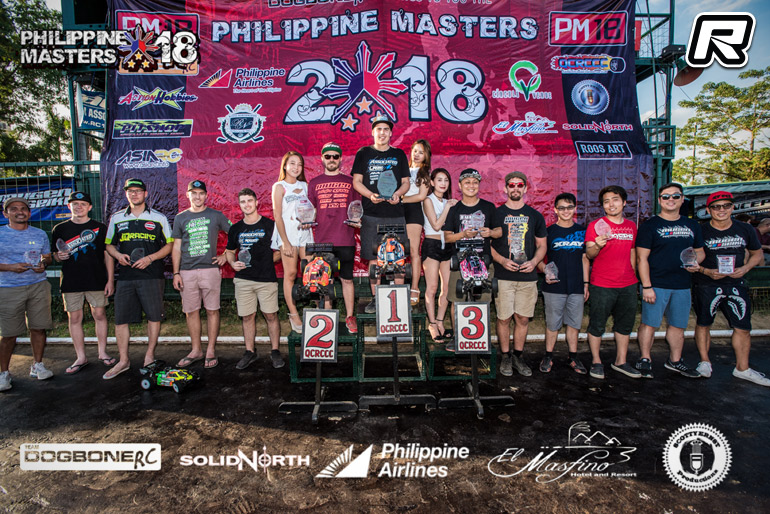 The 2018 Philippine Masters was held at the Circulo Verde Race Track in Quezon City, Philippines over the weekend, attracting many World-class 1/8th off-road drivers from all over the planet. The nitro 1/8-scale event contests only buggies and truggies – no Sportsman, or other classes. In the one-hour Buggy final, it was Mugen Seiki's Robert Batlle who put up a fierce early battle with Ronnefalk who was battling for the lead from his P3 position. The two drove clean and changed places often, but Batlle didn't seem to have the same speed that carried him to TQ. Whether it was engine power, tire choice or other variable, Batlle just couldn't hold his earlier lines and mistakes started to plague him sending him down the list of drivers.
Meanwhile as Ronnefalk gapped the field, Team Associated's Davide Ongaro was recovering and finding his own rhythm. The Italian youngster was showing everyone that his efforts can be rewarded and kept him about a half lap down from the front-runner. However, like the Truggy final, Ronnefalk was again visited by those nasty gremlins and flamed out at about the half way point, only this time his pit crew was able to restart his buggy and put him back in the action.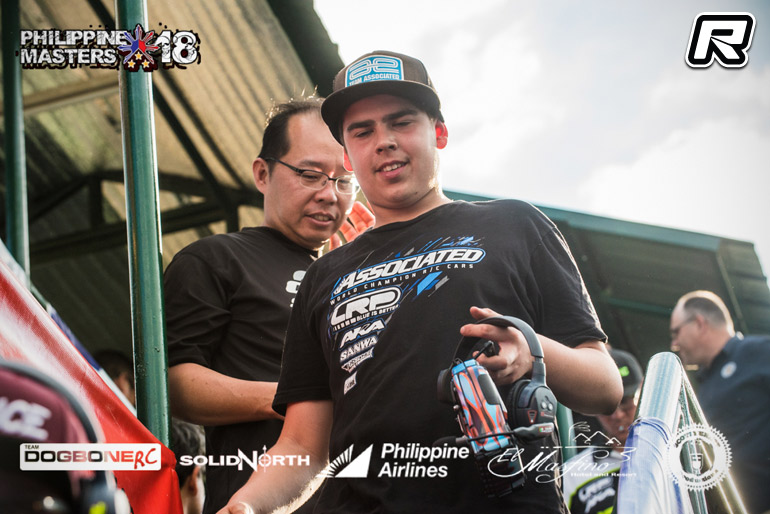 But, although Ronnefalk was back, it was short lived and he shut down again and again and watched as his hopes for a win were dashed. Davide Ongaro on the other hand, used his fast consistency to lead comfortably and when the final horn sounded, came up victorious. Robert Batlle was able to go in to damage control and moved up for a very respectable second overall, leaving the legendary Atsushi Hara to round off the podium.
Buggy final results:
1. Davide Ongaro – Team Associated
2. Robert Batlle – Mugen Seiki
3. Atsushi Hara – Mugen Seiki
4. Kyle McBride – Team Associated
5. Aaron Stringer – Mugen Seiki
6. David Ronnefalk – HB Racing
7. Jason Nugroho – Xray
8. Joseph Quagraine – JQ Racing
9. Wataru Takashiro – Kyosho
10.Aaron Dexter – Team Associated
11.Jordan Go – Mugen Seiki
12.Nani Tagle – Serpent
13.Edward Sio – Mugen Seiki
In the 30-minute Truggy A-main final, it was HB Racing's David Ronnefalk who seemed to be in control, ticking off lap after lap of god-like consistency from his starting spot a couple rows behind the front. But this is nitro racing, and as most racers know, gremlins seem to strike and take your gold in the most inappropriate way. That's exactly what happened to Ronnefalk, and with mere minutes left in the race, went over the front double/double and came to an unexplained halt while comfortably leading. With mouths agape the crowd watched as Ronnefalk was retrieved by his pit crew then followed by the Swedish reigning IFMAR World Champion dismissing himself from the drivers stand.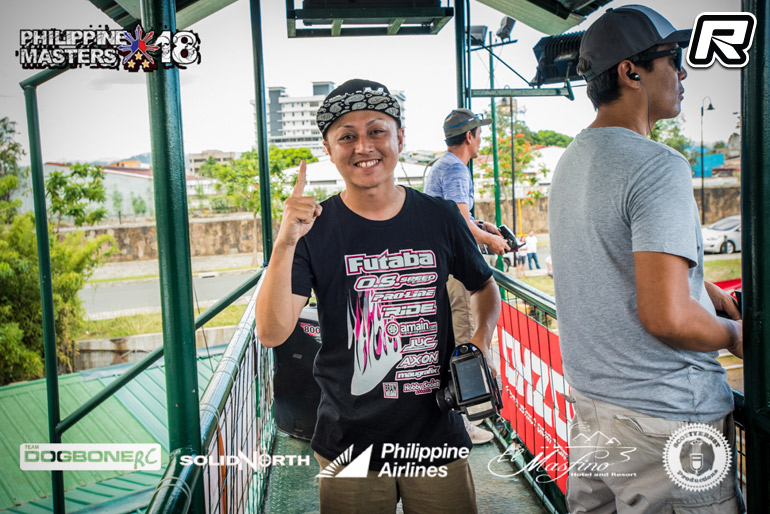 Mugen Seiki's Atsushi Hara, who had slowly inched his way toward Ronnefalk, moved to the front and then the finish line for the win. Hara has been showing great speed throughout the event and his experience and savvy paid off in dividends. Team Associated's Davide Ongaro took second with Mugen Seiki's Robert Batlle left to take the bronze.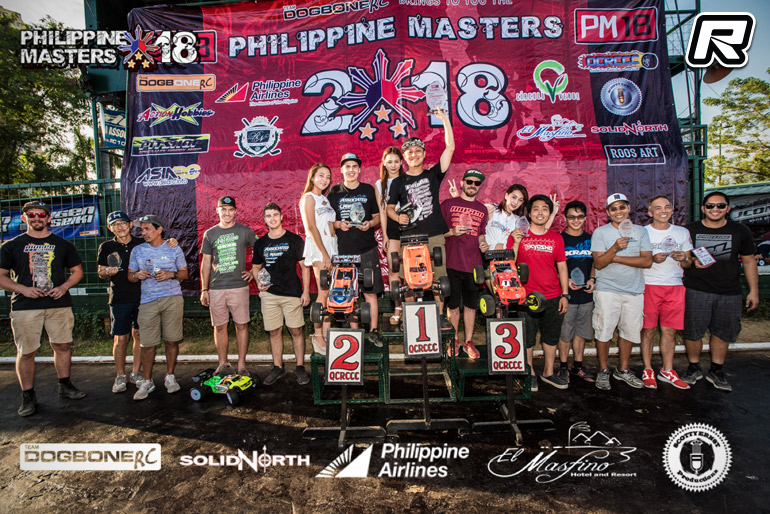 Truggy final results:
1. Atsushi Hara – Mugen Seiki
2. Davide Ongaro – Team Associated
3. Robert Batlle – Mugen Seiki
4. Kyle McBride – Team Associated
5. Wataru Takashiro – Kyosho
6. David Ronnefalk – HB Racing
7. Jason Nugroho – Xray
8. Nani Tagle – Xray
9. Clemen Pancho – Serpent
10.Sean Kang – Mugen Seiki
11.Ricky/ Tangan – Mugen Seiki
12.Aaron Stringer – Mugen Seiki
13.Aaron Gomez – HB Racing
Source: Philippine Masters [facebook.com]
---