May 8, 2018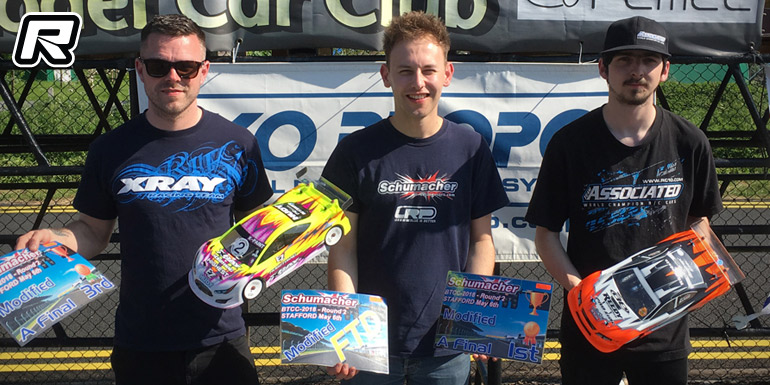 Round 2 of the Schumacher BTCC series moved to sunny Stafford this weekend with Elliott Harper taking the win in Modified ending Olly Jefferies' fine run of form. Elliott took the overall TQ ahead of Olly, winning three of the four qualifiers, local fast guy Zak Smith having a strong day qualified 3rd. In the final Elliott controlled the pace, Zak managed to get past Olly into 2nd and that's how it remained.
Touring Modified final results:
1. Elliott Harper – Schumacher
2. Zak Smith – Team Associated
3. Olly Jefferies – Xray
4. Chris Grainger – Team Associated
5. Matthew White – Team Associated
6. David Hall – Schumacher
7. Chris Ashton – Schumacher
8. Shaun Ogden – Serpent
9. Ben Gayson – Team Magic
10.Prince Louis Parker – Schumacher
In 13.5 Boosted Schumacher's James Hart took a great TQ ahead of Xray's Zak Finlay and Chris Gunter also Schumacher. In the final James had an unfortunate mechanical breakdown allowing Zak through for the win from Chris and fast local Andy Robson and his Schumacher in 3rd.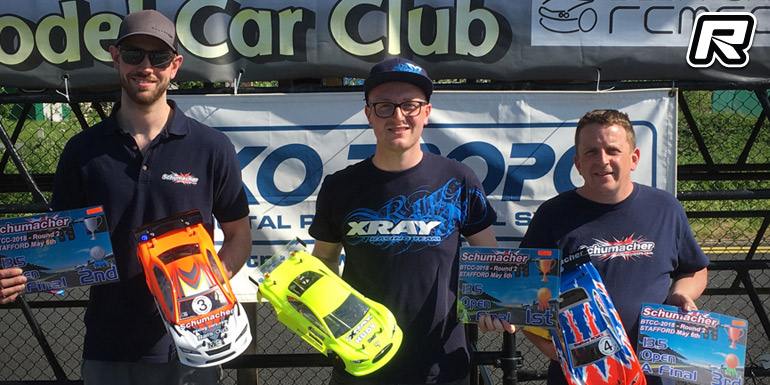 13.5 Boosted final results:
1. Zak Finlay – Xray
2. Chris Gunter – Schumacher
3. Andrew Robson – Schumacher
4. Mark Wallace – Team Associated
5. Scott Scholey – Yokomo
6. Mikey Mansell – n/a
7. Michael Bolt – Team Associated
8. Ashley Sully-Hicks – Schumacher
9. Michael Ball – Yokomo
10.James Hart – Schumacher
In 13.5 Blinky Marcus Askell took a comfortable TQ and win from Alex Brocklebank in 2nd and David Hough 3rd.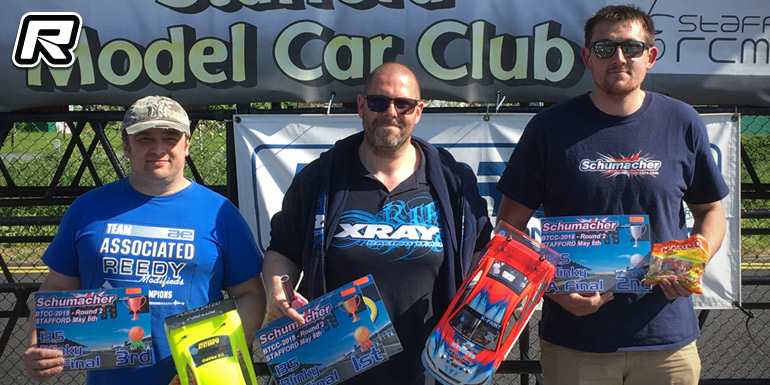 13.5 Blinky final results:
1. Marcus Askell – Xray
2. Alex Brocklebank – Schumacher
3. David Hough – n/a
In 17.5 Blinky Chris Parrott took TQ and the win from the Schumacher of Adrian Sully and Xray of Dave Ringsell in what is always a great battle between those two guys.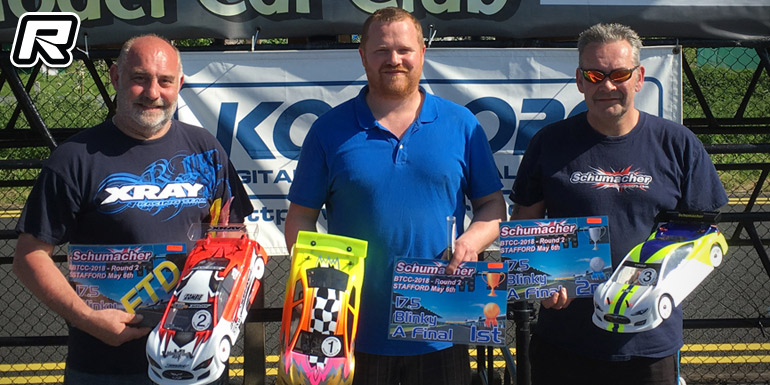 17.5 Blinky final results:
1. Chris Parrott – n/a
2. Adrian Sully – Schumacher
3. Dave Ringsell – Xray
Source: Schumacher [racing-cars.com]
---