June 19, 2018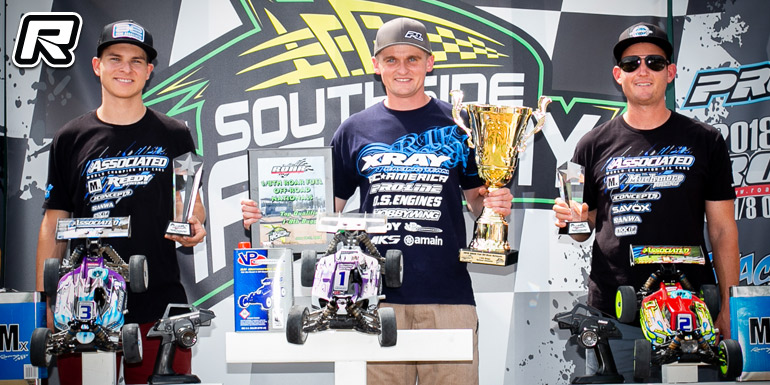 The 2018 ROAR Fuel Nationals was held at Southside R/C Raceway in Lake City, Florida last week. With over 10 inches of rain on the days set aside to build the track, the crew at Southside were up against Mother Nature and Father Time, but they never gave up and were able to complete the build literally hours before scheduled open practice. The weather was hot and humid. It rained every day, but thanks to the crew at Southside, everyone were racing shortly after the rain delays and the track stayed very similar to how it was before the rain.
1.738 seconds. That was the difference between 1st and 2nd place in the Nitro Buggy class after 45 minutes all out driving by Xray's Ty Tessmann and Team Associated's Spencer Rivkin. Spencer and his team decided to roll the dice and risk going one less pitstop to try and take the win with a different strategy instead of all-out speed and going pit for pit. Towards the end, Spencer's strategy worked brilliantly and he closed the gap within one second of Ty, but was unable to make the pass in the closing laps. Ty was able to fend of Spencer's late race charge and took the win and Spencer ran out of fuel just after crossing the finishing line. Finishing 3rd was Team Associated's Ryan Cavalieri, who was able to match Ty's speed and pressured Ty for nearly two-thirds of the race until a mistake on the back straightaway caught the 2-time national buggy champion out of rhythm and ultimately out of touch with Tessmann.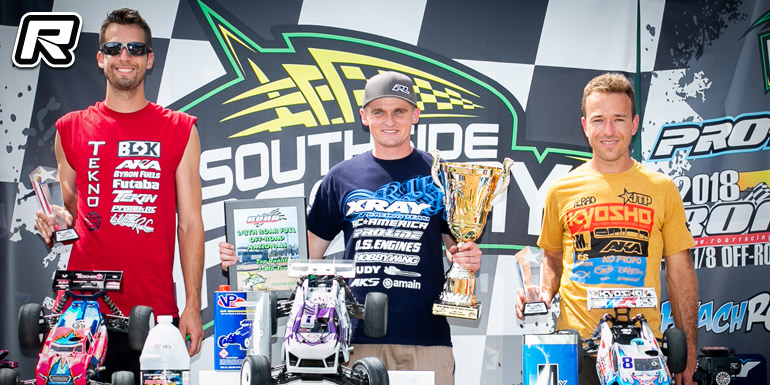 All weekend long, Xray's Ty Tessmann had an extra gear over his competition as he TQ'd all four rounds of Nitro Truggy and took the win in the shortened 30 minute A-main. Tekno's Ryan Lutz was definitely in the hunt as he slowly worked his way to 2nd from starting 4th on the grid. Kyosho's Jared Tebo has definitely rekindled his love and motivation for racing as he's been hitting more podiums and was able to deliver a terrific drive to finish 3rd overall from starting 8th on the grid.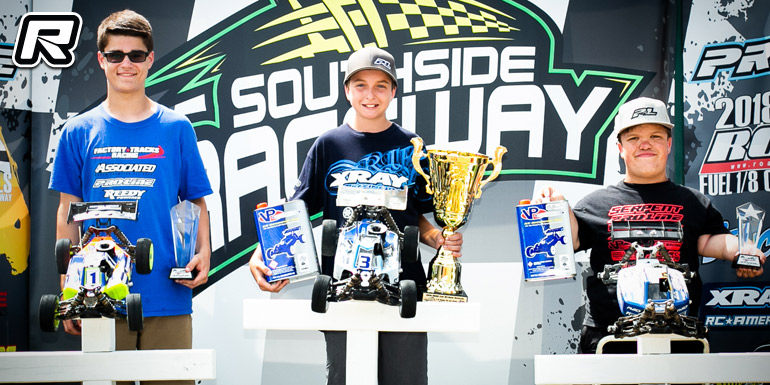 In the Juniors Buggy A-main Xray's CJ Jelin has been coming on strong in 2018 with some great finishes from some of the bigtime races. Adding to his list of accomplishments is a Junior National title as he was able to deliver some impressive driving when it counted. Team Associated's Aydin Horne is also improving on the daily, as he was able to capture TQ and finish 2nd overall. Perhaps the biggest charge was led by Serpent's Brandon Rose as he qualified 10th, but able to miraculously make the podium to finish 3rd.
Source: JConcepts [jconcepts.net]
---