June 18, 2018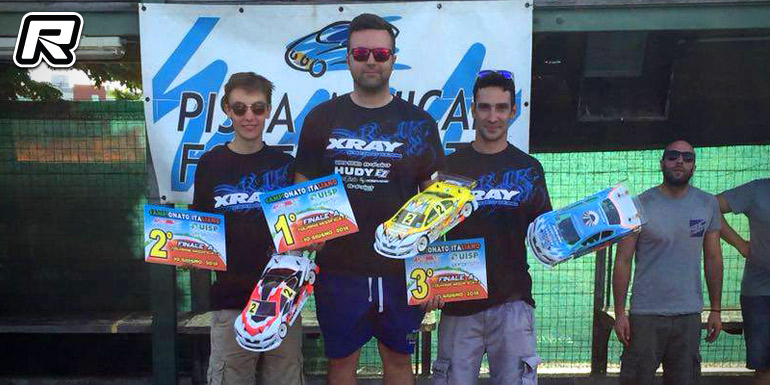 The Italian Electric On-road Nationals were held in Fontanellato recently. In the Touring Modified class the race for the win was on between Gabriele Berselli and Alessio Menicucci as Gabriele won the opening two qualifiers as Alessio took wins in Q3 and Q4. Thanks to the faster tie-breaker time Gabriele snatched the overall TQ from Alessio Menicucci 2nd and Alessio Tolomelli 3rd.
The finals were a thrilling affair, Alessio Menicucci would find a way past Gabriele in the closing stages of A1 for the win while in A2 Alessio made a mistake which allowed Gabriele to bring home the win. In A3 it was Gabriele with a mistake and so Alessio would take the win and with it the overall from Gabriele 2nd. The fight for the final podium spot was on between Alessio Tolomelli, Fabrizio Manicardi and Luca Torreggiani with Fabrizio holding the upper hand to take P3 after the finals.
Touring Modified final results:
1. Alessio Menicucci
2. Gabriele Berselli
3. Fabrizio Manicardi
4. Alessio Tolomelli
5. Luca Torreggiani
6. Andrea Baroni
7. Silvio Boni
8. Alessio Mota
9. Claudio Sassi
10.Enrico Avoni
In 13.5 Blinky Davide Campanini took the overall TQ, followed by Guido Carbognani and Luca Giovannoni. Davide the confirmed his performance in the finals for the overall win from Luca Giovannoni and Guido Carbognani.
Alessandro Arisi dominated the qualifiers of the Formula class, followed by Gian Franco Bola and Valerio Stagni. After three tight finals it was again Alessandro with the win from Guido Carbognani and Valerio Stagni.
Marco Donadelli was the driver to beat in the Pan Car class. Marco took the TQ followed by Vincenzo Zangari and Yuri Tagliatti and it was Marco who also took the overall win but it was Michele Rossetti who made the biggest progress and snatched the overall runner-up spot from Vincenzo Zangari 3rd.
Finally in the newly created Rookies class it was young Alex Cresti who took the overall TQ, followed by Alberto Rossetti and Lorenzo Tagliatti and the three would also make up the top 3 after the finals.
Source: Xray [teamxray.com]
---