June 4, 2018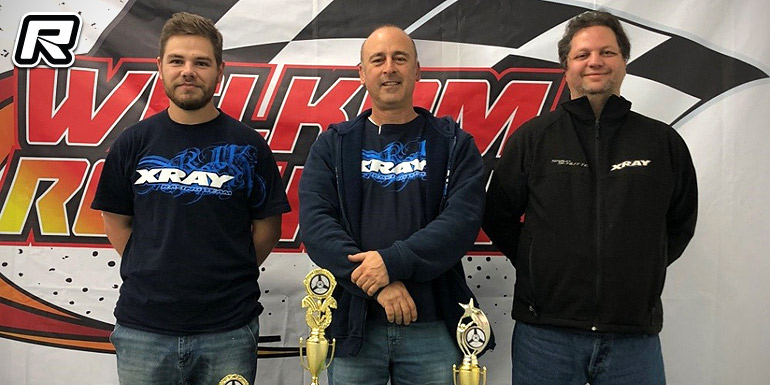 The third round of the 2018 South-African ORE 1/12th National Championship series was held at the Welkom RC Arena. In the 1/12 Modified class and after missing round 2 due to his host responsibilities at the pre-worlds, local Xray driver Antonio Caroli showed good early pace during practice with Marius van Niekerk, Shaun Schutte, Willie du Plooy and Wayne Joelson also running good fast laps. Ultimately it was Antonio Caroli who managed to secure TQ with Marius van Niekerk and Willie du Plooy starting from 2nd and 3rd respectively.
In the mains, it was Antonio who set the early pace in A1 and also managed to win A2 to secure the overall victory. Marius van Niekerk showed great pace to take the 2nd spot on the podium with Shaun Schutte securing a great 3rd place after starting from 8th on the grid.
1/12 Modified Results
1. Antonio Caroli – Xray
2. Marius van Niekerk – Xray
3. Shaun Schutte – Xray
4. Francois Laubscher – Xray
5. Willie du Plooy – Xray
6. Rowan Bowar –
7. Brandon Solomon – Xray
8. Wayne Joelson –
9. Wade Solomon – Xray
10.Anderton Smith – Xray
In the 1/12 Stock cClass, the qualification rounds saw a great battle between Xray drivers Francois Laubscher and Pat Lester for the TQ spot. In Q1 and Q2 Francois got the win. Francois experienced some technical problems in Q3 and Pat was there to win Q3. Francois eventually put in a good run in Q4 to ensure his overall TQ. In the mains it was Francois winning with Pat close behind him and the lady driver Bianka Landman finishing on the podium in 3rd spot.
1/12 Stock Resutls
1. Francois Laubscher – Xray
2. Patrick Lester – Xray
3. Bianka Landman – Xray
Source: Xray [teamxray.com]
---