June 12, 2018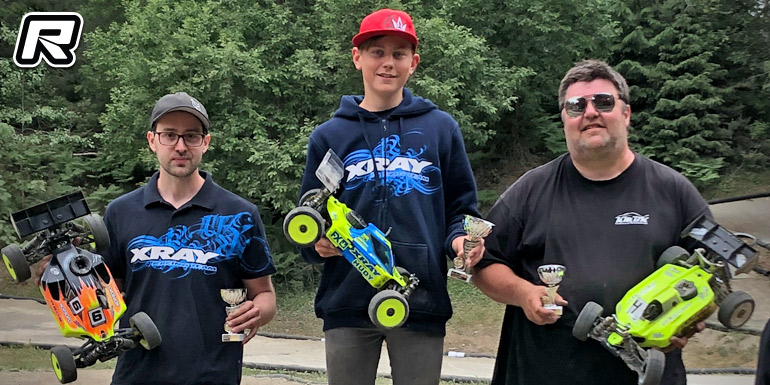 Last weekend the second round of the Norwegian 1/8th Off-road Nationals was held at Hof Raceway, located some 45 minutes out off Norway's capital of Oslo. It has been extremely hot in Norway the past weeks which meant challenging conditions and a hard-packed track with a lot off bumps but the club did its best to make the best out of it. Saturday started off with four qualification rounds for nitro, and Xray factory driver Daniel Kobbevik won three out of four qualifiers meaning the overall TQ in front of Xray's Lars Erik Moe as Kyosho's Danny Kwiatkowski came in 3rd.
Sunday mains day and Daniel had a perfect semifinal as Lars Erik Mo had a lot off struggle in his semi. A flame out put him far back in the field, but he picked up speed and managed to come back to start from 6th into the main final. Up front Daniel took the pole position in front of the Mugen duo of Morten Torkildsen and Hans Magne Berg.
However the start of the final did not went well for Daniel as he got into trouble right away on the first lap and after some really tough fights he ran into tyre issues after ten laps with the rubber separating from the wheels. He almost lost two laps on that which made it necessary to change fuel strategy in order to try to get back in the game, but that did not go well, so a flameout set him further back as on the very dusty track the fuel consumption was higher than normal. But Daniel got out there and he went fast up to 2nd after some really hard fighting to get by the other drivers. Lars Erik Mo had a huge lead up front, but Daniel slowly came closer and closer. With three minutes left on the clock, it was only a 10-seconds gap between those two drivers, and there was no chance that Daniel was going for securing the 2nd spot. Lars Erik did some mistakes also in end, and Daniel got by, and won the race by over 26 seconds.
Nitro Buggy final results:
1. Daniel Kobbevik – Xray/FX/Runnertime
2. Lars Erik Moe – Xray/FX/Runnertime
3. Egil Amtedal – Serpent/O.S./Runnertimer
4. Morten Torkildsen – Mugen/FX/Hotfire
5. Bastian Andreassen – Serpent/O.S./Optifuel
6. Gisle Brøvig – Kyosho/Werks/Werks
7. Hans M. Berg – Mugen/Bullitt/Hotfire
8. Danny Kwiatkowski – Kyosho/Reds Racing/Byron
9. Torbjorn Doler – Kyosho/Reds Racing/Byron
10.Dan T. Bjornflaten – Serpent/O.S./Byron
On Sunday also the qualifiers and finals of the 1/8th Electric class were run, and again it was Daniel who had a comfy gap down to the rest of the drivers. The qualifiers went smooth and Kobbevik took the TQ in front of Vincent Rüger (HB Racing), and 3rd placed Mathias Fink with his Mugen.
In A1 Daniel just drove away from the rest of the field an easy win as the fight for 2nd and 3rd was harder but it ended with Mathias Fink taking 2nd in front off Danny Kwiatkowski. A2 then was a blueprint for Daniel who was just pushing away for another easy win. Behind him Mathias and Vincent swapped positions many times, but Mathias was a little unlucky and missed the jump before the straight and then it was more or less over, so it ended with Vincent in 2nd and Danny 3rd. Daniel opted to sit our A3 and so it was up to Danny, Vincet and Mathias to fight for the remaining podium positions. And after some nice battles the final ended with Mathias taking the win, in front of Danny and Torbjorn Doler.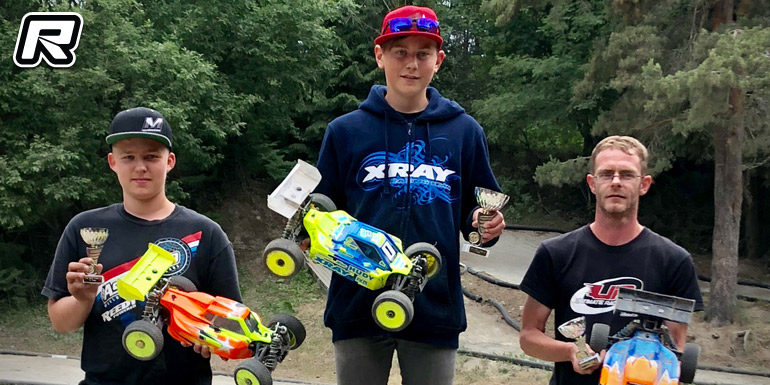 E-Buggy final results:
1. Daniel Kobbevik – Xray/Hobbywing/EZpower
2. Mathias Fink – Mugen/Tekin/-
3. Danny Kwiatkowski – Kyosho/Reds Racing/Team Orion
4. Vincent Rüger – HB Racing/Tekin/-
5. Torbjorn Doler – Xray/Tekin/LRP
6. Clayton Petree – Hotbodies/Hobbywing/Team Orion
7. Sani Gunic – Mugen/Hobbywing/Team Orion
8. Mattis O. Berg – Mugen/Tekin/Team Orion
9. Hans B. Revhaug – Xray/Hobbywing/EZpower
Thanks to Magne Kobbevik for the report.
---