June 16, 2018
The 3rd round of the Victorian Drivers series saw just under 150 entries travel to the Mildura club in regional Australia, 6 hours drive from Melbourne. The club members had built a brand new technical track for the event with a new clay surface. Unfortunately very heavy rain on the Friday of the event left the track very heavy for practice Saturday morning, resulting in the track becoming very bumpy and challenging racer's driving and setup skills. The track dried out and grooved up through the event with competitors starting on pin tyres and ending up on supersoft bars or webs. With slick timekeeping and organisation, the event ran to schedule despite the wet start. In 4WD Modified the qualifying order was the same as 2WD Modified, the two junior racers pushing Ray hard. In the finals Ray again took the win with his son Lachlan finishing 2nd, a very unlucky Isergin just missing the podium after collecting a marshall's foot in A3. Healy again let his experience show in the finals, finishing 3rd after tough qualifiers.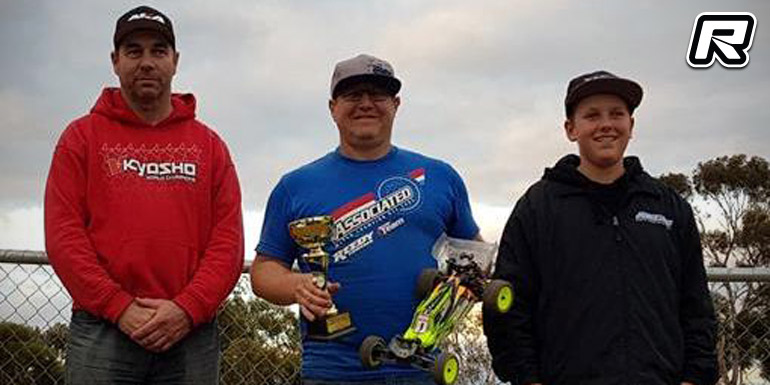 In 2WD Modified Ray Munday took TQ but the real story of the event was the youngsters, 13yo Jordan Isergin finding strong form to qualify 2nd and 12yo Lachlan Munday qualifying 3rd – both showing great maturity with their driving on a tough track. In the finals, Ray took a clean sweep for the win, Simon Healy using his experience to tie for 2nd with Jordan, taking it on countback with Lachlan in 4th.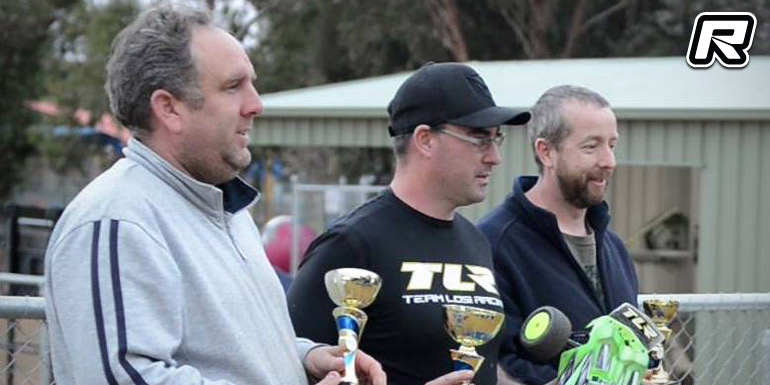 In Truck, Mildura local Tim Drust showed his speed by taking TQ in the modified truck class from Steve Cowen and Jeff Kirby. Again the TQ curse struck, bad luck for Tim in A1 and A2 putting him out of the running, this time allowing Steve Cowen to benefit winning the first 2 finals to take the overall victory. Drust won A3 but it wasn't enough to salvage a podium, Damien O'Dea and Mark King finishing 2nd and 3rd. Special mention to Trevor May for successfully completing several backflips with perfect downslopes …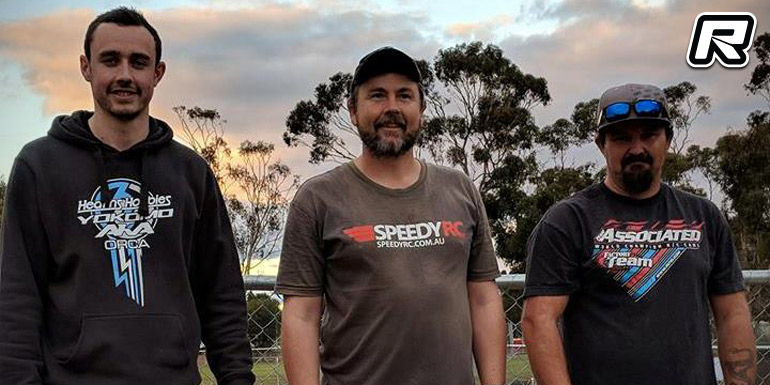 4WD 13.5 saw Ben Howard taking TQ by a small margin from Rob Jones in 2nd and Jason Milbourne 3rd. Again the finals saw excellent racing with Howard taking A1 and Jones A2 to setup an A3 decider. Jones had a disastrous start letting Howard take an easy win in the end, Jones 2nd and local Ivan McKenzie finishing a strong 3rd to pip Milbourne on the podium.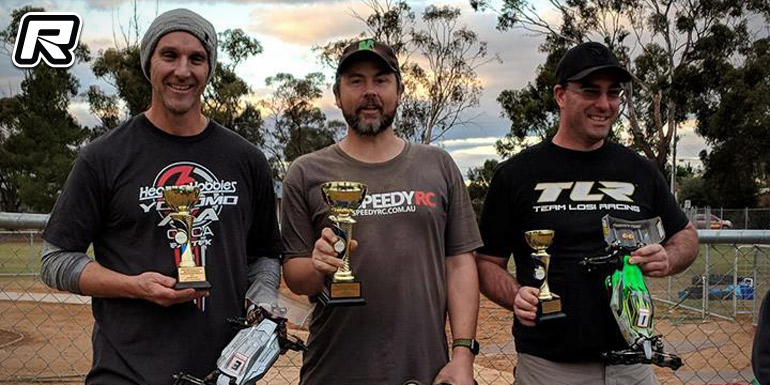 With 30 entries 2WD 17.5 was the biggest class of the weekend. Steve Cowen from Adelaide took TQ from Ben Howard and multi-time national stock champ Scott Giles. The finals had some of the best racing of the weekend, with Howard and Giles taking out A1 and A2 then battling for the win in A3. Giles led for the majority of the race with Howard right on his tail, Howard making a successful pass on the final lap to take an emphatic victory. Cowen was struck with the Mildura "TQ curse", finishing 3rd.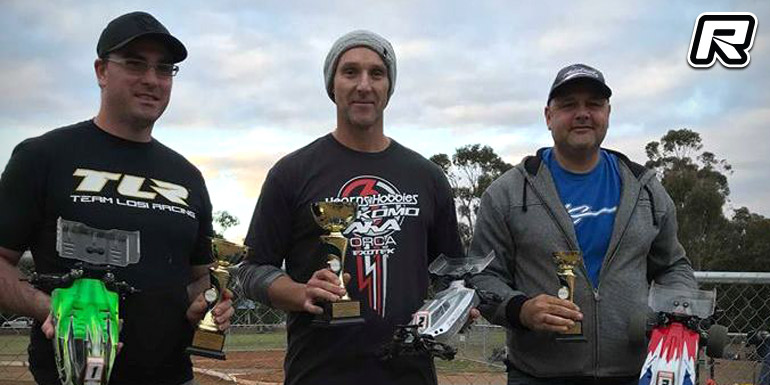 Cowen and Giles battled the 4WD 17.5 class out, Cowen with TQ. Giles had a DNF in A1 to allow Cowen to take first blood, but Giles fought back for a narrow win in A2 then a big win in A3 for the overall win. Cowen took 2nd overall with Christophe Esteve 3rd.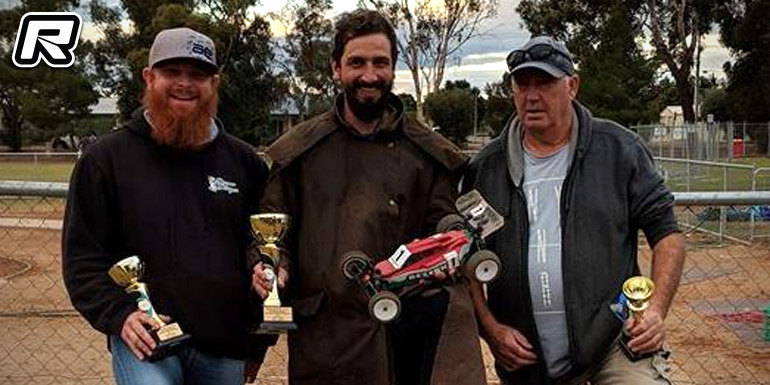 In 2WD 21.5 Dale Brown has been the man to beat in this class in 2018, but no-one told Neil Kovacs who made a popular return to 21.5 with a surprise TQ. Neil backed that up with a win in A1 and A2 to seal the win from Brown, with Peter Crowe in 3rd. 17 entries show that this entry level class is a big success.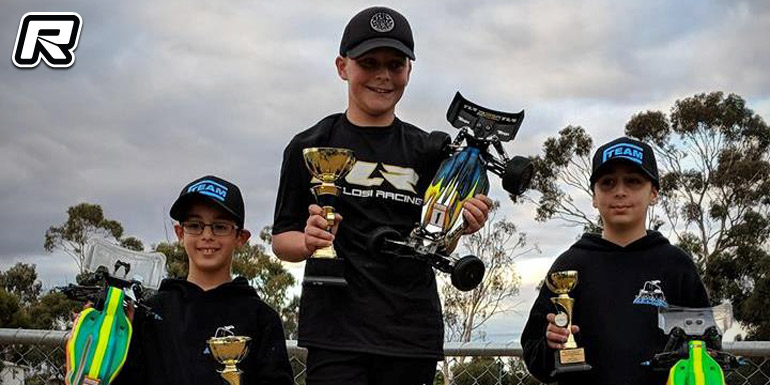 The junior scene is popular in Victoria and continues to grow. 14 entries (most under 12, and including four girls) were received for the event. Adelaide's Jayden Edmunds showed he could be a future star taking all 3 qualifiers to take TQ, then winning A1 and A3 for the overall win. Finishing behind him were the hardworking Camilleri brothers, Camden and Claude, who pushed Jayden all the way, and 4th was Shelby Bloss, who continues to get better each time she hits the track. Robert Holliday was 5th.
Thanks to Ray Munday for the report. Images: Adam Edwards & Ben Howard
---