July 3, 2018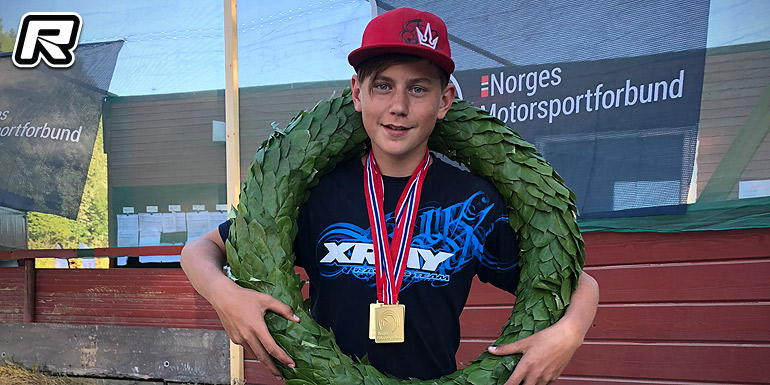 This year it was Sandefjord RC Club, that was going to host the Norwegian National 1/8th Off-road Championship for 2018. The event saw the running of the nitro and electric class at the same weekend and the race was very well organised with the good and warm weather further adding to the whole fun. Xray's Daniel Kobbevik was one of the pre-event favourites as he had a clear winning streak going into the event. However he would only arrive late on Friday evening for a short shakedown of the cars and his strategy was to use the qualifiers to learn the layout and find the right setup and speed. The strategy worked out perfect, and already in first qualifier round Daniel was the only one to score a 10-laps run. The only other driver with a 10-laps run in qualification was Xray driver Lars Erik Mo. Daniel carried on in tremendous speed and would ultimately win all rounds both in 1/8 electric and nitro, all 10lap runs, so already on Saturday he was top qualifier in both categories.

The club decided to water the track after Saturday's qualifiers as it was pretty beaten up already and so Sunday started off with a dust-free and grippy surface that lead to an even faster pace of the drivers and especially Daniel who bettered his times again. At the end of the qualifiers it was Daniel in his FX-powered Xray with the TQ from Rune Karlsen's OS-powered Kyosho in 2nd and Lars Erik Mo with his FX-powered Xray in 3rd. Over in the electric class it was again Daniel with the TQ from Rune Karlsen (Kyosho) 2nd and Thorbjørn Døler (Xray) 3rd.
The Nitro A-main then was the battle between young gun Daniel while veteran racers Rune Karlsen and Lars Erik Mo came in 2nd and 3rd. The start was a little messy, but after one lap Rune was in front with Daniel on his tail. Lars Erik had bad luck as he found himself at the bottom of the field. After two laps Daniel was in front and set the pace while Rune was a steady 2nd for a while, but it seemed that Lars Erik had found some more speed and was almost on the same pace as Daniel and on the second fuel stop, he had taken over a solid 2nd place. Driving super smooth there was no chance for Rune to catch up with him unless Lars Erik would get into trouble. In the end it would materialise and Daniel took the win and with it the championship title from Lars Erik Mo in 2nd and Rune Karlsen in 3rd.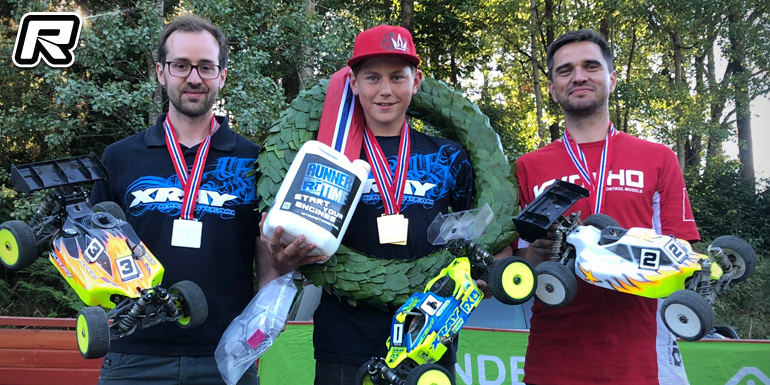 Nitro Buggy final results:
1.Daniel Kobbevik – Xray/FX/Runnertime
2.Lars Erik Mo – Xray/FX/Runnertime
3.Rune Karlsen – Kyosho/OS/Byron
4.Gisle Brøvig – Kyosho/Werks/Werks
5.Pål Tobiassen – SWorks/OS/Byron
6.Vincet Rüger – HB Racing/OS/Byron
7.Danny Kwiatkowski – Kyosho/Reds/Byron
8.Hans Magne Berg – Mugen/Bullitt/Racing Experience
9.Dan Terje Bjørnflaten – Serpent/OS/Byron
10.Bastian Andreassen – Serpent/OS/Optifuel
In the E-Buggy class Daniel won the first A-main easily with a good margin to Thorbjørn Døler who came in 2nd as Mathias Fink came in 3rd. In A-main 2 Daniel just pushed away and the real battle arose for 2nd and 3rd place. But in the end it was Rune Karlsen and his Kyosho that took 2nd and another top 3 from Torbjørn Døler with his Xray which was even more remarkable as he was knocked out by a car when he did marshalling earlier that day. But instead of lamenting he changed focus and really laid down some impressive runs. For A3 Daniel opted to sit out the leg in order to prepare for the Nitro main. And so it was a super exciting race for the podium but after a couple of laps with fights between Rune and Torbjørn, Rune did a mistake and Torbjørn took a huge lead, but Rune had not given up winning this final and stayed in the game, but could not get closer. However after six minutes Thorbjørn was a little unlucky with a landing in the double double section, and Rune passed him and it was just for Thorbjørn to save the 2nd place. The first comment from Thorbjørn after final was done was "I had Rune on the fork, but lost the fork …". Behind Champion Daniel it was Rune with the runner-up spot from brave Torbjørn in 3rd.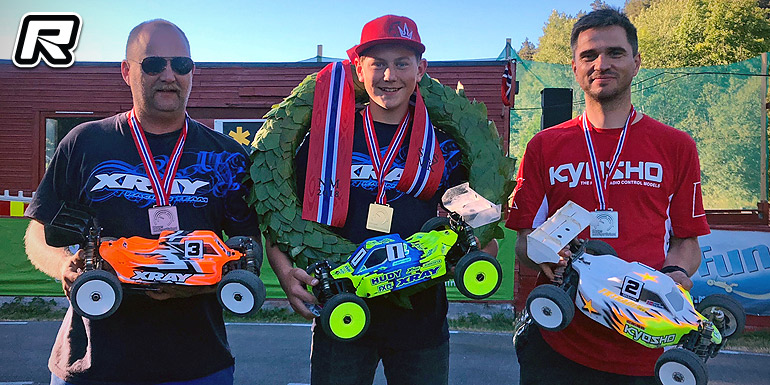 E-Buggy final results:
1.Daniel Kobbevik – Xray/Hobbywing/EZpower
2.Rune Karlsen – Kyosho/Team Orion/Team Orion
3.Torbjørn Døler – Team Xray/LRP/LRP
4.Mathias Fink – Mugen/Hobbywing/-
5.Kai Rønning – Kyosho/Hobbywing/-
6.Øystein Døler – Mugen/Hobbywing/LRP
7.Vincent Rüger – Hotbodies/Hobbywing/-
8.Danny Kwiatkowski – Kyosho/Team Orion/Team Orion
9.Hans Magne Berg – Mugen/Hobbywing/-
10.Morten Stenjord – Mugen/Hobbywing/-
Thanks to Magne Kobbevik for the report.
---