July 11, 2018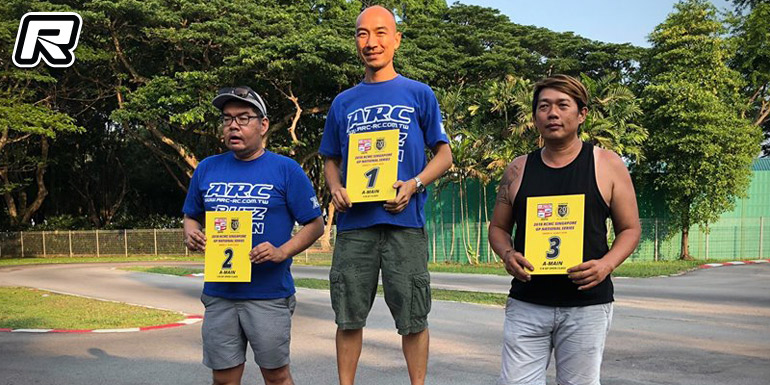 The East Coast Race Track played host to round four of the RCMC Singapore GP Nationals last weekend. Finally Singapore gave everyone perfect weather with plenty of drivers and some exciting on track action. With 1/8th GP, GT, 1/10th GP and 1/5th scale racing, it wasn't going to be a boring day for the spectators and racers alike. For 1/5th and 1/10th racing the organisers decided to try a new format for finals, where the final would be split into two 15-minute sprints, instead of the usual single 30-minute final. Similar formats are being used on the European Continent with a view to make the racing more exciting, and less of an Endurance style race. This would make qualifying even more important than usual for these classes.
1/8th GP saw some heart, sorry, belt break. The front of the grid was locked out by local Pro Nelson Lee (ARC) in pole position with an outstanding 24 Laps in 7.06.602, and by a well deserved Kasni (ARC) taking second with 23 Laps in 7.11.277. Off the start Nelson got away cleanly, with Tony Mansfield (Serpent) managing to sneak past Kasni to gain 2nd place. The race proved to be challenging for most over the next 20 laps as multiple cars had offs and engine flame-outs giving a clear five laps advantage between Tony in 2nd and a fast charging Aidi Amin (ARC) closing in. However, on lap 86 the rear belt of Tony's car let go, causing him to retire and hand over a well deserved second place to Aidi, who built and drove his car perfectly to bring his car home behind Nelson, who as ever took home the win with a sublime drive worthy of his reputation. A notable 3rd Place mention must go to William Soh (Infinity) who drove a great race to take the 3rd spot on the podium.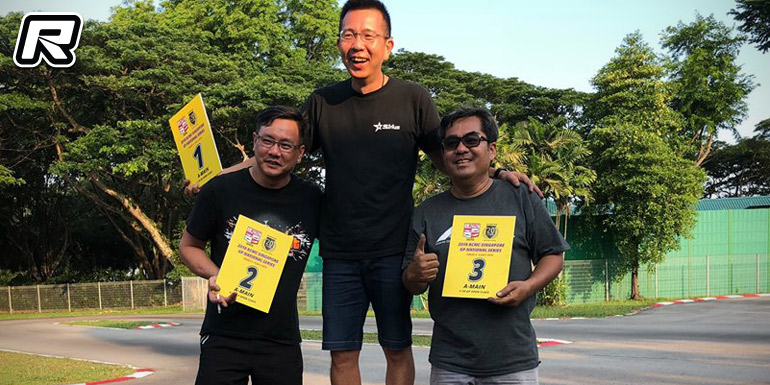 The 1/10th GP racing saw some fast and furious racing over the finals. It was great to see this class back racing after being absent for far too long. This year is the World Championships in Miami for this class, obviously getting racers back into the spirit and the cars out of the garage. The front row was locked out by Alvin Ng (Xray) taking pole position, the only man managing to achieve 20 Laps during qualifying on the day. The front row was completed by Danny Lim (Xray). In the A2 Main, it was Alvin Ng who took the win, just in front of Joe Hwee who put in a blistering sprint race to take second place after an unfortunate A1, closely followed by Danny Lim, just 6 seconds behind in 3rd. Overall, Danny Lim took the win, Second Alvin Ng and a superb and consistent 3rd place for Nordin.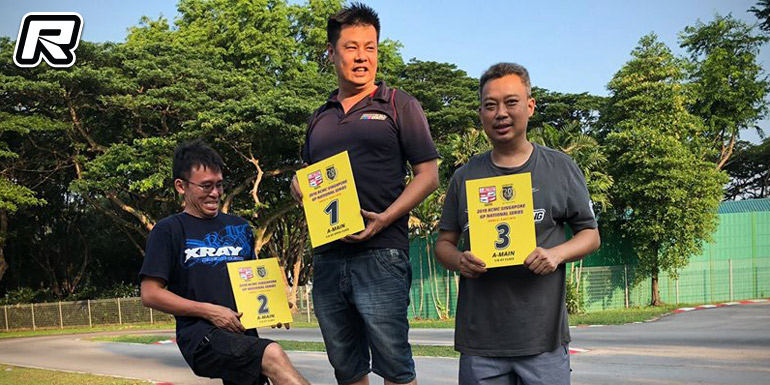 1/8th GT also saw some gremlins coming out to cause havoc. The front row was locked out by Joe Hwee with 27 Laps in 10.09.424 in Pole Position, and Danial Miswan with 27 Laps in 10.18.515. However, after a flying start from Micheal Siow off of the start to take the lead from 3rd on the grid and a charging Patrick Ong, the start of this race was turned upside down as these two local track legends fought it out. Pit stops were lightening quick as neither of the two front runners could afford a second lost. However, after 15 minutes, sadly Micheal had to retire with an engine problem, leaving Patrick to lead and control the pace of the race. Of course, with GT racing, it's not over until it's over … With a commanding lead, at 30 minutes with ten minutes to go, Patrick Ong suffered a flame out after the main straight causing him to loose 40 seconds, and this was going to be a recurring theme for the rest of the race and ultimately cost him the race (a faulty bearing in the clutch to blame). Ericster Boon who drove consistently and with a perfectly reliable car took home the win, proving the old adage "To finish first, you must at first finish!". Joe Hwee, despite some engine trouble, managed to grab 3rd place.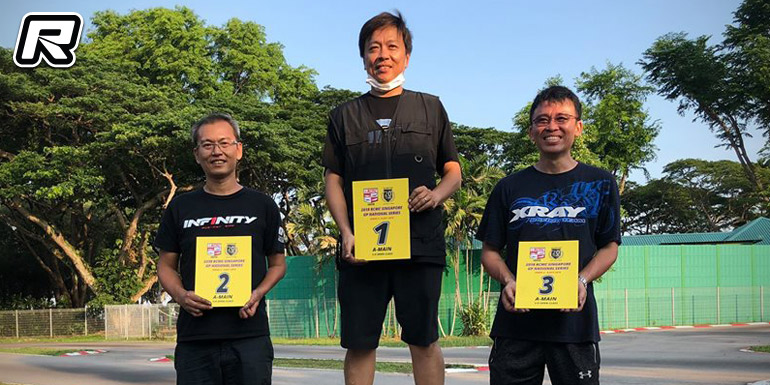 In 1/5th Scale Kelvin took pole position with 24 Laps in 10.28.194, followed by Micheal Siow in 2nd completing the front row. In Final A 1, Kelvin unfortunately suffered some mechanical issues after some close racing leaving Micheal to take the win, followed by Dax in 2nd and Patrick Ong in 3rd place. In Final A2, Kelvin was unable to start leaving one of the closest races of the day between Micheal and Dax, less than 1/10th of a second separated these two drivers as the flag fell at 15 minutes, Micheal recovering from a few 'rubs' with blistering pace to take the win and an overall class win, with Dax confirming 2nd place on the podium! Patrick once again executing a clean drive to claim 3rd place, and 3rd overall.
Source: RCMC Singapore [facebook.com]
---