August 7, 2018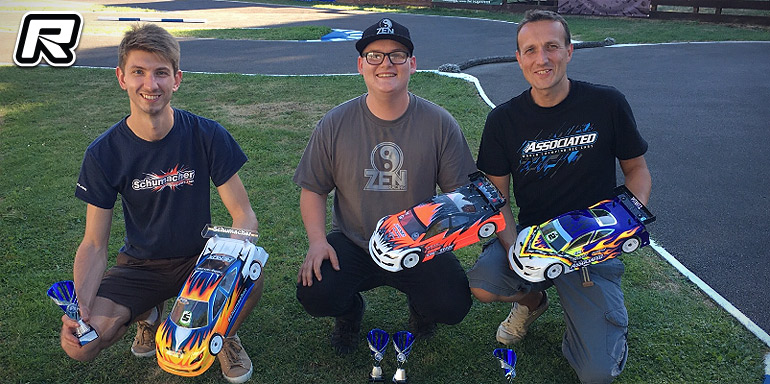 Last weekend drivers headed to the South coast for round 5 of the BRCA Clubman's Championship at the Eastbourne Model Car Club. Over the last year, the club has put a lot of work in and extended the track, which has greatly increased it in both size and lap times. The weather was perfect sunshine and it lasted all weekend. This would probe a real test for both drivers and equipment with ever changing track conditions catching a few drivers out. The club had a near full entry for race day and most of those drivers were practicing on Saturday with seven timed runs for all classes in heat order. The usual three classes were running, 17.5 Blinky, 13.5 Open and Formula who run alongside the Clubman's Championship but are competing for the National Title.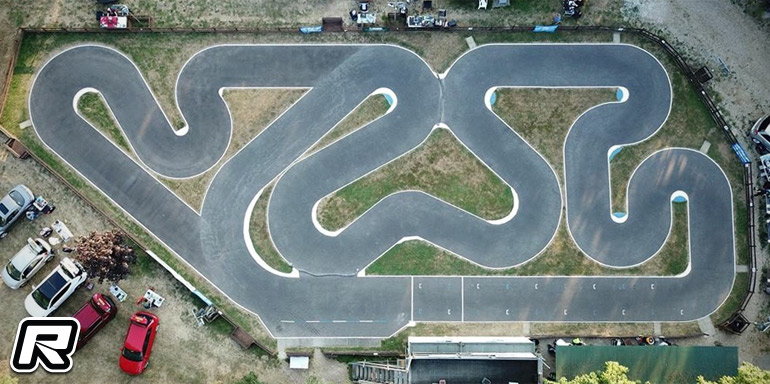 Four round by round qualifying runs were the order of the day. Many drivers had thought after Saturday practice there cars were on point, but with a hotter track for race day this was not the case for most. Various tyre prep was tried along with setups but qualifying ended with a few drivers out of place to where you would expect to see them.
Ollie Payne was on form and took TQ in every round of qualifying to take pole position for the 13.5 Open A-final. Leg 1 went like clockwork for Ollie and he took the win and was the only driver to get through for a 20-lap run. Local star Ben Moorey came home 2nd from P3 with a hard chasing Aaron Rose up from P5 to take 3rd place. Leg 2 and Ollie improved on his leg 1 time and took the win with it again with a 20-lap run. Aaron had a great drive from P5 again and for his efforts picked up 2nd place in this leg with a great drive. Ben pulled off on lap 7 so it was another local hero's turn for a top 3 finish and that went to Adrian Bidewell to make up for his 5th place in leg 1. Ollie Payne took the overall win. 2nd place was Aaron Rose with two sterling drives and 3rd place went to Adrian Bidewell.
In the 17.5 Blinky Class Billy Fletcher the 17.5 2018 Champion Elect was back to do battle with the local drivers and that he did by taking TQ in the first three rounds of qualifying. He started round 4 but only to bed a new set of tyres in for the final. With Billy on pole and the very fast local driver Tim Hancock in P2 everyone was set for some great finals. With Mark Trinder P3 he would always be in the mix waiting for the top 2 to make a mistake. It was all going Billy's way until lap 17 after defending his position from the start, he took a little to much kerb and rolled costing him four seconds which gave Tim the win and Mark nearly the chance of 2nd, but Billy recovered to hold him off to cross the line in 2nd place ahead of Mark by less than a second.
Leg 2 and the pressure was on, Billy had to win this leg to win overall and with Tim hot on his tail and eager for another win to win overall it was sure to be another epic race. After trading fastest laps throughout the final and both having identical fastest laps the win went to Billy who crossed the line just before the finish time so got a victory lap in, Tim finished 2nd and Mark picked up another 3rd.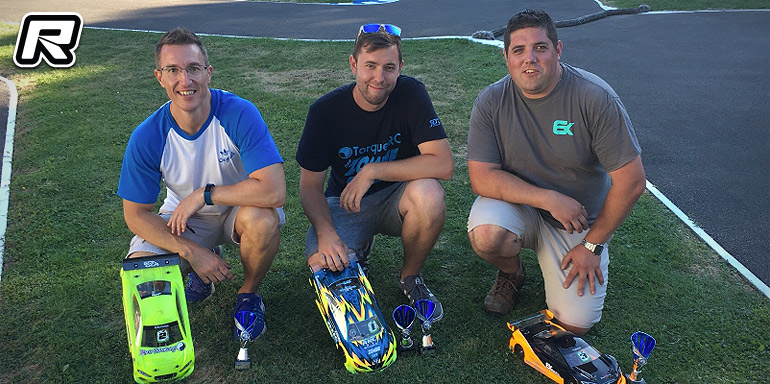 Billy Fletcher took the overall win, which he's was very pleased with against such a good rival Tim, who took 2nd overall from Mark Trinder 3rd overall.
The Formula pole position was secured with three TQ runs by Luke Lee who sat round 4, presumably to save tyres or stay out of the heat. Leg 1 and Luke pulled out a lead on Ben Cosgrove who had a rough first few laps, but he climbed his way back up to 2nd place trading fastest laps with Luke who by the end of the race had got through for a 16 lap run to take the win so Ben had to settle for 2nd place. James Greener came home in a fine 3rd place from P4.
Leg 2 Luke had another great start but so did Ben so we were in for a great battle with 2 of the Championships top Formula drivers. With Luke hooking up every lap and Ben putting in the fastest lap this was a great final to watch but in the end Luke won a few seconds ahead of Ben. The driver of the day had to go to young driver Jak Sanson, after finishing 6th in leg 1 from P9 on the grid was a great run but he improved on this in leg 2 to take 3rd place, a great effort indeed.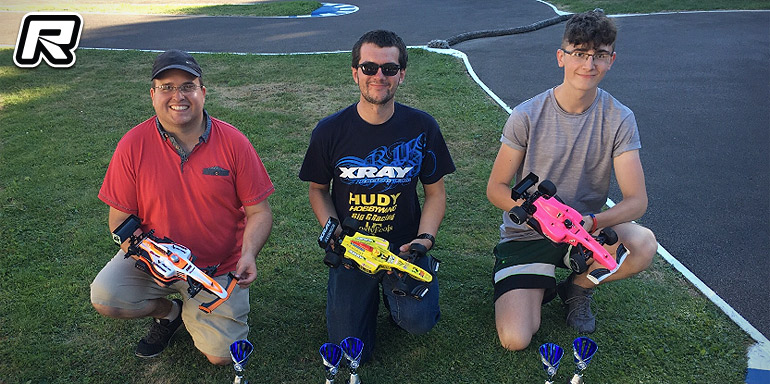 Luke Lee took the overall win with two 1st places, Ben mirrored that with two 2nd places to take 2nd overall and a stella drive from Jak Sanson to take 3rd overall.
September the 2nd will see drivers move back to the North to the Stafford Model Car Club for round 6 of the Clubman's Championship. Not the biggest track on the calendar but a real favourite one with the drivers and the National there was a huge success earlier in the year.
Source: BRCA [brca.org]
---