August 5, 2018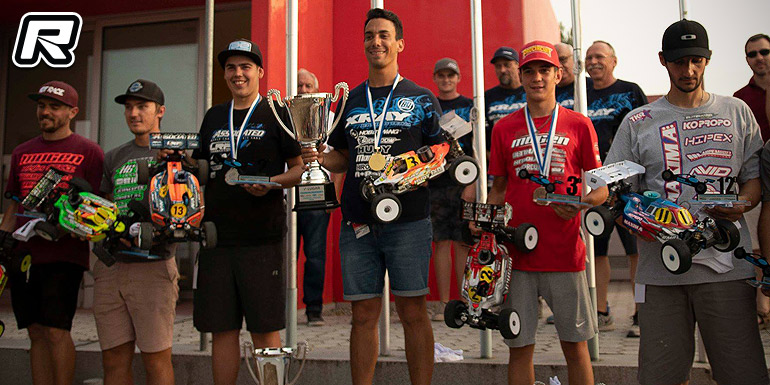 The 2018 EFRA 1/8th Nitro Buggy European Championship was held in Portugal this past week. Qualifying at the Radiomodelismo de Freixedas track was dominated by Davide Ongaro as the Italian phenomenon swept all five rounds of qualifying to put a vice like grip on this 1/8th IC Off Road European Championship. Reigning European Champions Robert Batlle qualified 2nd, and was Davide's closet challenger though never getting within five seconds of his time. Bruno Coelho was a surprise 3rd overall the versatile Portuguese eliciting the help of Ty and Gord Tessman over from Canada to help set up and run his car, with instant results as when left to just do the stick work there are few Bruno's equal. Reigning world champion David Ronnefalk had a torrid time in qualification with poor tyre choices and failures leaving him to scrape into 4th overall, still without a decent set-up. Juan Carlos Canas was our 5th qualifier, and left rueing what might have been when a miscommunication in round 2 saw him come in to the pits when he still had another lap to complete, those lost points would have put him 3rd. The one factor none of the drivers could avoid was the oppressive heat, with 38°C all thru Friday and the chance that the finals would be even hotter.
As the semifinals began, all the talk was of who would be runner-up to Davide Ongrao, such was his dominance during qualifying. However just 90 seconds into the race all that changed as the Italian's car first flamed and then retired with a broken front right hub. However due to a recent rule change at EFRA events all was not completely lost for Davide as there was a Last Chance Qualifier race. The LCQ event pits all the non-qualifiers from the semifinals together in a winner takes all race for the final spot on the A-main Grid. But starting last Ongaro would have his work cut out to get to the front in the ten minutes of the race. After a rocky start the young Italian began to scythe through the field, and managed to hit the front with a minute to go, meaning he would stat 13th in the final.
Lining up at the front of the A-main was World Champion David Ronnefalk who seemed to have put his woes of qualifying behind him with an imperious display in his semifinal. Next up was young Spaniard Juan Carlos Canas with local hero Bruno Coelho in 3rd and reigning European Champion Robert Battle due to be in 4th before he had to call a 10-minute timeout and therefore would start from the pit lane.
From the start the drama came with a mistake very early on dropping pole man Ronnefalk down to last as the field streaked through before he could be marshalled and Ongaro and Battle beginning to rapidly climb up the order. At the front Juan Carlos Canas was establishing a small lead from Bruno, but all eyes were now on Ongaro's progress as he began to drag up to the leading pair. At halfway the challenges of Ronnefalk and Battle had disappeared on the slippy surface and the lead was rotating between Canas and Coelho as they pursued slightly different pit stop strategies. Ongaro was getting closer but around the 30-minute mark of the 45 minute final Canas' bid began to falter and it would be left for Davide and Bruno to fight it out to the finish. It quickly became apparent that Bruno had a pit stop in hand so despite being close on the track he was actually in a comfortable position. That last stop was carried out by his stellar and world championship winning crew of Gord and Ty Tessman and the Portuguese superstar drove it home to the wild acclaim of the crowd.
With this result Bruno now can rightly be considered up there with the other greats of RC, winning European Championships in 1:10th IC Track, 4WD Electric Off Road, and now 1/8th IC Off Road, added to his Worlds title in 1/10th 4WD Buggy, runner-up at the 1/10th Electric Touring Car Worlds and a finalist at 1/10th and 1/8th IC Worlds.
Final results:
1. Bruno Coelho – Xray – 75L 45:09.478
2. Davide Ongaro – Team Associated – 75L 45:19.384
3. Juan Carlos Canas – Mugen – 74L 45:03.373
4. David Ronnefalk – HB Racing – 74L 45:34.340
5. Elliott Boots – Kyosho – 73L 45:30.600
6. Robert Batlle – Mugen – 72L 45:00.376
7. Martin Wollanka – SWorkz – 72L 45:12.701
8. Riccardo Berton – Kyosho – 72L 45:22.949
9. Alex Zanchettin – Tekno – 71L 45:02.824
10. Mattia Polito – Kyosho – 71L 45:23.585
11. João Figueiredo – Kyosho – 70L 45:22.168
12. Miguel Matias – Team Associated – 69L 45:15.784
13. Lee Martin – HB Racing – 52L 33:34.798
Source: EFRA [efra.ws]
---