August 1, 2018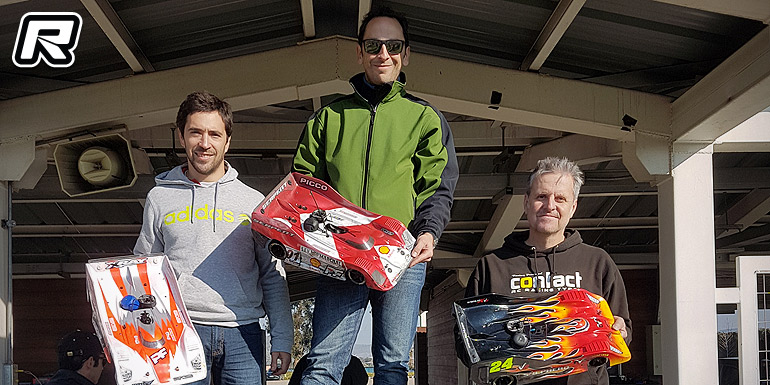 Round 8 of the Chilean National IC Track Championship was hosted by the Aeromodelos de Chile club in Santiago de Chile. In the 1/8th class Francisco Lara (Serpent/Picco) from Spain, after been out of the racing scene for eleven months, took the overall TQ, scoring a new track record of 22.151s in the process. From the tone Francisco took the lead while a huge battle for the 2nd place was going on between Alvaro Jara (Shepherd/Sonic), Matias Otaegui (Xray/Sonic) and Cristobal Herrera. Later however Francisco ran into trouble as his car was loosing performance, allowing Alvaro, Cristobal and Matias to get by. Soon after Cristobal began to attack Jara on every short straight and in every curve, trying to show his car in Jara's "mirror". When the final five minutes began, Jara's car suffered a flame out but thanks to some quick pit work he was able to bring home a 3rd place behind runner-up, Matias Otaegui and eventual winner, Cristobal Herrera.
Final results:
1. Cristobal Herrera – 76L 30:01.791
2. Matias Otaegui – 74L 30:08.395
3. Alvaro Jara – 73L 30:01.540
4. Francisco Lara – 69L 27:38.299
5. Matias Astoreca – 63L 30:10.8719
6. Cristobal Ugarte – 41L 18:22.942
7. Patrick Walton – 32L 17:59.234
8. Reinaldo Gil – 23L 9:46.186
9. Felipe Lyon – 15L 6:43.754
10.Augusto Buchholtz – DNS 0L 0:00.000
11.Manuel Vega – DNS 0L 0:00.000
Thanks to Tomas Ramirez for the report.
---