August 14, 2018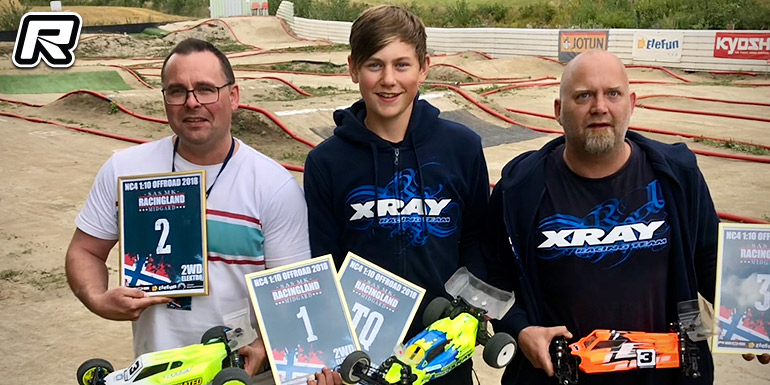 The fourth round of the Norwegian Electric Buggy Nationals was held at the SAS Club's Racingland track in Midgard near Sandefjord. The up and coming club in the land of the Vikings offered a rough and challenging dirt track and although the weather forecast didn't look too promising it would stay dry all the time. In 2WD, Xray driver Daniel Kobbevik was over 2.2 sec faster on his best lap, and he would be the only driver to score a 9-laps run in the qualifiers. The track was bumpy, slippery and challenging, so it was a great challenge for all drivers. The wind made also some of the jumps pretty difficult to handle. After the qualification was done, Daniel had TQ´d all rounds with the 2nd place going to Thorbjørn Døhler with his Xray while Øystein Døhler put his Team Associated in 3rd.
In the finals it was pretty much the same scenario as in the qualifiers. Daniel pulled away and the fight was about 2nd and 3rd place. Øystein and Thorbjørn had some entertaining runs and in the end Thorbjørn took 2nd from Øystein 3rd as Daniel brought home the win.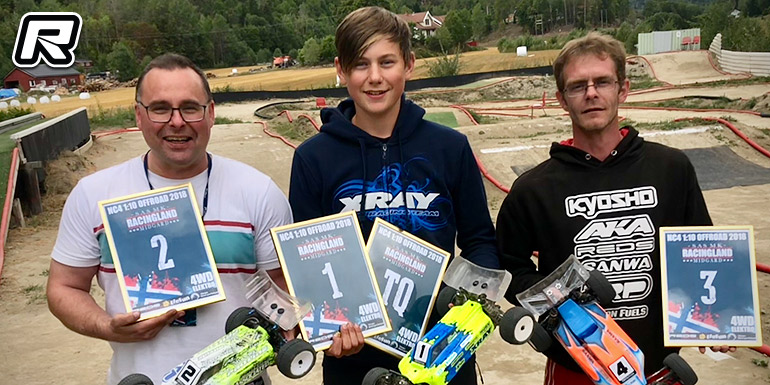 In 4WD it was again Daniel who set the pace with his Xray. Behind him there was a tight fight between the Døhler brothers again, and this time it was Øystein that was going to start from 2 on the grid while Thorbjørn had to settle for 3rd. In the finals Daniel took the commando from the start and drove his own race. Øystein pretty much controlled the 2nd place and Thorbjørn struggled a bit and came into some situations that made it difficult for him. After the triple mains the 3rd place drivers were all tie on points; Thorbjørn with his Xray, Danny Kwiatkowski with his Kyosho and Mathias Fink with his Team Associated. They all scored seven points, but local racer Danny took the longest straw with his 2nd and 5th place finishes to take the final podium spot.
Thanks to Magne Kobbevik for the report.
---