September 25, 2018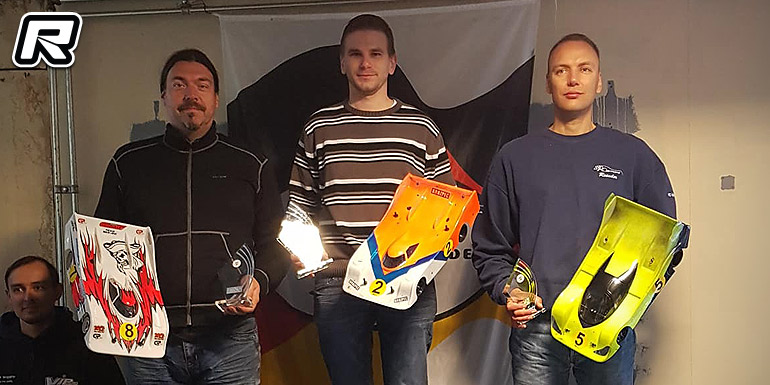 The 29th German Pro10 Championships were held at the EVMC Velp club in The Netherlands this past weekend. The race was held in Modified and Sports classes and it was not only open to German drivers but also for entries from surrounding countries, making it an international event. The weather forecast for the weekend was mixed with only the practice runs and the first qualifier being held on a dry track. The opening Modified class qualifier was lead by Tim Altmann from Reinder Wilms and Tobias Weist while the Sports class saw reigning champion Andreas Dick, newcomer Dirk Elsebusch and local hero Mathijs Hermens on the top spots.
Q2 started off dry but it soon started to rain and it was decided to re-run the round. The weather mixed up both classes and so the timing sheets saw four different TQ holders in the Modified class with Christian Fischer TQing Q2, Reinder Wilms coming out fastest in Q3, Tobias Weist reigning in Q4 and Patrick Vannieuwenhyse topping Q5.
Modified qualifying top 10:
1. Reinder Wilms
2. Tobias Weist
3. Tim Altmann
4. Christan Fischer
5. Timo Schad
6. Joachim Behnken
7. Patrick Vannieuwenhyse
8. Roman Krejci
9. Kai Altmann
10.Peter Plümacher
In the Sports class Andreas Dick also won Q3, Q4 and Q5 for the overall TQ while Sascha Lennartz came in P2, having an eye on the title. Junior Florian Kölsch did a great job in securing himself the final spot on the A-main grid in severe track conditions.
Sports qualifying top 10:
1. Andreas Dick
2. Sascha Lennartz
3. Mathijs Hermens
4. Andreas Engenhorst
5. Erwin Jg Peters
6. Rainer Schad
7. Joost Kuiper
8. Dirk Elsebusch
9. Roy Pie
10.Florian Kölsch
For the finals the track conditions were at their worst with lots of standing water on the track, making car preparation and smartness on the track a key element for success. Tim Altmann was the man to beat with wise tyre choices and smooth throttle control. After winning A1 and A2 for the overall he secured his sixth German Championship in front of German Vice National Champion and 40+ Champion, Roman Krejci. Reinder Wilms secured himself the final podium spot after winning A3.
Modified final results:
1. Tim Altmann – Team KaTi
2. Roman Krejci – Corally
3. Reinder Wilms – RC Devil
4. Patrick Vannieuwenhyse – VIP Performance
5. Kai Altmann – Team Kati
6. Tobias Weist – VIP Performance
7. Timo Schad – VIP Performance
8. Peter Plümacher – Corally DIY
9. Christian Fischer – VIP Performance
10.Joachim Behnken – VIP Performance
While the Modified finals seemed smooth sailing for the winner, the Sports finals were highly entertaining. Erwin Peter would take a pretty easy win in A1 in front of Andy Dick while Reiner Schad came out fastest in A2 in front of Erwin. This meant A3 would bring the decision with Erwin being in the better position. With a win in A3 it was Andreas who as also in the mix but with a 2.5 seconds slower time in the tie-breaker it was Erwin Peter with a popular overall win for his maiden German Champion title. Andreas Dick had to settle for 2nd from Reiner Schad 3rd.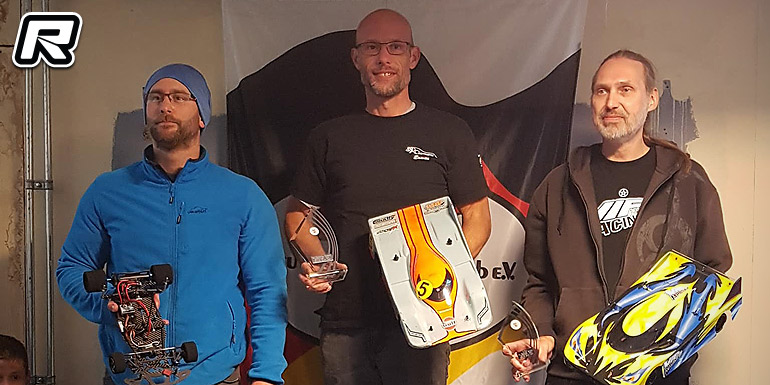 Sports final results:
1. Erwin Peters – Corally
2. Andreas Dick – DIY
3. Rainer Schad – VIP Performance
4. Roy Pie – VIP Performance
5. Sascha Lennartz – Team KaTi
6. Florian Kölsch – VIP Performance
7. Mathijs Hermens – Team KaTi
8. Joost Kuiper – DIY
9. Andreas Engenhorst – Roche
10.Dirk Elsebusch – VIP Performance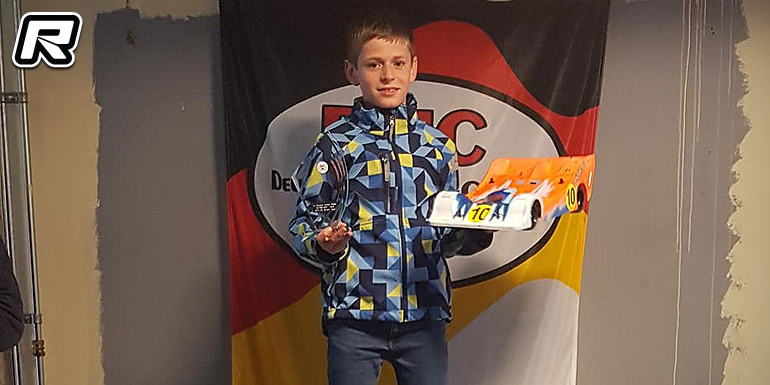 Young Florian Kölsch had a cracking A-main, taking the overall 6th place and with it the German Junior Championship.
Thanks to Tobias Weist for the report.
---