September 28, 2018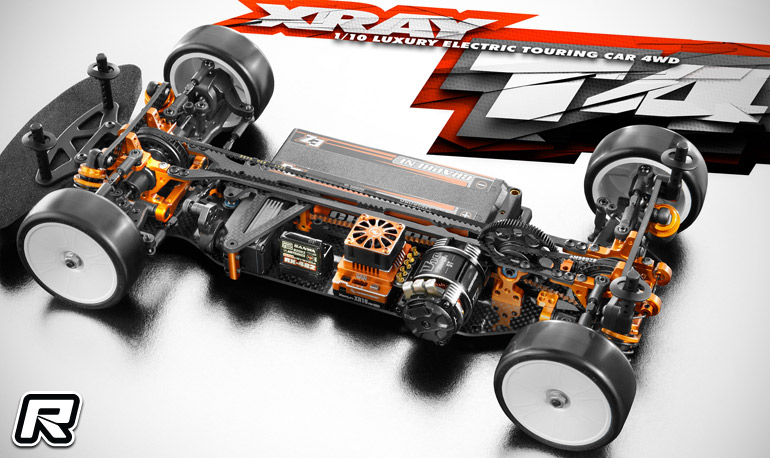 Following a first teaser Xray have introduced the 2019 variant of their IFMAR World Championship winning T4 electric touring car kit. The '19 car features subtle changes to the ultra-successful platform with the first being the updated main chassis plate that now features a machined window to accommodate a new front chassis brace. The front brace can be easily attached to the chassis to eliminate side flex at the chassis front, thus improving steering response and making the car more predictable. The brace is best used in low to medium grip conditions as it provides improved in-corner steering.
Next up is an updated lower bumper plate whose beveled design prevents the plate from touching the ground when the car is rolling while the new foam bumper is of an updated design to accommodate another new-for-2019 feature: the Body Position Adjustment front body posts. The front body posts sport an eccentric design that allows them to be positioned in two different ways – shifting the body forth or back to fine-tune its position for different track conditions while also allowing for a standard, centre position. The redesigned rear body posts feature graphite spacers to adjust their mounting positions on the rear shock tower. To maximise the benefit of the BPA system Xray, in collaboration with Mon-Tech, have prepared a pre-cut and pre-drilled variant of the popular Racer body shell that is available exclusively through Mon-Tech Racing.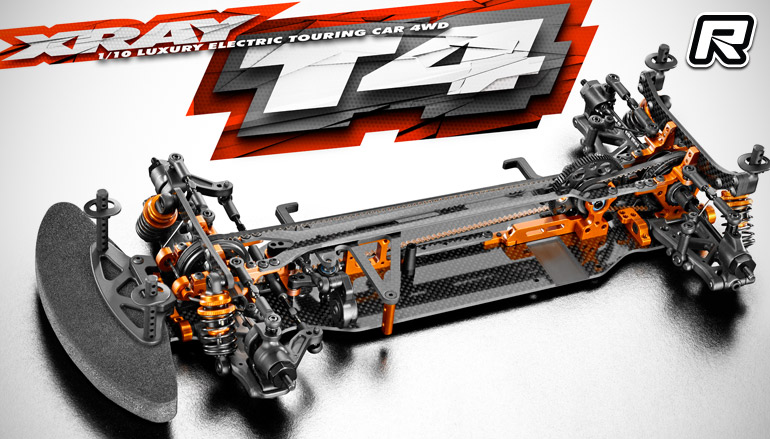 Next up are new front and rear bulkhead upper clamps that are of a lightened design added while steel pins ensure perfectly aligned front and rear shock towers after building, setup, maintenance or crashes. In addition the clamps offer updated, and fewer, roll centre positions for a simplified car setup. The included ULP ultra-low profile shock towers were redesigned to match with the new bulkhead clamps as are the optional and slightly taller SLP shock towers.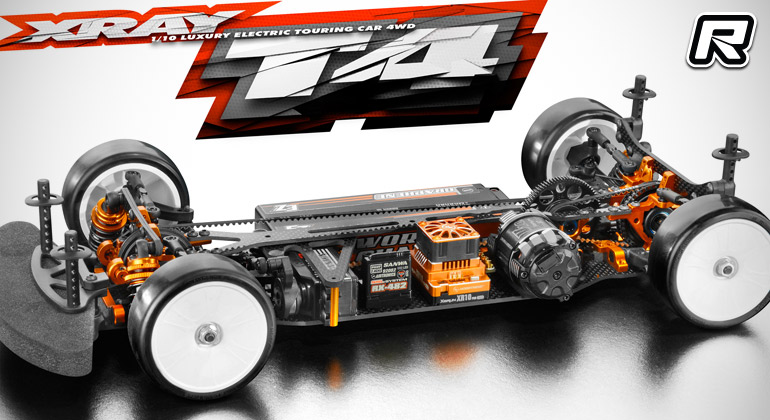 Also new for 2019 are an updated motor mount as well as the layshaft mount as both now accommodate smaller ball bearings that sit lower for improved top deck clearance in the soft-medium chassis flex setting. Another update is the new centre battery backstops that ensurs the battery pack will stay in place even in harsh crashes. One backstop is attached too the inner servo mount while a rear carbon fibre brace, attached to the layshaft mount, ensures further guidance. Other small details come into play with the 2019 variant such as an updated steering plate with factory-assembled bearings that significantly reduce play, the steering bellcranks now use crunch tubes between the ball races for reduced slop and the bulkheads as well as the suspension mounts now feature stylish chamfered edges for improved looks.
2019 features:
– All-new chassis to accommodate new front chassis brace
– All-new removable front chassis brace for improved steering response
– All-new Xray's unique BPA system – Body Position Adjustment
– All-new front adjustable body mounts with eccentric mounting for Body Position Adjustment
– All-new redesigned rear body mounts with removable graphite shims for Body Position Adjustment
– All-new front lower & upper bumper and foam bumper redesigned to use the BPA system
– All-new redesigned upper clamps feature centre pins for precise & strong shock tower installation
– All-new front & rear shock towers redesigned to accommodate centre mounting pins
– All-new layshaft & motor mount bulkheads redesigned to fit smaller ball-bearings to eliminate interference with the top deck and improved flex characteristics
– All-new front & rear battery backstops prevent battery movement in crashes
– All-new aluminium steering plate with pressed-in ball-bearings to reduce play
– All-new play-eliminating bushings for steering arms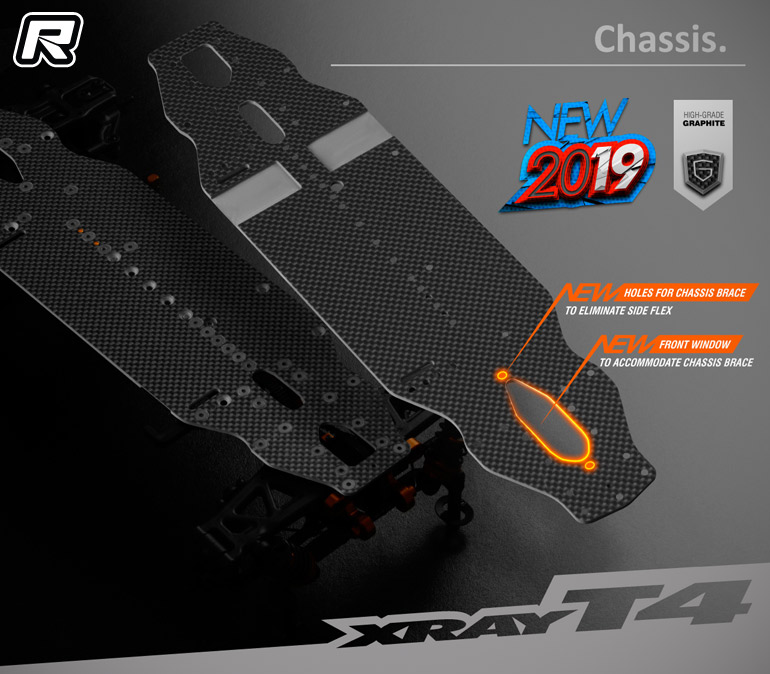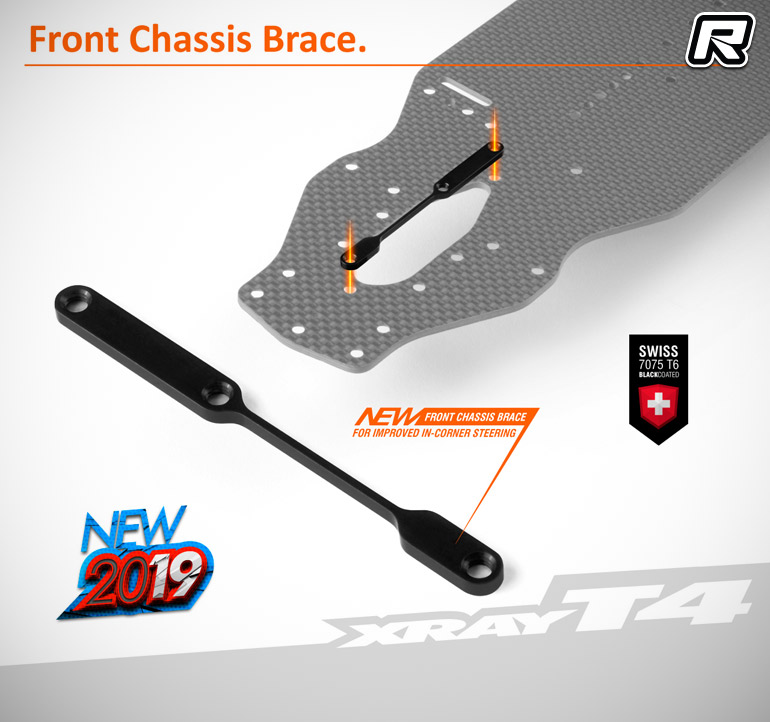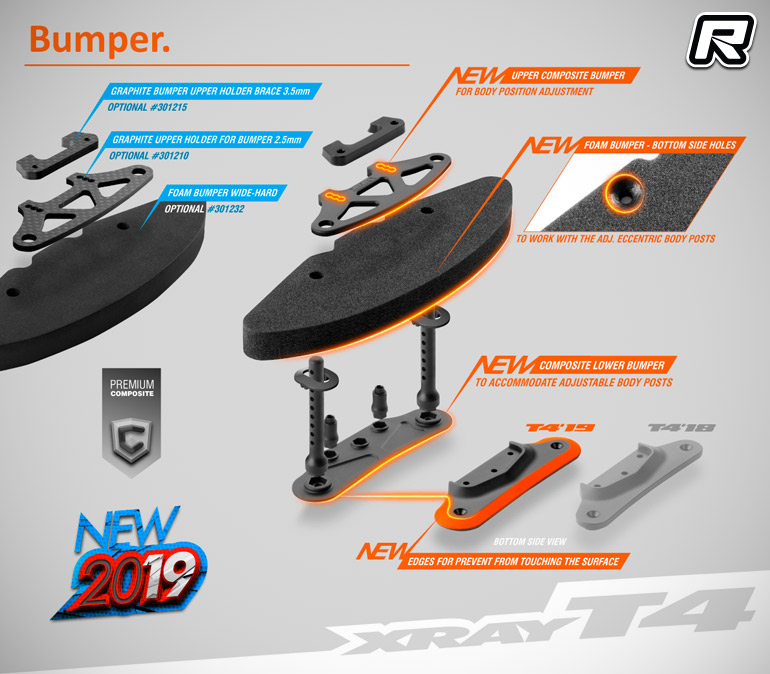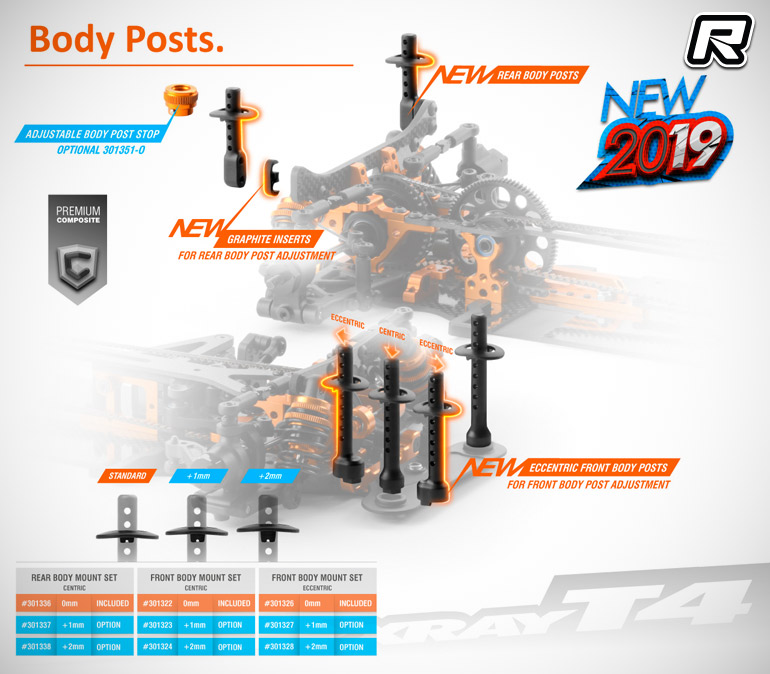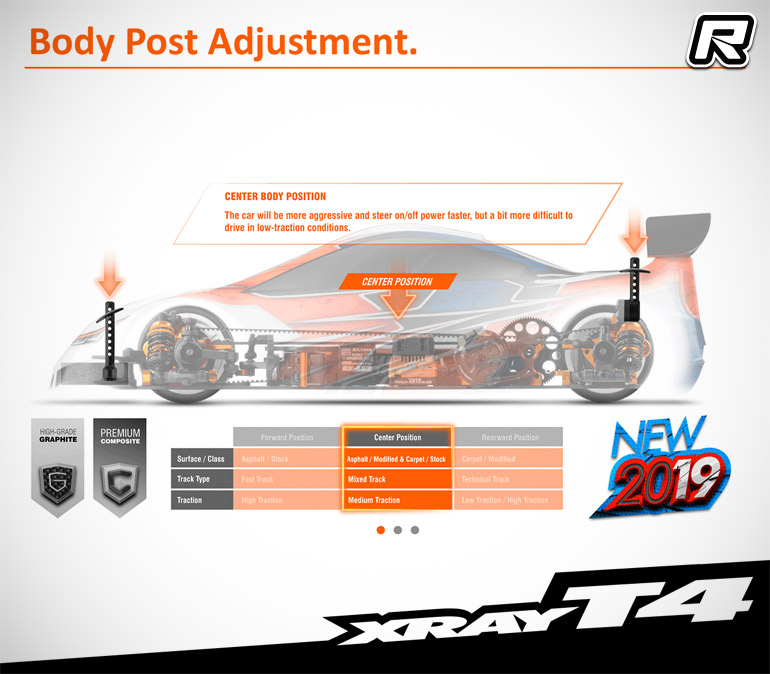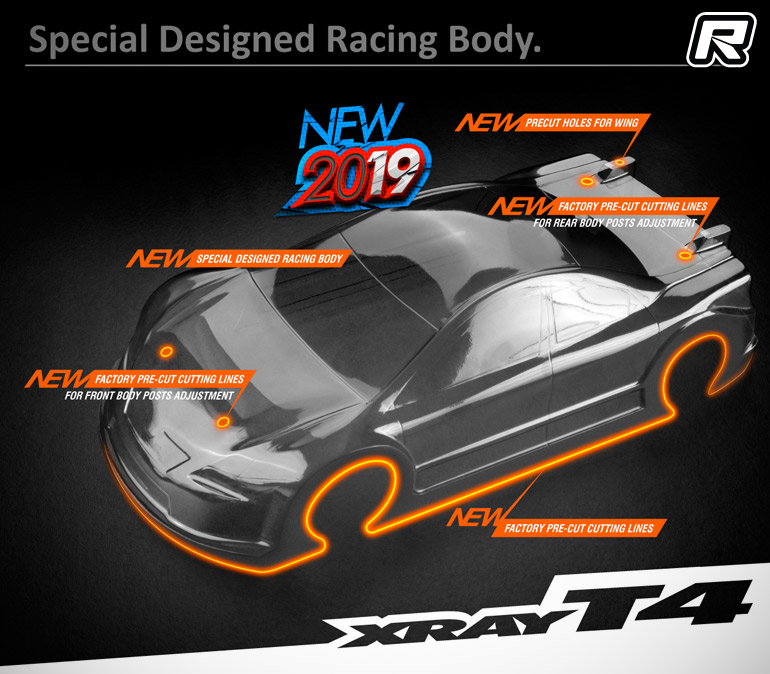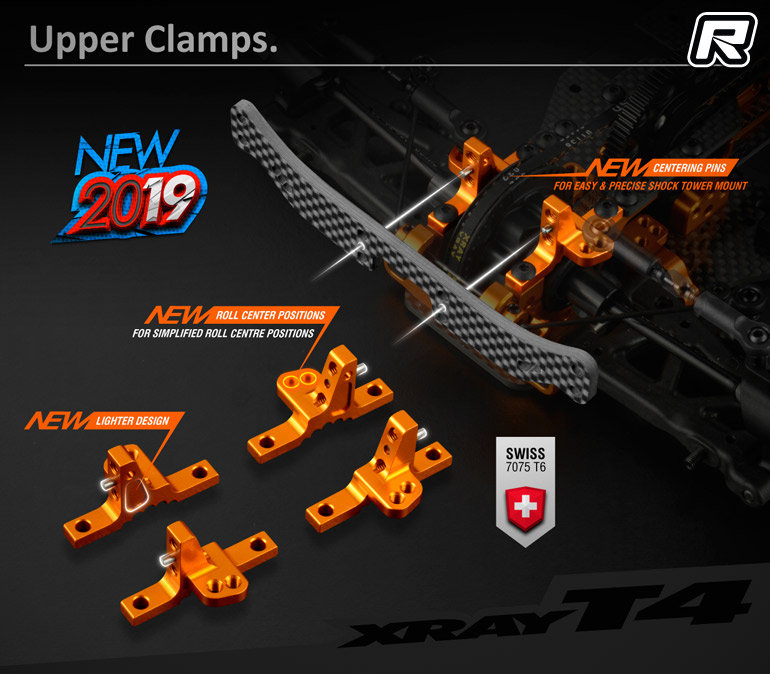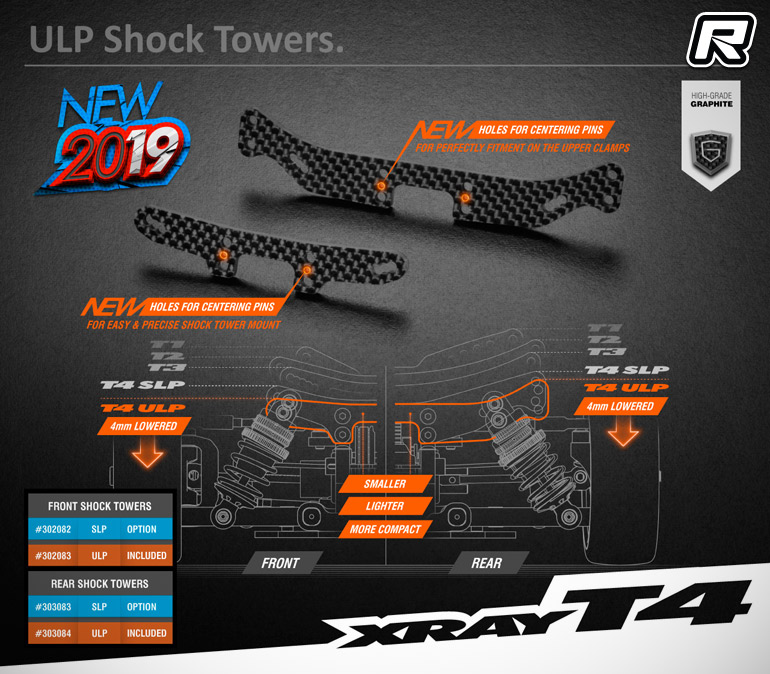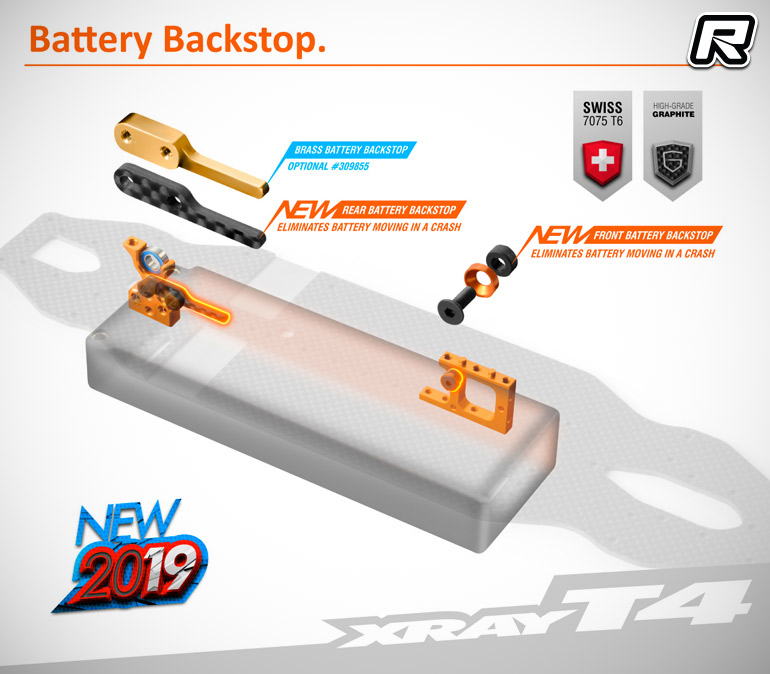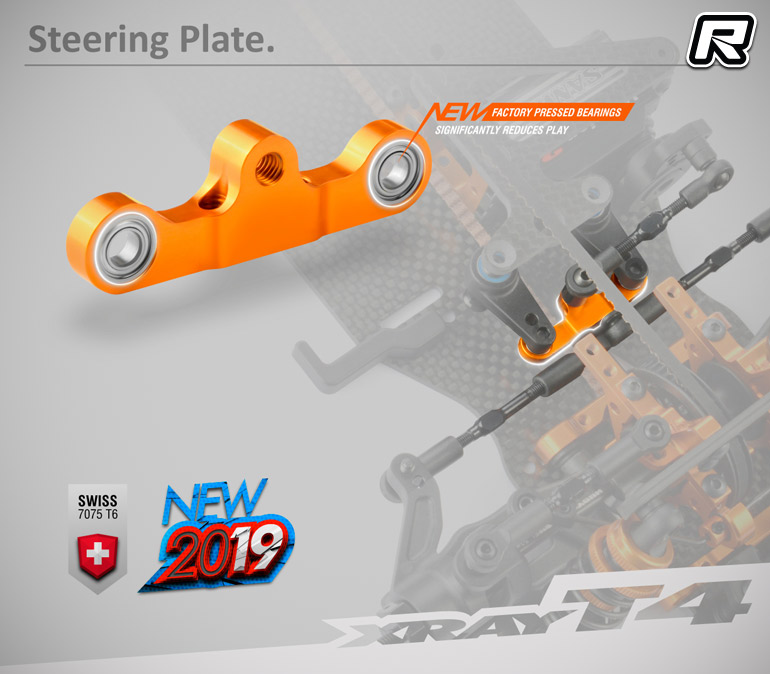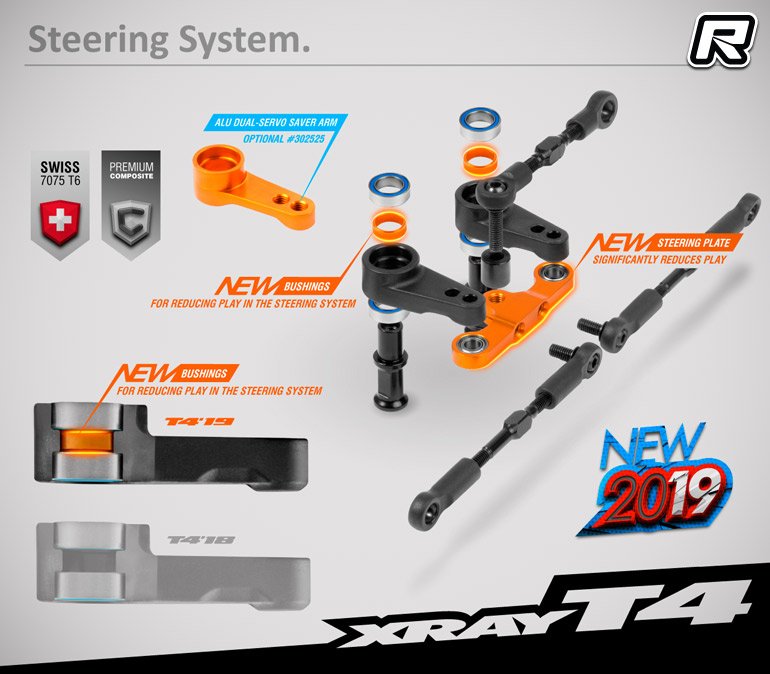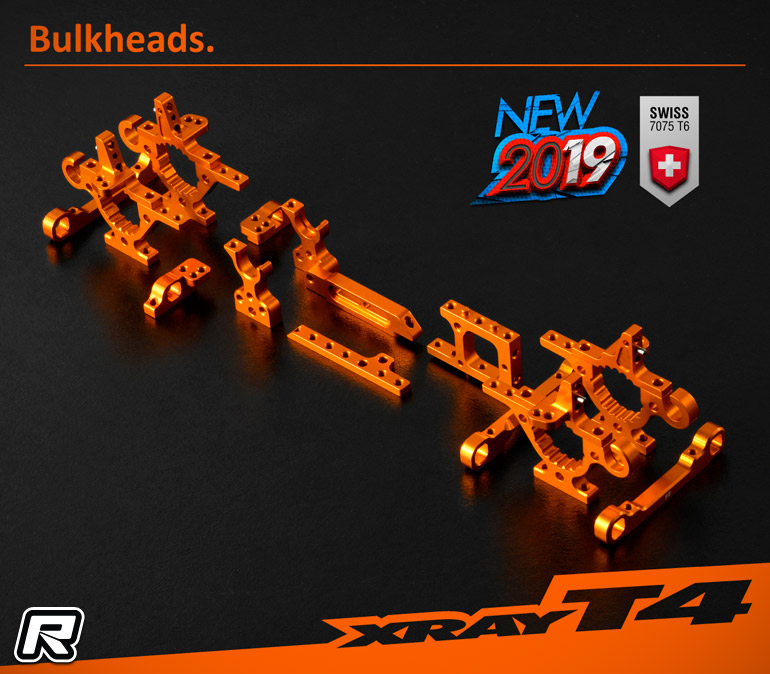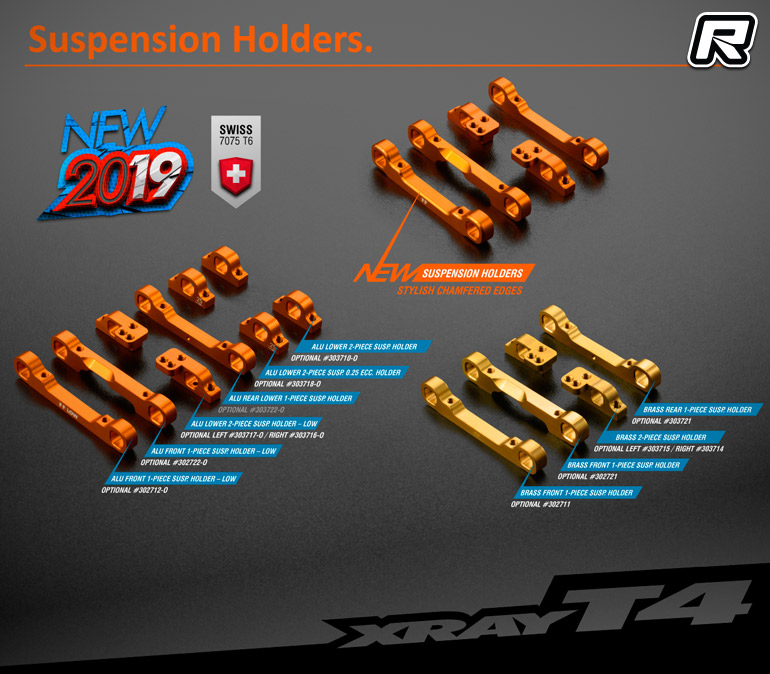 View the full presentation here.
Source: Xray [teamxray.com]
---