October 16, 2018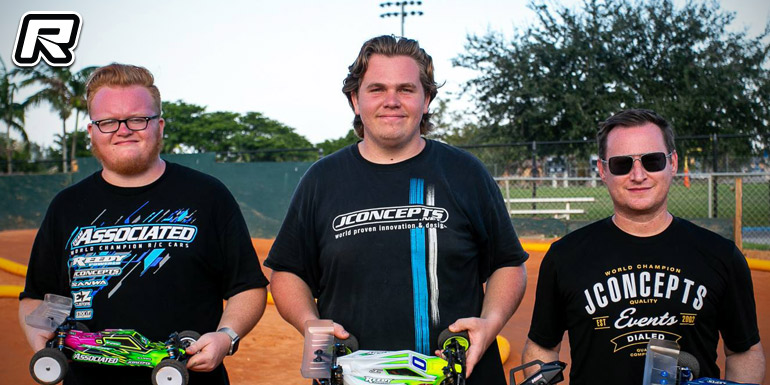 Race 3 of the Fall Super Cup Championship Series traveled to one of Florida's best-kept secrets, Mills Pond R/C Raceway over the weekend. With origins dating back to the 1980's, Mills Pond has been around for quite some time and after 30+ years of operation, has matured like fine wine and has to be considered one of Florida's best tracks. The layout was fun. Mills Pond is more like a 1/8th track than it is 1/10th, but works both ways. The track was high speed and the jumps were definitely challenging as the grip level was always changing throughout the day. The huge triple in the middle required a perfect setup and a clean run to clear consistently. The switchbacks and off-cambers really tested racers' timing and calculated car placement while carrying speed. By late afternoon on Saturday, the track was hooked up and the racing absolutely exceptional.
In 2WD Modified and over the past few seasons, Florida has started to see the changing of the guard, as the younger generation of drivers are really starting to mature into their own. A prime example is Team Associated's Lee Setser, who set the tone early by scoring the overall TQ and carried that momentum into the main where Lee was able to perform a mistake-free run to grab a confidence-inspiring win in 2WD Modified. Team Associated's Jackson Brunson didn't get off to the best start in the main, but with a hard charge late in the race was able to pass Jason Ruona for 2nd on the final lap. AE's Jason Ruona showed great speed and composure and finished 3rd on the podium showing he's still got it after months of no activity.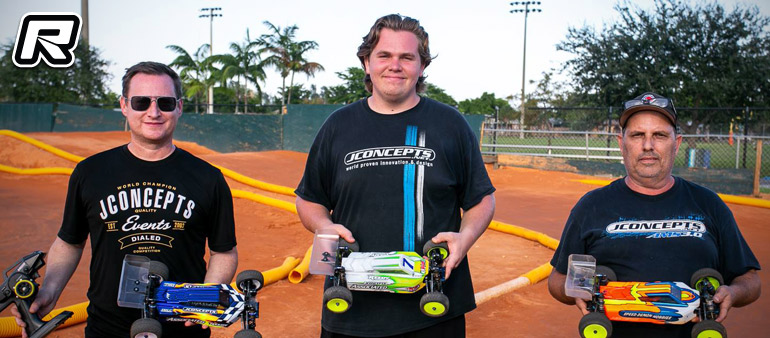 It was another great race for Lee Setser in the 4WD Modified main as Lee started 2nd and quickly found his way around TQ, Jason Ruona early in the race. This gave Lee the wings to fly, but a late mistake on the triple saw Jason jump back into the lead and Lee the one that has to play chaser. With the gap closing, the triple jump decided the outcome of the race with Jason making the mistake and Lee moving back into the lead. The race finished with Lee taking the win, Jason 2nd, and Luis Perez 3rd overall.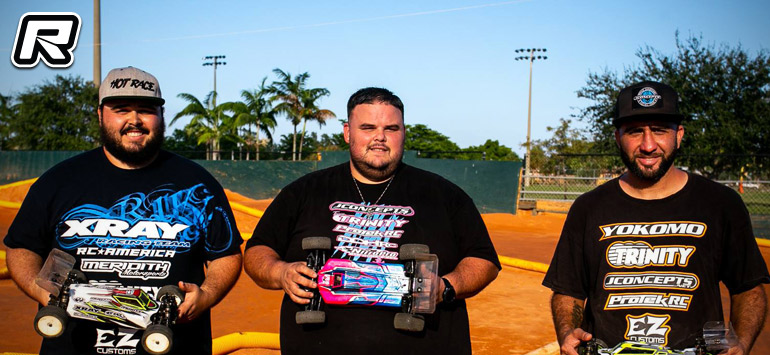 Jader Lopez was on fire during the 5-minute single 13.5 4WD Buggy A-main as Jader moved into the lead and checked out with relative ease as 2nd and 3rd place rallied for position. Xray's Daniel Chavel and Yokomo's Alfredo Morales swapped positions back and forth putting on a great show of skills and sportsmanship. After 5 minutes, the separation was only one second as Daniel edged out Alfredo for 2nd as Alfredo finished 3rd.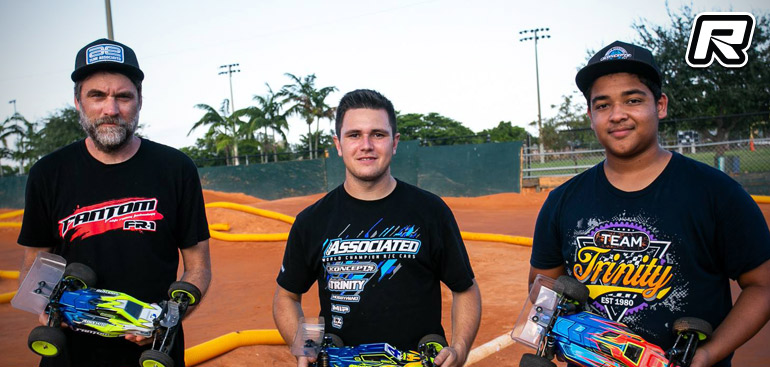 AJ Marasco turned on the juice during the 5-minute main in 17.5 Stock Buggy with some excellent driving and intelligence. Not having to push so hard, AJ minimized mistakes to clear himself from his competition and grabbed the win. Scott White put in a fine drive to stay ahead of a hard-charging youngster, Joshua Alfaro, as Alfaro was pushing hard to reclaim his 2nd spot from Scott. Ultimately it was Scotty finishing 3 seconds ahead of Joshua for 2nd.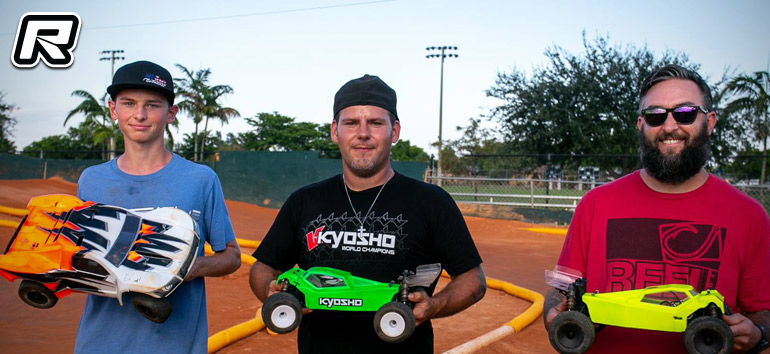 The exhibition 4×4 Open Truck class saw local fast guy, Robert Romano, take a convincing win while doing perfect backflips all weekend long. Alex Maclellan wrapped up 2nd and Joseph Misek finished 3rd.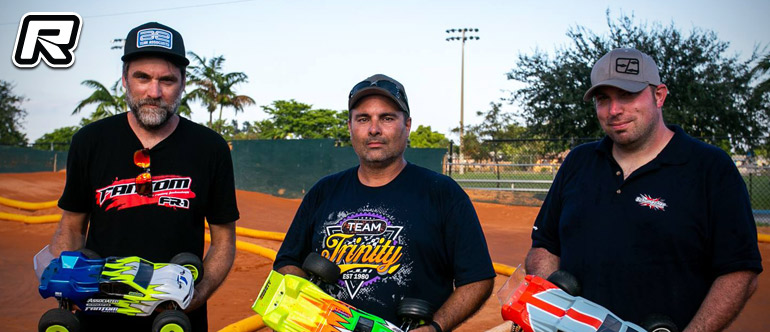 Taking top honors in the 13.5 Stadium Truck class over the weekend was Reuban Diaz. Reuban was calculated and showed great composure with a strong TQ effort and 8 seconds spread in the main. Runner-up was Scott White, who also had terrific moments of brilliance, but unable to match Reuban's pace on this day. Closing out the top 3 was Mark Croxford.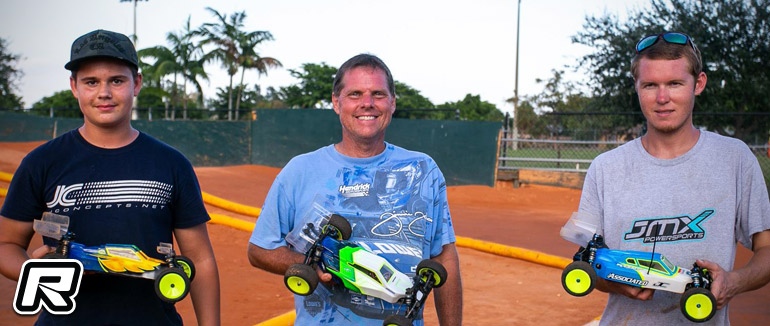 The Independent 2WD Buggy class saw an exciting race for the win as Tracey Proctor, Dalton Hashbarger, and Clayton Jett all battled for the entire 5 minutes. Taking the back and forth battle was Tracey Proctor, who had some clutch racing in the closing minutes. TQ and momentary race leader, Dalton Hashbarger, was able to reclaim 2nd on the final lap while battling nose to tail with Clayton as Clayton finished on the box in 3rd.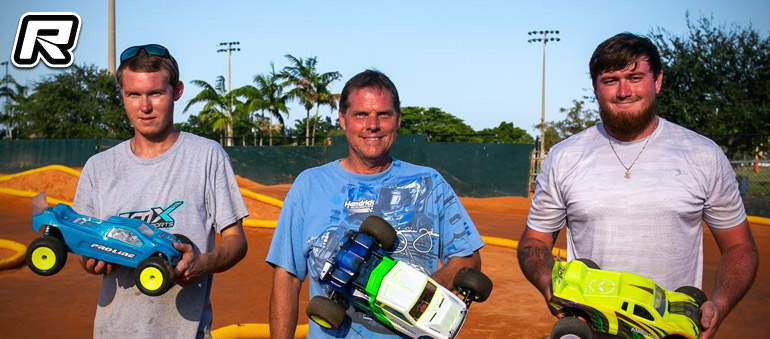 Another great race in the Independent 17.5 Stock Truck class as Tracey Proctor grabbed another win with some smart driving. Clayton Jett put in a great effort and finished 2nd with Brian Miller pushing hard to bring it within .7 second of Clayton for 3rd.
Denying Tracey Proctor of a perfect 3 for 3 day in the Independent Stock Short Course class was Clayton Jett as Clayton jumped up from his 3rd place start to finish 1st on the podium. Jeff Lynn and Brian Miller put on a show with Jeff getting the best of Brian on the last lap for 2nd and Brian 3rd overall.
Source: JConcepts [jconcepts.net]
---