October 22, 2018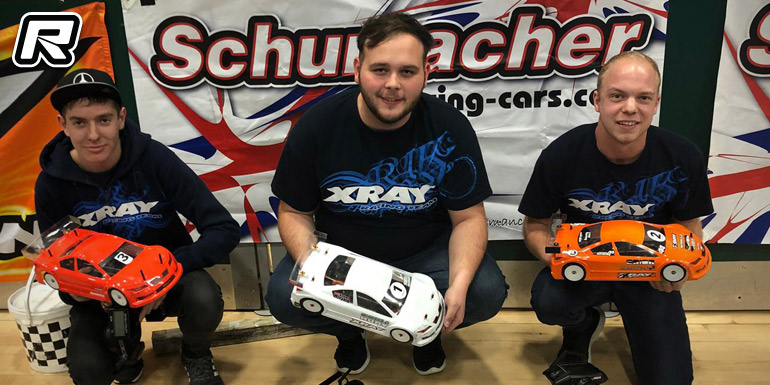 This past weekend saw the running of the first round of the Schumacher Winter Series presented by the Louth Radio Control Car Club. The series, format and rules remained the same from the previous year, with the emphasis on racing whatever the budget. This year the classes remained the same 13.5 Blinky, 17.5 Open Touring, GT12 and the introduction of the Tamiya Euro Trucks. 60 entrants for the first round is a club record, as drivers rolled in for an action packed day of racing. In 13.5 Blinky no reigning champion for this Season left a level playing field. Chris Lovely was in control until traffic would hold his way, Nathan Winyard would jump him to take TQ. Andrew Green would line up 3rd, with Joe Cocking, Mikey Mansell, Lisa Keen and Daniel Burks making the A-main.

Nathan would have a flag to flag finish, after a melee at the start, Chris Lovely would recover to 2nd and Andrew Green would finish 3rd.
13.5T Blinky final results:
1. Nathan Winyard – Xray
2. Chris Lovely – Xray
3. Andrew Green – Xray
4. Joe Cocking – Yokomo
5. Lisa Keen – Serpent
6. Daniel Burks – Xray
7. Mikey Mansell – Capricorn
In 17.5 Jason Lovely picked up where he left off from the previous season, taking the top qualifying spot, followed by returnee racer Steve Tindall. Regular nitro racer Stewart McLeod would like up 3rd. Kevin Bishop, Callum Chapman and Scott West would make the A-final Jason would have a shakey start but would pull clear to win the final, Stewart McLeod would jump Steve Tindall to finish 2nd and 3rd.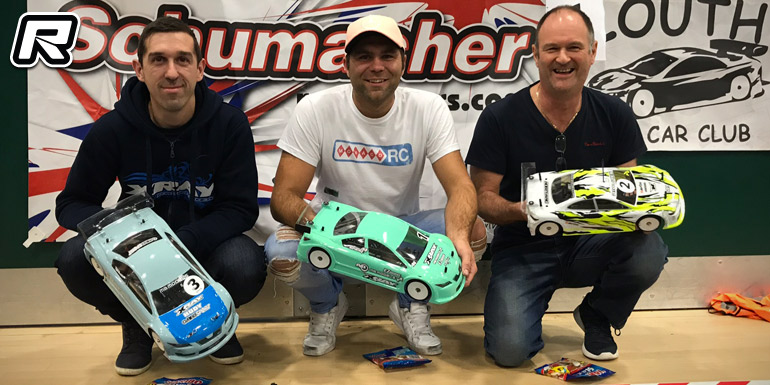 17.5T final results:
1. Jason Lovely – Xray
2. Stewart McLeod – Xray
3. Steve Tindall – Xray
4. Kevin Bishop – Schumacher
5. Callum Chapman – Yokomo
6. Scott West – Xray
In GT12 other events clashing saw a smaller field then normal. Russell Woodhouse has shown great pre event form and carried this over thanking the TQ spot. Lee Ward would marginally miss out in 2nd and 3rd would be Paul Vincent. Jerry Booth and Sean Cohen would line up in the A-final. Flag to flag finish for Russ meaning he would take the points, with the field finishing in qualifying order, with Lee Ward coming home 2nd and Paul Vincent 3rd. Jerry Booth would bring home 4th and Sean Cohen 5th.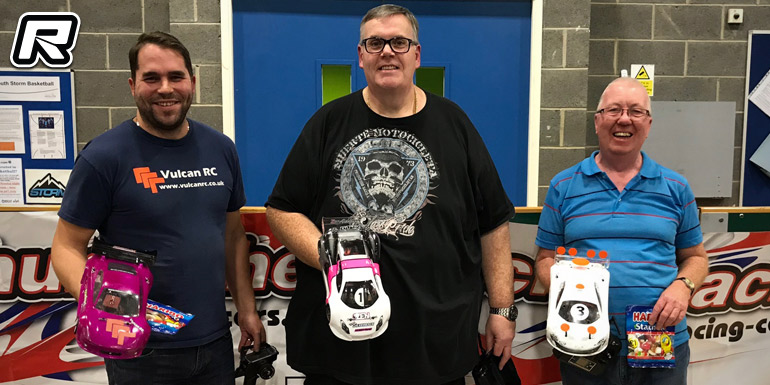 GT12 final results:
1. Russ Woodhouse – Zen
2. Lee Ward – Schumacher
3. Paul Vincent – Schumacher
4. Jerry Booth – Schumacher
5. Sean Cohen – Schumacher
Tamiya Euro Truck is a new class to the club, but one which would give great close driving. The trucks were all kit standard, simple electronics and minimal changes. Jason Lovely would snatch the top qualifying spot, with regular off-road racer Mitch Fiddling 2nd, John Yarnall has a worthy trip to the club qualifying 3rd. Simon Babb and Mike Mansell would line up in the A-final. 12 trucks in this class which is great for a new class. The final was an epic one to watch, with such a slow speed, trucks were setting each other up corners before, and With speeds equal it was all down to clean passes. Mitch would do such a thing after lap after lap of following Jason to finally make the move. And take the win, Jason would come home 2nd, John Yarnell would keep his 3rd place, Mike Mansell would jump up to 4th with Simon Babb 5th.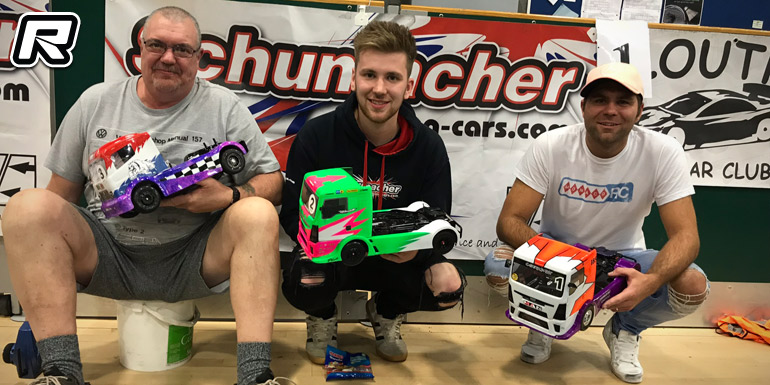 Tamiya Euro Truck final results:
1. Mitch Fiddling
2. Jason Lovely
3. John Yarnell
4. Mike Mansell
5. Simon Babb
The next round is three weeks away on November 11th.
Source: Louth Radio Control Car Club [louthrccarclub.co.uk]
---