November 6, 2018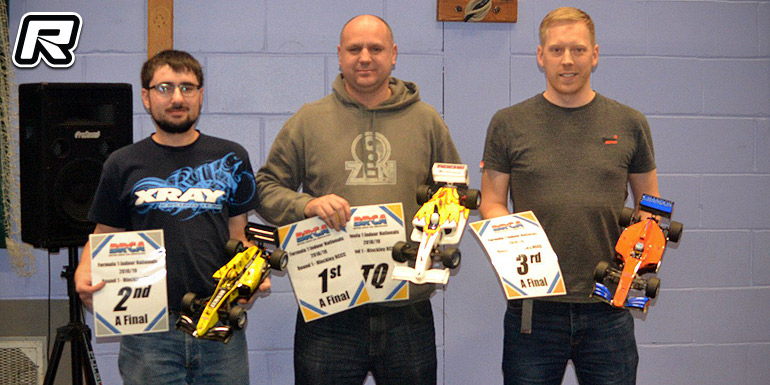 Hinckley RCCC was host to the opening round of the BRCA Formula National Series in the East Midlands. A flowing layout and good grip from the ETS black carpet made for a great track. After three rounds of qualifying Craig Nutting put his Roche F1 Evo on pole position followed by Stephen Lander with the Capricorn F1-02 then Luke Lee's Xray X1'18 completing the top 3 spots.
Qualifying top 8 results:
1. Craig Nutting – Roche
2. Stephen Lander – Capricorn
3. Luke Lee – Xray
4. Michael Lee – Xray
5. James Greener – VBC
6. Jamie Cheshire – Xray
7. Clive Maland – Team Associated
8. Matt Chambers – Xray
In the A-final leg 1 Craig got away cleanly but Stephen struggled going wide into the first corner. Luke Lee passed on the inside but Stephens attempt to defend would eventually see his car tangled with Jamie and a lot of work to do from the back. Craig, Luke, Michael and James would run in formation for the following few laps until a few incidents would settle the finishing order. Two incidents with marshals on track would end James's hopes of a podium finish giving way for Matt Chambers to claim 4th from the back of the grid. Luke finished 3rd after making contact with a car stuck on an apex at the 1 minute mark where Michael passed to finish 2nd behind race winner Craig.
A-final leg 2 saw a pretty clean start this time. Michael did well to smartly pass Luke in the chicane on the opening lap then on lap 4 Luke made a mistake which allowed James into 4th place. An error from Stephen with three minutes to go allowed Michael past and would go on to claim another 2nd place finish with Stephen behind in 3rd. Craig had a drama free race again driving fast and clean taking a second win and a maximum points haul for the championship. Michael Lee would finish in 2nd overall from James Greener 3rd.
Next up is round 2 on Sunday 16th December at one the few permanent indoor venues we have in the UK, the Midlands Raceway.
Source: BRCA [brca.org]
---