November 12, 2018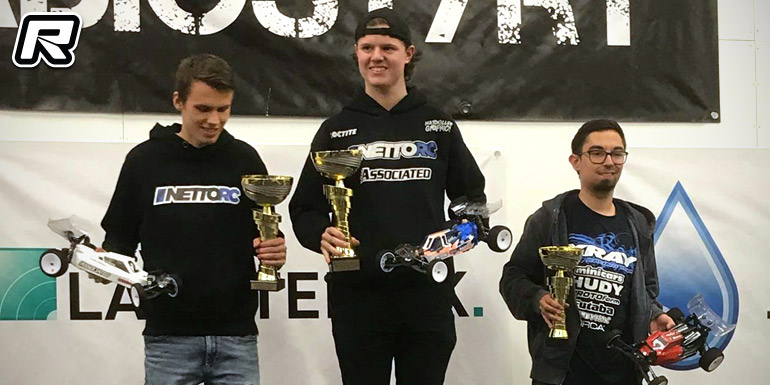 This past weekend saw the running of the Winter Indoor Series round 2 in Sundsvall, Sweden. The track was on the small side but made for good racing and fast lap times. The day started off with two reseeding practice runs and in 2WD it was Elias Johansson at the top with teammate Lukas Larsson in 2nd and Martin Johansson Nielsén in 3rd. In 4WD it was once again Elias Johansson who was the king of the hill with Martin Johansson Nielsén 2nd and Felix Angseryd 3rd.
In qualifying it was again Elias Johansson who dominated 2WD with the TQ in the first two rounds with local hero Viktor Östling in 2nd in both of the first two rounds. The third round saw Viktor at the top of the timing sheets with Martin Johansson Nielsén taking second. The standings after 2WD qualifying would be Elias 1st, Viktor 2nd and Martin 3rd.
4WD qualifying saw Elias being Elias and taking the two first qualifiers with Martin Johansson Nielsén 2nd in the first round and Felix Angseryd runner-up in the second one so it was all to play for 2nd place in the last round of qualifying. Felix Angseryd was the one standing strong by TQing the last round to line up 2nd for the triple A-main.
The 2WD A-main saw Elias (Team Associated) winning the two first mains with Viktor 2nd in both of them. So for the last A-main the two other podium spots could be filled with four different drivers. The last main saw Viktor Östling (Team Associated) dominate and securing 2nd place overall with Martin Johansson Nielsén (Xray) taking 3rd overall.
In 4WD the top 3 was going to be about three persons, Elias Johansson (Team Associated), Felix Angseryd (Xray) and Martin Johansson Nielsén (Xray). Elias repeated his 2WD masterclass in 4WD by winning the first two mains with Felix Angseryd taking 2nd in both. This meant that Elias skipped driving the last main so 2nd place was still open, regardless the pressure Felix Angseryd took a tone-to-tone win and securing the 2nd place overall with Martin Johansson Nielsén rounding of the podium in 3rd.
Thanks to Felix Angseryd for the report. Images: Elias Johansson
---