November 23, 2018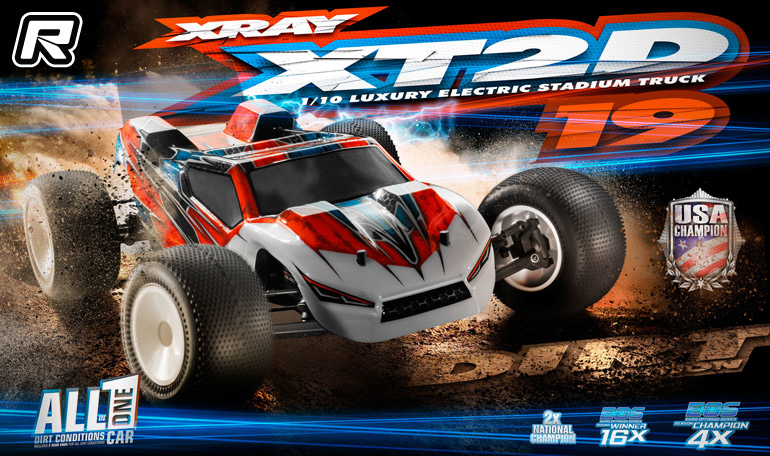 Xray have introduced the 2019 variant of their popular XT2D 1/10th scale 2WD stadium truck. To offer a maximum of versatility the kit includes all parts to run the truck in "high grip" front motor or "low grip" rear mid motor specification with the two differing in terms of gearbox, motor plate, camber link mount, rear shock tower, waterfall and battery retainer. New to the 2019 kit are narrower gearboxes for both layouts as is a new ultra-smooth ball differential for improved performance and longer intervals between rebuilds. The new multi-functional rear uprights generate increased traction and stability while the rear arms allow to mount the shock absorbers in the front or the rear of the arm – ensuring greater control over the weight bias for different track conditions. New rear aluminium suspension mounts are included to match with the updated gearboxes and the driveshafts now feature 2.5mm pins for increased durability and smoother operation. The included body allows to run the rear shocks in a front or rear placement without any changes to the body shell and also part of the 2019 specifications are hard front steering blocks, +1.5mm front and +4.5mm offset rear wheel hubs and new larger rear upright ball bearings. Standard with the 2019 kit, that will hit stores very soon, are also greased upright ball-bearings and oiled bearings throughout the transmission and steering.
Features:
– All-in-one concept featuring front-motor & mid-motor build options are included in the kit
– Includes both laydown and standup parts sets: gear boxes, motor upper-brace, alloy motor mounts, gear box idler gears, shock towers, rear-roll centre holders, gear covers and battery holders.
– All-new narrower rear gear box for both front & middle alternatives of motor position
– All-new, ultra-smooth ball differential improves performance and extends time between rebuilds
– All-new, multi-function rear upright generates increased traction & stability
– All-new rear suspension arms with front or rear shock-mounting positions
– All-new aluminium rear suspension holders accommodate the new, narrower rear gear box
– All-new, longer rear driveshafts with 2.5mm pins for smoother operation
– All-new redesigned body allows mounting of rear shock absorbers in the front or rear of the shock tower
Includes hard front steering block for improved handling.
Includes +4.5mm offset wheel hubs
– All-new larger ball-bearing for the rear uprights increase reliability
– Fluid operation and reliability come standard with greased, upright ball-bearings & oiled bearings throughout the transmission and steering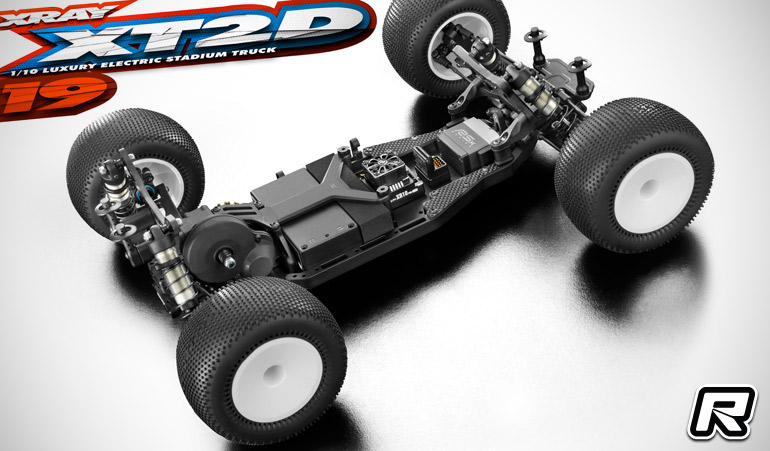 View the full presentation here.
Source: Xray [teamxray.com]
---